Not all travel mugs are good to use with Keurig coffee makers; let me explain.
How Tall Of A Mug Will Fit Under A Keurig Mini B31, K10, or K15?
Do you plan on getting a Keurig Mini sometime soon?
It wouldn't be fun to buy a mug that wouldn't fit under it.
I know which mugs are best for the Keurig mini so let me share them with you.
A mug needs to be less than 5-inches high to fit under the machine and the mug should be 4 inches high to fit without removing the drip tray.
This is actually an important thing to note because if you are anything like me you wont want to remove the drip tray.
If you remove it you have to store it somewhere and that just feels like clutter.
Although the Keurig Mini can accommodate five inch tall mugs it's best to plan on using mugs that are four inches high or less to keep your machine in it's easier-to-use state.
Most basic coffee cup will fit just fine but if you want to use any kind of an insulated mug then you really have to shop around for the perfect one because even with lids off the smallest insulated mugs tend to be taller than four inches.
Lower on this page I've listed some of the various types and kinds of mugs that fit under the Keurig coffee makers…and I posted my three favorite mugs for the Keurig Mini so I suggest looking at the bottom of this post for my reviews of your smallest options.
But for now however, I just wanted to simply answer the question mind in more detail because there a few different Minis by now and a few of them have different dimensions.
How Tall of a Mug can you use With a Keurig Mini Coffee Maker?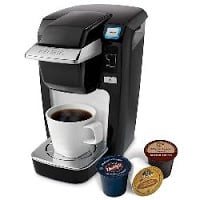 The Keurig Mini B31 model was replaced with the K10 and in late 2016 the K15 started phasing out the K10. All three of these units however them have the same dimensions.
See this older video of mine for a visual:
The most modern versions: the Keurig K-Mini and K-Mini Plus are both actually a little larger.
You can fit a 6 inch mug under those without fiddling with drip trays so I think that's a pretty nice upgrade.
With the drip tray removed on the older versions of the mini brewers you have 5 inches of clearance to insert a coffee cup or an insulated mug.
If you want to keep the drip tray in place then you need a mug that is less than 4 inches tall, which is awfully small.
In fact most of the normal coffee cups in my cabinet are between 3 and 4 inches tall with some over-sized mug's that approach 5 inches.
Will Insulated Mugs Fit Under The Keurig K15 & K10?
As for insulated mugs only my desk mugs come close.
The Trudeau Umbria which I reviewed here stands just over 5 inches tall making it too tall for the older Mini brewers although they would fit under the new K-Mini and K-Mini Plus coffee makers.
If you are getting a Mini brewer for yourself or as a gift keep in mind their size truly is small and don't pair the gift with a large travel mug as they are not complimentary.
Make sure to look at the store here in the 8-ounce travel mug section and the 10 ounce travel mug section this is where you'll find the smallest insulated mugs with lids.
You should also try to find something that is designed to be more like an insulated coffee cup rather than a travel mug. The cup styles will be wider with a handle; they don't typically fit in car cup holders. Because of the shape they tend to be shorter even with the extra double-walled insulation.
The best fit mugs however will be those that are insulated coffee cups.
In many cases ceramic cups with a lid and silicone sleeve around the exterior will be shorter than double walled tumblers and there will be more options for fit. For instance the 8-oz Keep Cups will easily fit under the Mini since it's only 4 inches tall.
Thanks for reading and please share this post if you found it helpful!
The Best Travel Mugs for Keurig Coffee Machines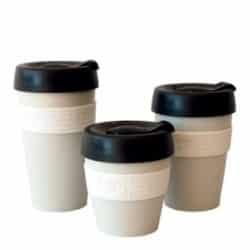 Are you looking for the best travel mug possible that will still fit under your Keurig?
You are not alone. Your huge 34oz travel mug isn't going to that's for sure and that's why I decided to post this.
Below I have provided a list of the best travel mugs for Keurig coffee makers taking into account the appropriate Keurig mug height requirements of the various machines.
Read on please…
Or click here to jump straight to the mugs.


Let me Help you Find the Perfect Travel Mug to Fit Under a Keurig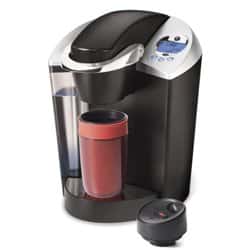 If you have a Keurig coffee maker then you probably know by now that not all of the normal insulated mugs and tumblers fit underneath them as nicely as the mug pictured to the right.
Not only are the openings small but even if normal travel mugs did fit they wouldn't be very full because most of the Keurig coffee makers don't make large amounts of coffee; they don't make enough coffee to fill normal 14-16 oz mugs.
The trick to finding a good travel mug for a Keurig coffee machine is to find a short travel mug or a small travel mug that isn't designed to hold large quantities of liquids. The best travel mug size is 14 ounces or less, even better would be 10-12 ounces.
Here are some of the smallest mugs which would fit under a Keurig mini, the smallest of them all.
I've been a big fan of single serve coffee makers since I first used my dad's machine a few years back. I like drinking my coffee slowly so a cup at a time is nice. To have good coffee without having to brew a huge pot every time is great too.
Since these kind of coffee makers are so common now there is a growing supply of small insulated mugs out there that are perfect for fitting underneath Keurig coffee systems. You may even want to see these small insulated espresso cups for more options.

Here Are The Keurig Sized Travel Coffee Mugs I Like Best
Below I've listed some of my favorite top rated short travel mugs to fit below just about any Keurig machine. First on the list is the new(ish) Keurig Contigo travel mug which is the official Keurig travel mug with Keurig branding and all. It's a very good mug but it's not the only viable option.
14 Ounce Contigo Travel Mug
by Keurig
This is the official Keurig travel mug. It is basically a Contigo Autoseal travel mug but only smaller at 14 ounces instead of 16. It is short enough to fit under all Keurig machines with a water reservoir.
The mug is definitely a high end travel coffee mug and it will keep your coffee hot for a long time will almost eliminating the chance of spills or leaks but for Keurig single serve machines it's still not my favorite.
For some of my favorite insulated mugs see below.
► Trudeau Umbria 15 Ounce Desk Mug
Of all those short travel mugs for Keurig though Keepcup is actually my favorite right now for all single-serve coffee machines.
They hold anywhere from 8-14 ounces depending on the mug you choose, which is a perfect size for pod coffee makers like Keurig and they're not really designed to keep your coffee hot all day long which keeps their price down. For 10 ounces of coffee you really don't need all day long thermal retention anyway.
Of course another option for Keurig machines is to just use a normal ceramic style mug with lid or cover. Assuming you are sitting at a desk this would also be perfect. You can see a post on those here – Coffee Mugs With Lids: An Awesome ideas For Anyone Who Sits At A Desk All Day.
My Review of the Stainless Steel Keurig Thermos by Contigo
This is one of the better thermal coffee mugs made. Contigo is consistently one of the highest rated companies making to go mugs for hot beverages. For a portable coffee mug however it is still larger than I'd like. That doesn't mean however that I don't think it's a valuable purchase, because it is!
In my personal opinion if I'm brewing 8-12 ounce at a time I want a mug that is actually the size of a travel coffee cup, not a really small tumbler. Even still it is made to be short enough to work with all of the full size Keurig machines. It's also built to the same quality as the main Contigo line of insulated tumblers.
For the price I think it's totally a good deal so go for it if you want but my favorite is still the OXO Single Serve Mini and it's cheaper too.
Last point…
Don't Get a Mug to Tall For Your Keurig
Is your Keurig tall enough for travel mug use? The answer is yes but as you no doubt understand, each machine is different in size and shape so each one will have it's own maximum height requirements.
For the popular devices being sold today, ie. the Keurig HOT, Keurig 2.0, and the Keurig Vue you can safely use a mug that is less than 7 inches tall meaning lots of mugs will fit. Check yours or see the ones list above.
Remember almost all of these machines make coffee in servings 12 ounces or less so even if your 16 ounce mug fits under the brewer it may be uncomfortably large. Your best bet will always be to use a smaller mug that holds less. You can start your search for mugs like this on the following pages on this site:
Thanks for reading and please share this on Facebook!
Do Travel Mugs Fit Under Keurig Coffee Makers?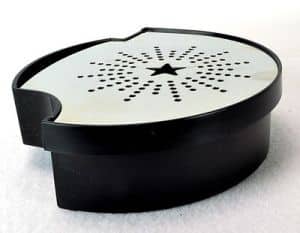 Don't you hate having to remove the drip tray to get your travel mug under your Keurig machine?
A while back, a long while back, I realized this was a problem when I got my first Keurig, a B31 Mini, and my favorite mug, my Thermos Stainless King, was to tall to fit under it.
Fast forward to today where their are far more options than there were back in 2010 and now I have a ton of options in my cabinet that will all fit under my Keurigs.
I even have some insulated mugs now that will fit under the Keurig mini that I used all those years ago!
My go-to for short mugs that fit under my K15 Mini that I use from time to time is my 8oz Kleen Kanteen which stands only 3.5 inches high.
For my modern K-Classic, K-Duo Plus, and K-Mini coffee makers almost everything fits under them except for the extra large mugs or some of the 20 ounce mugs that are somewhat common too.
Within the K-Classic and Keurig 2.0 series of machines however some of the cup openings were a bit small so let's look at some of the most common combinations lower on this page.
If you are looking to find a Keurig sized travel mug then you've found the guy that can help you. This is only one of a few super short mugs that can fit into the smaller K15 Mini and if you are buying or own a newer K-Mini or K-Mini Plus then you have even more options because there is a lot more clearance for taller mugs in those newer machines.
For starters you can just scroll down this page a bit to see a few options or click through to this page to see the shortest of all the mugs, each of which is small enough to fit under the mini or other Keurig machines without having to remove the drip tray.
Can You Fit a Travel Mug Under a Keurig Coffee Machine?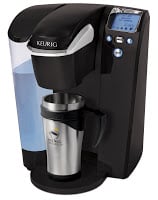 I've got a lot of good travel mugs and a few good thermal desk mugs too. One of the most notable features of them all with some small exceptions is that they are all fairly tall and narrow as they are designed to hold a good deal of coffee and yet still fit into standard cup holders and bottle pouches.
For those of you who have or who are thinking of picking up a Keurig coffee maker you should know that many thermal coffee mugs and tumblers will not fit under the Keurig machines. Even with the drip tray removed and the lid removed from many travel mugs they are simply too tall.
This isn't really their fault either as Keurig machines are designed to brew small batches of coffee – much smaller than the capacity of the most common sized travel mugs 14-20oz.
Most older Keurigs would only make between 6 and 10 ounces of coffee at once. These days 12-ounces is a new setting on most premium models.
There are however a number of quality travel mugs these days that are short enough to work with the older Keurig machines that had a lot less space for tall mugs and tumblers. Most of them require the removal of the drip tray on the smallest machines like the Keurig K10 but they do work.
For the Keurig Mini you need to use a mug without to be less than four inches in height to fit under the spout. If your mug is under 5 inches in height it can still fit so long as you remove the drip tray from the machine.
KeepCup makes some nice super-small travel mugs that are perfect for Keurig coffee makers. They are sized perfectly and look pretty cool too.
If you want a high performance travel mug however you'll have to go to Contigo which has partnered with Keurig on a mug that is "designed" specifically for the Keurig reservoir machines. It's basically a small version of their very popular Auto-seal line of travel mugs.

The Official Keurig Travel Mug – Fits Under All Keurig Reservoir Brewers
Basically it's still too big for most Keurig portions in my opinion but it is a really good mug and worth checking out.
To compliment this page let me point you towards this post will help you find a bunch of small insulated mugs that would be perfect for Keurig machines. If you have a Keurig – or are buying a gift for someone with a Keurig machine – this page will be helpful in finding a good mug sized appropriately for all the Keurig coffee makers, Keurig mini included.
You may also want to see this page which features insulated espresso cups, some of which are big enough for a small cup of coffee.
You can also scroll down this page and take a look at a few short Keurig Mini sized mugs I've reviewed and tested.
Travel Mugs That Fit Under Small Keurig Coffee Makers
As a rule of thumb, Keurig spout and the plate is approximately 5 ½ inches tall. If you need a travel mug, make sure that it is at most 5 inches tall. You can get a 6-inch tall but make sure that the lid is removable. In terms of ounces, travel mugs that range from 8 oz to 12 ounce are better options for travel mugs that will fit under a Keurig.
Here are some recommendations.
KeepCup Brew Glass Reusable Coffee Cup, 8-ounce
Best features:
Leak-proof lid
Glass container body
No spill
Dishwasher and microwave safe
KeepCup does not retain hot drinks as long as the Klean Kanteen but it can keep your   coffee warm for an hour, at most. You can enjoy your coffee in this insulated mug and bring it along when you travel. It has leak-proof lid and easy to drink opening. It's also super easy to clean.
Stanley Adventure Vacuum 8 oz Mug
Best features:
Anti-rust stainless steel, food grade container
Can keep hot drinks for up to 4 hours
Leak proof cover
Splash-resistant
Stanley brand is favorite household name. This 8 ounce mug is no stranger to the good benefits of owning a Stanley.
Rubbermaid Leak Proof Flip Lid Thermal Mug, 10 oz
Best features:
Double wall insulation system for better heat retention
Leak-proof lid
Top rack dishwasher safe
Rubbermaid is a very popular kitchen brand that has always delivered quality products that are practical, easy-to-clean and nice-looking. This mug is a great choice for professionals because of its nice cushioned pad and no-spill, leak-proof features, and do to it's short size which is perfect for single serve coffee makers like Keurig K-Mini, K15, and other small K-cup coffee makers.
Contigo Autoseal Stainless Steel Travel Mug – 10oz
Best features:
Leak-proof and spill-proof
Push-button lid for one hand usability
Easy-to-clean lid, lid-lock feature
Can keep coffee hot for up to 5 hours
Lid is dishwasher safe, container for hand-wash only
See pricing on Amazon here.
Users love the push button lid because it allows them to use the Contigo travel mug with just one hand. It also has a lid lock feature to prevent from accidentally pushing the Autoseal button.
Klean Kanteen Double Wall Tumbler Lid – 8oz
Best features:
Leak-proof
Wide bottle feature
Good for Keurig single serve
Easy-to-clean
Vacuum insulated
Klean Kanteen has new models featuring wider bottles for easy cleaning and just the right height for users who have Keurig single serve. They can brew directly to the mug and bring it along wherever they go.
Travel Mugs That Fit Under The Keurig Mini, K-Mini, & K-Mini Plus: Your Best Options
Got a Keurig Mini coffee brewer? Thinking of picking one up? Be careful which model you get if you are a regular travel mug user.
Most small travel mugs don't fit under the older model Mini Keurig machines such as the K10, K15, or B31. Those mini brewers truely are small and they are best used for regular coffee cups in and around the home.
The new Keurig K-Mini and K-Mini Plus brewers however give you a lot more space to use a taller mug if you like but even they have their limitations.
First let's look at specs.
The Original Keurig Mini (K15/K10/B31)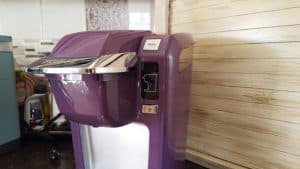 If you have or are getting an older Keurig Mini then with the drip tray in place you can fit a mug of 4-1/8″ in height under the spout. This is really only enough space to fit a standard coffee cup under and even then it can't rally be a tall one.
If you are fine removing the drip tray as many owners do out of necessity then you get one additional inch of clearance.
Anything measuring 5-1/8″ or less will fit under the spout with that drip tray out of the equation. In most cases most tall coffee mugs will fit under the spout but only a few super short insulated tumblers and travel mugs will fit.
Lower on this page I've reviewed your best options for mugs that are short enough to fit under a Keurig Mini but to summarize for you let me point you towards the KeepCup 8oz mug, the 10oz Contigo Autoseal Mug, and the Insulated Doppio Tumbler from GSI Outdoors.
Each of those insulated travel mugs mugs will fit under the K15 Mini when the drip tray is removed from the base and the GSI Doppio tumbler will even fit with the drip tray in place.
The New K-Mini & K-Mini Plus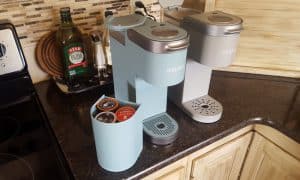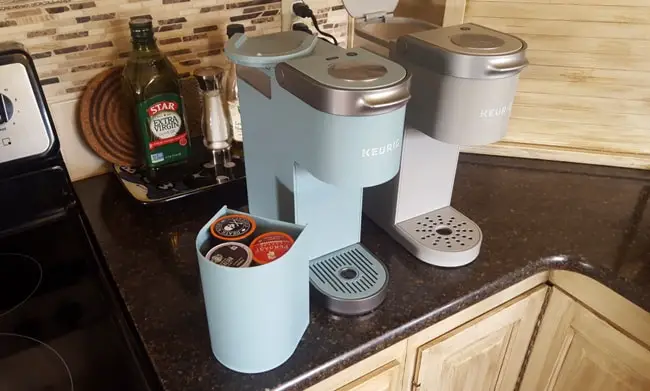 In 2018 the new K-Mini was released as a better made product. Not only are the new machines better made, skinnier, and more feature rich, they are also more accommodating to travel mugs, tumblers, and larger coffee mugs of all shapes and sizes.
With the drip tray in place on the K-Mini and the K-mini Plus any mug measuring six inches or less will fit just fine and when the drip tray is removed you have enough clearance for a seven inch mug.
One of the best selling travel mugs in recent years is the 16oz Contigo West Loop and it measures 6-3/4″ in height with the lid off so it will fit just fine under then K-Mini when the drip tray is taken off.
Better yet the actual Keurig branded insulated travel mug is 12-ounces and 5-1/8″ tall so it will fit under the New K-Minis with plenty of clearance and without having to remove a drip tray.
There are actually a ton of insulated tumblers and travel mugs that will fit under the K-Mini and K-Mini Plus but as is always the case some are leaps and bounds better than others. Lower on this page I'll review what I believe to be your best options but for starters a quick list of my favorites includes the aforementioned Keurig 12oz tumbler, the 12-ounce YETI Rambler, and the 10-ounce Contigo Autoseal.
Even still you have to really go out of your way to find a good insulated travel mug for one of these small machines. Not every store carries these shorter tumblers but they exist and you even have options in terms of quality and brand which wasn't the case back when the first Keurig Mini was released.
I have an older post on keurig sized mugs but I wanted to highlight the mini brewing machines in it's own post because, well, your options are much more limited and you can't just buy a small mug and assume it will fit.
Travel Mugs For Keurig Mini Coffee Makers
The opening on an older Keurig mini is four inches and if you remove the drip tray the opening expands to five inches.
In most of the larger Keurig brewers the opening with the drip tray removed is around 5 3/4″ so this is noticeably smaller.
For a travel mug to fit the Keurig Mini it needs to measure less than 5 inches in height with the lid removed.
I've narrowed the field down to three really excellent insulated travel mugs that are small enough to fit into this space and listed them below.
I hope this helps!
The Oxo Good Grips Mini LiquiSeal Travel Mug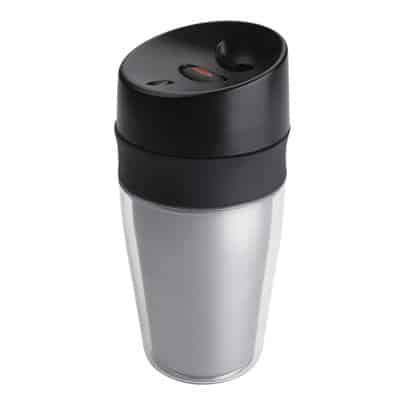 The Oxo Good Grips 9.5oz Mini LiquiSeal Travel Mug
The 9.5 ounce Oxo Mini travel mug barely fits under the Keurig Mini brewers so long as you remove the lid to the mug and the drip tray for the brewer. It is exactly 5 inches tall sans lid so it's a tight squeeze but it's probably the best performing mug in this size range.
If you want a mug that will really give you good insulation then this is the best option of the three listed on this page. The mug is also very leak resistant too which is great for the car.
KeepCup Barista Standard 8-Ounce Reusable Cup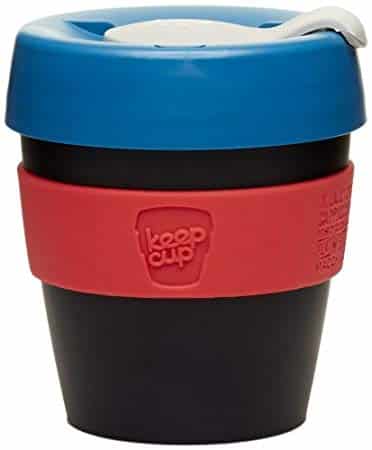 The KeepCup 8-Ounce Reusable Coffee Cup
If you want something that's slightly insulated and really small then you have to go with Keepcup's 8oz mugs. They come in many different color combinations and they are made of a somewhat flexible silicone like plastic. Much like a paper cup can flex a bit these cups will do the same.
You can expect this cup (with it's lid) to keep your coffee hot longer than a basic coffee mug but not more longer than 30-40 minutes. It's super short too so you can easily get it to fit under a mini Keurig brewer, either the B30, B31, or K10.
BODUM Anywhere Travel Mug with Spill Proof Locking Lid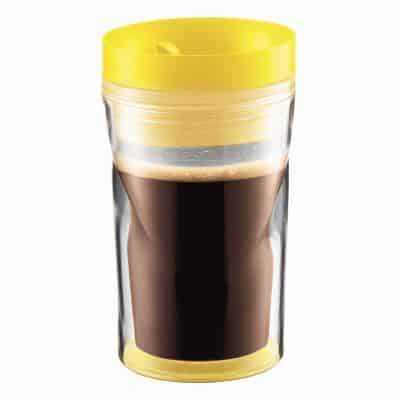 BODUM Anywhere 8oz Travel Mug wit Spill Proof Locking Lid
A lot like the Oxo Mini featured above this mug is 5 inches exactly when the lid is removed making it a perfect fit for the smallest Keurig brewers. This mug isn't going to be be quite as thermally insulated but it will keep things hot for up to an hour depending on how fast you drink your morning coffee.
For the road this is actually a great mug because you can drink from anywhere on the lid's circumference. You can seal it so it doesn't leak or spill and there's no handle to get in the way. I'm fond of this mug but it can be hard to find in stock at times.
In any event I hope this helps you out just a bit.
I've listed the mugs I would buy for the owner of a Mini single cup coffee maker in order of my preference but they all are worth buying if you ask me.
Also, If you are shopping for a mug to fit under a Keurig K-Mini coffee maker then your options are a lot larger. The K-Mini was redesigned to offer a much taller opening for the mug.
Even with the drip tray in place you can fit most small travel mugs under the spout. In fact you'll probably be able to use nearly any small sized insulated mug you want. The opening accommodates anything up to seven inches tall when you remove the drip tray.
This is far more space than is needed for a single cup Keurig machine in my opinion but it does make things easier on you.
Anyway, make sure to check out my page for insulated espresso mugs and cups if you are looking for that sort of thing.
Most mugs featured on that page aren't going to be road worthy but will be great for around the house. For commuting or general portability then stick with an stainless steel tumbler like those featured above or over on this page.
Related Articles
► Best Keurig Coffee Maker
► The Smallest K-Cup Coffee Makers
► K-Slim vs K-Mini (Plus)
► K-Mini vs K-Mini Plus
► Difference Between K-Compact, K-Classic, and K-Select
► Keurig K-Duo vs K-Duo Plus vs K-Duo Essentials
► K-Cup Coffee Makers With Bold or Strong Setting
► K-Cup Coffee Maker Reviews
► How To Unclog A Keurig
► Why Do K-Cup Coffee Makers Clog
► What Does The Keurig Strong Button Do
► Keurig vs Cuisinart
► Best Biodegradable & Compostable K-Cup
► Do Keurig Machines Make Good Coffee
► K-Mini vs K-Compact
► K-Express vs K-Mini
► K-Slim vs K-Express vs K-Compact
► Difference Between The K-Supreme Plus & K-Supreme Plus SMART
► K-Elite vs K-Select
► K-Elite vs K-Supreme
► Keurig K-Café vs Nespresso Vertuo Plus
► Keurig K-Supreme Plus SMART Review
► K-Café vs K-Latté