Pour over coffee makers are among the most simple and effective ways to prepare coffee. However, they seemed to have alluded most of society. Like some kind of secret contraption used to make otherworldly coffee, the pour-over is a transcendent way to perform a proper extraction from your fresh grinds.
Perhaps the dominance of electricity chased the pour-over coffee makers out of the home, but as many of us seek to return to a more natural state of mind, the pour-over has made a return.
Camping, traveling, or simply trying to make a better cup of coffee? Then these brewing "systems" are going to be your go-to coffee makers for whatever situation.

The Best Pour Over Coffee Makers w/ Reviews
Here are my top five favorite pour-over coffee makers (drippers) this year:
Click here to see why you should trust my recommendations.
Now let's look at each one individually. I'd like to share with you why I think these are the best options for the majority of people out there.

The Hario V60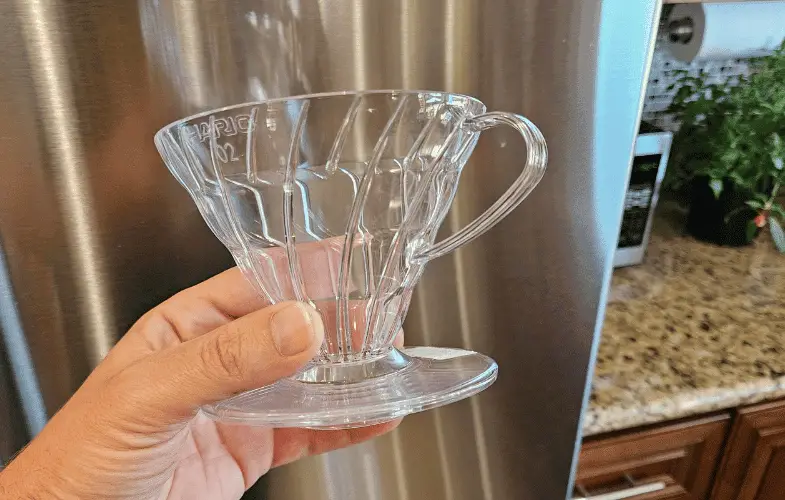 The Hario V60 is arguably one of the most iconic pour-over coffee brewing methods available, and the Hario company is world-renowned for its contributions to the world of coffee gear. Hario translates to the king of glass, and this really speaks volumes about the quality of materials that go into their products. Quality is of course very important to the brewing process, even when the device is as simple as a pour-over coffee maker.
Traditional pour-over makers tend to do all of their extracting towards the bottom of the cone shape. Now, you're not utilizing the beans as much as possible. This isn't optimal, but the V60 is.
Now, Hario doesn't condone wasting coffee grounds. Thus, they've integrated a ringed cone that keeps the filter away from the sides for a more even and thorough extraction. The V60 is a great pour-over brewer that will live up to the brand's long-standing legacy.
The Chemex Classic Brewer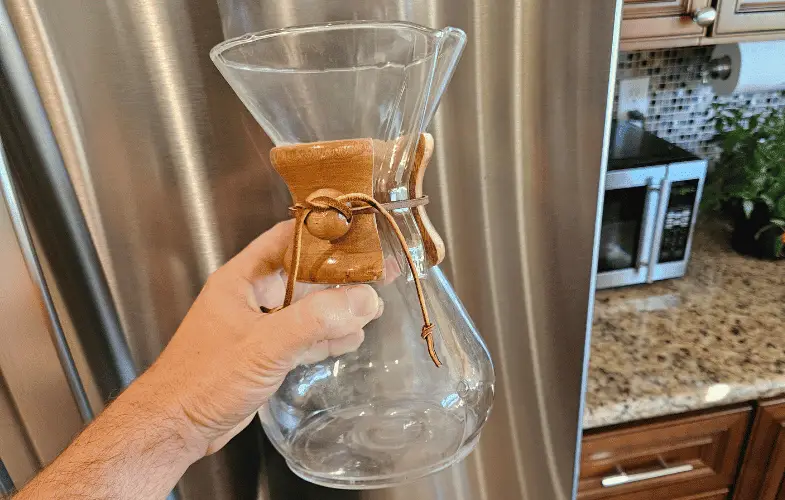 The Chemex has long been one of the oddest looking, or beautifully designed coffee makers around. It's actually sitting in the Museum of Art in New York City as a display of wonderfully minimalist aesthetics and proud functionality. Though this is now one of the slower coffee brewers on the market, it's still great to look at and provides a great cup of coffee.
The slower process might actually be intrinsic to the saturation phase. Giving the coffee more time to extract the bold flavors that we are seeking as coffee fanatics. If you're searching for a quick flash-out-the-door solution to your brewing phase, then this is likely not the match made in heaven. However, if you're looking to prepare a great cup of coffee and impress your friends with a less common brewing device then a Chemex is the ticket.
You can use it at work, take it with you on camping trips, or enjoy it in your own kitchen. Keep the tradition alive with the Chemex classic.
The OXO Brew Single Serve Coffee Dripper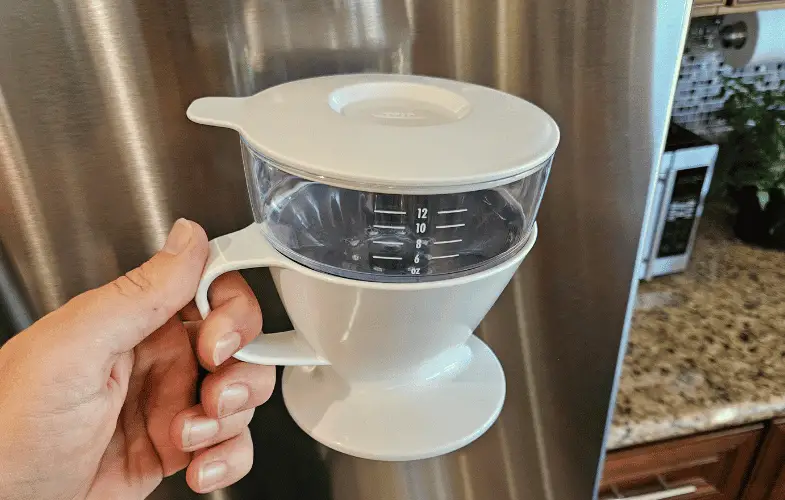 The reason why I have this near the top of my recommended pour-over list has everything to do with user convenience. There is no electronics, and you don't have to sit there for a minute slowly pouring hot water into the cone.
This dripper features a basin that sits on top of the cone that slowly "pours" the hot water into the grind all by itself through eight different holes in the basin.
All you do is add any #2 filter to the cone that you want, place the grind in the cone, the basin on top and then pour all your hot water in at once.
Cover the basin (which holds slightly over 12oz btw) with the included lid and walk away.
After a minute or two passes depending on the grind size you should have a cup of pour over coffee waiting for you and you didn't even have to babysit the process.
This unit isn't going to give you the best tasting pour over coffee because it is automatic however you don't have to use the basin if you don't want too. That means it is capable of giving you a quick basic cup of pour-over quickly with little fuss on your end or you can go slowly and methodically if you want to have better extraction and flavor.
Considering how affordable the Oxo Brew pour over unit is I'd be happy to own one of these or even present it to anyone as a gift.
The Melitta Pour Over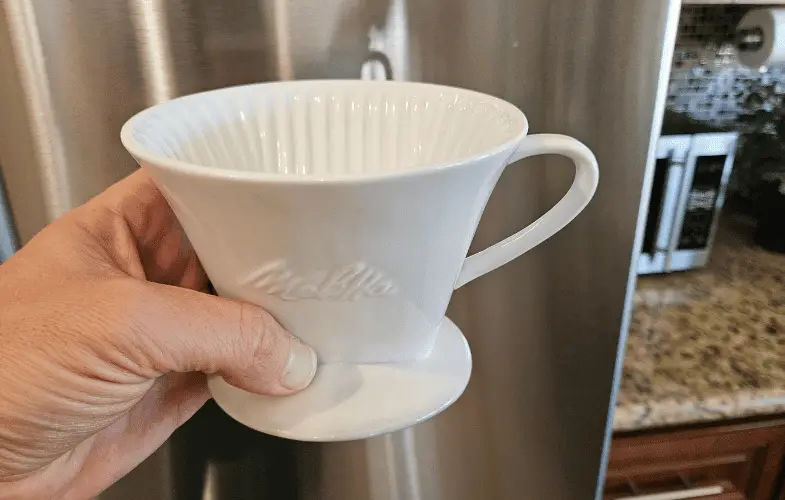 The Melitta makes our list for its supreme affordability. If you're doing some traveling or trying to find a way around investing a lot of money in a coffee maker (perhaps you'd rather spend the big bucks on a grinder) then the Melitta Pour Over is a great option.
A BPA-free cone, 30 oz. carafe, filters, and scoop are all included so you can get the most out of your dollar. It isn't the flashiest or most complex brewing system out there, but it's one that will leave your wallet intact and extract coffee like a real professional. So, if saving money for any other top-of-the-line coffee gear is on your mind, then this is likely a perfect route to take.
The Kalita Wave Dripper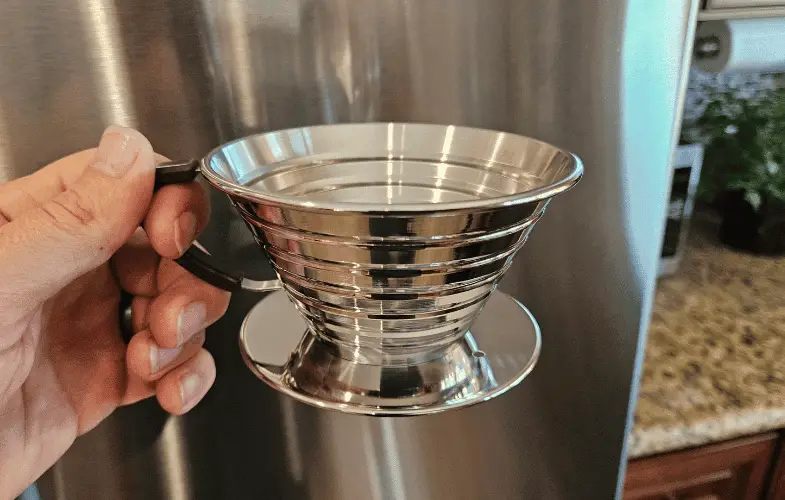 The third wave of coffee is a movement to produce high-quality coffee, some people are following the trend as a means to combat caffeine deprivation and others simply want to create the best beverage possible. The key might be in the device. This doesn't always have to mean the most expensive piece of gear either. It's rather a matter of simplicity in the case of the Kalita Wave Dripper.
This pour-over brewer is one of the most affordable drippers on the market and can be found in stainless steel, glass, and ceramic. Either is durable enough to take on the go and features the wave-style grooves which affect the way the coffee is filtered and brewed. Rest assured this patented technology will help maintain an even extraction of your prized coffee grounds.
A Few More Alternatives To Consider
Above are the units I believe offer the best value for the vast majority of people and they all fall into the classic pour-over coffee category however there are a few others that some of you might be interested in for a variety of reasons.
Some of these are more elctric and automatic in nature making them feel a bit more like standrad drip coffee, others are expensive (fancy) versions of the basic coffee drippers mentioned above. Others have more emphasis on aesthetics and physical beauty. Although they do look better in most cases that doesn't nessesarily mean they make better coffee than the simple units I usually recommend.
The Espro Bloom Pour Over Coffee Maker – The Espro company makes fabulous products that tend to outperform all of their competitors, but they also tend to be a few times more expensive. This dripper is no different. It will cost you a lot more but it will perform better without sacrificing much inconvenience. You have to have deeper pockets and appreciate well made items to buy this one however.
The Stagg XF Pour Over Sert by Fellow – This is a very cool set that is notably more expensive and it has a unique design. The Stagg drippers use a vertical wall design with a flat-bottom brewing chamber that can flow directly into a cup or into the matching carafe. There are two different sizes to choose from and you can buy this coffee maker with or without the carafe.
Chemex Ottomatic Coffeemaker Set – This is super expensive but super cool too! It's like taking a really awesome Chemex Classic and adding a beautiful stage for it to sit on that doubles as an automatic filter coffee maker. The "machine" part of this set has a water reservoir and it heats the water much like a drip machine or Keurig and then automatically slowly drips the water at the correct temperature over the grind in the Chemex just like you would do manually. I like this because it is a very pleasing setup and it gives you the flexibility to fully control the Chemex by hand or to use the automatic capabilities for regular mornings when everyone is in a rush to get out the door.
VVGCS Collapsible Pour Over Coffee Dripper (No Filter Needed) – I wanted to provide one really cool option on the low end and this is one dripper that I think a lot of people will love. This device is collapsible silicone, so it takes up very little space when not in use…and it has a built-in mesh filter screen, so you don't even need your own paper filters. It you are ok with a bit of extra body and coffee oils in your cup and you are good with low-cost equipment then this may be right for you. It's easily the cheapest item featured on this page!
Frequently Asked Questions
There are a number of questions I get frequently regarding pour over coffee and the gear used to make it. Some of the questions I've included short answers to below while others I've added full articles to this website to answer them.
Is Pour Over Coffee Any Different Than Drip?
The best answer to this has to do with the amount of effort you put into the brewing process. The more automatic the pour over method is then the more like drip coffee you are getting. To make true pour over coffee you will be slowly adding hot water in a circular motion over the grind allowing it to bloom and steep and drip a little at a time. I go more into the differences between drip and pour over coffee here.
You can also see full articles describing the differences between pour-over and many other brewing methods linked below:
► Espresso VS Pour Over Coffee: Which is Better & What's Different?
► Keurig vs Pour Over Coffee – Single Serve Brewing Methods Compared
► Pour Over Vs Percolator Coffee: Two Great Ways To Perk Up Your Day
Are Pour Over Coffee Makers Worth It?

Most people asking this question have never made pour over coffee before…or they aren't sure if it's any better than other single serve coffee makers such as Keurig. My answer to nearly everybody is that they always make better coffee than single serve pod coffee makers if you use fresh grind and take the time to slowly pour your hot water in the funnel.
If you use cheap (old) grind and mostly just take hands-off tactics to the brewing process, then you may find a small thermal carafe drip coffee maker to be better for you. The more automatic the pour over drippers become then more like a drip coffee maker they become so you might as well embrace that.
Alternatively, you could look into getting a small insulated French press coffee maker to make coffee with a bit less management on your part. The cleanup is greater with a French press however, and most French presses don't filter the coffee oils, so this won't be the ideal option for everybody.
What Is The Disadvantages Of Pour Over Coffee?
Pour over coffee requires a slow pour of hot water over your grind. That means you have to stand at the cup for a few minutes straight pouring the water and circling the cone to keep all of the grind uniformly saturated.
To do this it's easiest to use a gooseneck kettle which adds to the equipment you have to own and because it takes so long to pour a large portion of water you usually need to use an electric kettle that can hold the water at peak temperature just off a boil. If you don't then by the time the last water is poured it will have cooled off enough to make a poor tasting cup of coffee.
For this reason, pour over coffee is usually brewed in smaller batches so it will be hard to make a lot in a short period of time.
If you are shopping for pour-over coffee brewing equipment, then make sure to check out the following related articles where I've fully reviewed a few popular options in the space:
► Hario V60 Pour Over Coffee Dripper + Full Review
► Best Pour Over Kettles With Built-in Thermometers
► Chemex 8-Cup Coffee Maker + Full Review
Important Things To Keep In Mind
As with any of these five great pour-over coffee makers, you're sure to enjoy a traditional brewing method that many tout to be the best around. Even the worst coffee drippers tend to give you great coffee if you take the time to brew it well.
Makes sure to use high quality filters that don't leave a foul taste in the mouth when water filters through them and for the best flavor use only bottled water that is free from any extra undesirable flavors.
If you've ever tasted plain tap water filtered through cheap paper filters and compared the taste to bottled water filtered through premium filter paper then you know what I'm talking about. The paper and water play a huge role in the way your coffee actually tastes.
If you do use a pour over dripper, then make sure to pour water that is of the correct temperature through the dripper slowly, so the water doesn't pass through the grind too fast and make sure to keep the water temperature hot enough to extract the correct flavor profile. This is why so many coffee educators like myself recommend using gooseneck electric kettles that can maintain temperature and allow for precise flow control when pouring.
See my favorite Gooseneck electric kettles here if you like.
Lastly make sure to use the correct amount of grind per ounce of coffee you plan on brew making sure to not use grind that is too coarse or fine. Too fine and the coffee will over extract and too coarse and it will under extract.
Why You Should Trust This List + My Product Reviews & Curation Methodologies
I have personally run this coffee blog for more than a decade and have owned and tested more products than I can possibly remember. I have plenty of experience in regard to the form and function of coffee brewing techniques and equipment.
Whenever possible I personally purchase and test all products I review and recommend and I tend to slant each of my recommendations to the average person that drinks coffee every day. I don't like recommending products to people who are not already coffee snobs. Most people simply don't weight their coffee out by the gram and brew to the exact degree.
The average person wants their coffee to taste good and wants the brewing process to be less cumbersome. Convenience has to come into play, so I try to balance all things out when I make recommendations.
Click here to go back to the product recommendations.
Many products I make recommendations do result in commissioned revenue for me however I don't only recommend products I have affiliate relationships with, and I don't choose products to recommend based on potential revenue either. You can learn more about how this website earns income right here.