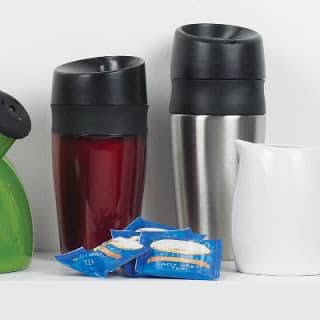 Sometimes you just don't need an oversized travel mug. 16-20 ounces is more coffee than a lot of people want at a time.
For those people who only drink a little coffee or only brew a small amount at a time it's almost necessary to have a good miniature travel mug on hand.
Most people who use single-cup coffee makers like Keurig systems find that normal sized travel mugs don't even fit under them at all so finding smaller options becomes even more important.
Luckily I've done the legwork for you. On this page you'll find many different travel mugs that are all either very small and/or very short.
Most of the mugs featured truly are tumbler style travel mugs and not insulated desk mugs – you know, those thermal coffee cups that you wouldn't take with you in the car. So if you are looking for one of those then see this page dedicated to insulated coffee cups.
Below you'll find a short list of bestselling small travel mugs which are all perfect for the car, single cup coffee makers, or for your desk at the office. Below those I've included links to various size travel mugs in the "small" category – you know, to give you more options to choose from.
FYI – For the purposes of this page I've considered any mug that holds 12oz or less to be a small travel mug. I tend to think of 14-20oz as normal and anything over that to be a large travel mug.
Happy shopping!
Bestselling Small/Short Travel Mugs
12 Ounce OXO Good Grips LiquiSeal Travel Mug
Contigo Aria Vacuum Insulated Travel Mug 10-Oz
KeepCup Barista Standard 8-Ounce Reusable Cup
More Small Sized Thermal Mugs
8 Ounce Travel Mugs – This page features insulated travel mugs or tumblers that are roughly 8 oz in size. These mugs are perfect for small single serve coffee makers, smaller americano's or even double/triple shots of espresso. When I drink small amounts of coffee I have to have a travel mug otherwise the coffee always gets cold on me. Sure you could guzzle but why? Coffee is meant to be sipped and savored.
10 Ounce Travel Mugs – This page features more small mugs. The size is a bit bigger and is perfect for the larger single cup makers that have larger brew serving sizes. I find these mugs also very nice for short commutes as they can be used in the car and easily double as a desk mug in the office.
12 Ounce Travel Mugs – Still yet larger these mugs are getting closer to average size. There are more to choose from in this size range and in many cases the mugs here are more popular than the smallest travel mugs due to them being a bit more versatile. They are small but not too small.
You can also be sure to find a lot of excellent insulated travel coffee mugs right here in the store.