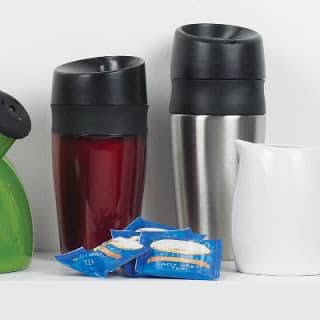 Sometimes you just don't need an oversized travel mug. 16-20 ounces is more coffee than a lot of people want at a time which is why small travel mugs are great to have in your cabinet.
For all of those people who only drink a little bit of coffee or for those that only brew a small amount at a time it's almost necessary to have a good miniature travel mug on hand.
They fit better under Keurig machines, are easier to travel with, and are better for drinking single cups of coffee out of.
Most people who use single-cup coffee makers like Keurig systems find that normal sized travel mugs don't even fit under them at all so finding smaller options becomes even more important.
Luckily I've done the legwork for you.
On this page you'll find many different travel mugs that are all either very small and/or very short.
Most of the mugs featured below truly are tumbler style travel mugs and not insulated desk mugs – you know, those thermal coffee cups that you wouldn't take with you in the car.
Click on the link to the size mug or tumbler you are looking for:
► 8-Ounce Mugs
► 10-Ounce Mugs
► 12-Ounce Mugs
---
So if you are looking for one of those that have a handle and look better on a desktop rather than a car's cupholder then see this page featuring only insulated coffee cups.
Below you'll find a short list of bestselling small travel mugs which are all perfect for the car, single cup coffee makers, or for your desk at the office.
Below those I've included links to various size travel mugs in the "small" category – you know, to give you more options to choose from.
FYI – For the purposes of this page I've considered any mug that holds 12oz or less to be a small travel mug. I tend to think of 14-20oz as normal and anything over that to be a large travel mug.
Happy shopping!
Bestselling Small/Short Travel Mugs
These are my absolute favorite small travel mugs on the market today. There are others though so I've included links to a few others for variety sake.
1 – The Contigo Autoseal Travel Mug (2079497), 10 oz, Matte Black
This mug is the gold standard in quality. It's leakproof, spill proof, and it keeps your coffee hot for up to three hours full.
See pricing and specs on Amazon here.
---
2 – The Rubbermaid Leak Proof Flip Lid Thermal Bottle, 10 oz
This is an excellent alternative to the Contigo featured above because it can be purchased for a bit less coin.
It insulated nearly as good as the Contigo but the lid is designed so that the mug can stay in an open position making a bit more prone to accidental spills.
See pricing and specs on Amazon here.
---
3 – The OXO Good Grips Mini Travel Mug, 10 oz
Oxo has made this mug for many years now and it's been my favorite small insulated mug since around 2013 or so when I was first introduced to it.
For me I like this mug best because of the lid design. It feels the easiest to use and the most comfortable to drink out of.
Oxo's lid is tall making this feel more like a travel mug but once that lid is removed it's super short, short enough to fit under most single serve k-cup brewers.
Also, the price is low enough to work for almost any budget!
See pricing and specs on Amazon here.
---
In addition to those mugs I also particularly like the 10oz YETI Rambler Vacuum Insulated Tumbler. It is a stainless steel mug with a lowball lid making it seem a lot smaller than alternatives.
Also, the Tahoe Trails 10 oz Travel Cup With Lid is another really great alternative that is a bit cheaper than the YETI but still does roughly the same thing in the same style. Check that out for a nice basic small thermal tumbler.
Here Are Some More Small-Sized Thermal Mugs Sorted by Size
8 Ounce Travel Mugs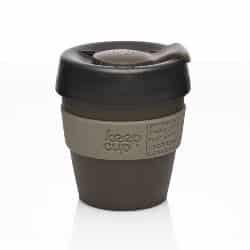 Below I've features insulated travel mugs (or tumblers) that are roughly 8-oz in size. These mugs are perfect for small single serve coffee makers, smaller americano's or even double/triple shots of espresso.
When I drink small amounts of coffee I have to have a travel mug otherwise the coffee always gets cold on me. Sure you could guzzle but why? Coffee is meant to be sipped and savored.
Don't you hate how hard it is to find a well made travel mug that's only eight ounces?
You wouldn't think it would be hard since that's the size of a standard coffee cup but it sure is.
I'm a guy that loves drinking my coffee slowly. I spread it out throughout the day so I love the idea of using small insulated cups, especially those with lids. As you might expect I've really got my eye on this market.
If you are looking for a small travel mug for espresso or a short mug for Keurig single serve coffee then please, read on. I've featured a lot of eight ounce thermal mugs below.
Before we look into the details of these and a few others listed below lets first look at some general details. Here are the different kinds of travel mugs I choose this list from.
Your Options According to Size
The Material Dictates the Quality & Durability
Typically travel mugs are made from the following materials:
Stainless Steel – This is a popular choice among users because of its durability and ease of cleaning. Stainless steel is highly resistant to absorbing taste, odor and stain. When taken care of properly, it can last for several years because it does not rust nor corrode.
Ceramic – Ceramic mugs look traditional home mugs. They are dishwasher save, easy to clean and can keep coffee warm for at least an hour. It is more affordable but less durable.
Plastic – Like ceramic, plastic materials are inexpensive. But it is more durable than plastic, less breakage and dents. It is easy to clean but plastic can retain and absorb stain and odors very quickly.
Double-Wall/Insulated – This is the most loved type of travel mugs because of its excellent heat retention quality. Some insulated travel mugs can keep coffee hot for eight full hours! It is also highly durable, easy-to-wash. Some insulated mugs can be very expensive, but given the features, it is worth the investment.
These are the Best 8 Ounce Travel Mugs Available Today
I've compiled a list of the best 8oz travel mugs out there. This can help you decide which of this single-serve mug will work best for you.
Klean Kanteen Double Wall Vacuum Insulated Stainless Steel Tumbler with Lid (8oz)
Best features:
Vacuum insulated, double wall system, can keep coffee hot for up to 4 hours and cold drinks up to 20 hours
Wide bottle body
Easy to clean container and lead
BPA-free
Users love the design and easy to clean container of Klean Kanteen. It is so easy to clean and perfect for a single cup serving. It can even fit in a Keurig so you can make K-cup and bring it along anywhere you go.
KeepCup 8-Ounce Brew Glass Reusable Coffee Cup
Best features:
Leak-proof lid
Glass container body
No spill
Dishwasher and microwave safe
KeepCup does not retain hot drinks as long as the Klean Kanteen but it can keep your coffee warm for an hour, at most. You can enjoy your coffee in this insulated mug and bring it along when you travel. It has leak-proof lid and easy to drink opening. It's also super easy to clean.
OXO Good Grips Mini LiquiSeal Travel Mug
Best features:
Leak-proof and spill-proof
Fits single serve coffee makers like Keurig and Nespresso
Double wall system for better insulation and heat retention
One-hand usability
Not microwave safe
This is a really spill-proof and leak-proof travel mug perfect for traveling and for professionals who are always on-the-go. It's automatic press button allows for easy one hand use so you can drink even if you are walking, driving or riding a public transportation.
Innate Doppio Tumbler, Stainless, 8-Ounce
Best features:
Fits any single serve coffee makers
Excellent heat retention due to double wall system
If you are looking for an efficient and hardworking mug that's ergonomic looking, Innate is the one for you. It's also easy to clean and fits standard car cup holders.
Stanley Adventure Vacuum 8 oz Mug
Best features:
Anti-rust stainless steel, food grade container
Can keep hot drinks for up to 4 hours
Leak proof cover
Splash-resistant
Stanley brand is favorite household name. This 8 ounce mug is no stranger to the good benefits of owning a Stanley.
Hamilton Beach Compact Espresso Travel Mug, 8oz
Best features:
Double wall insulation system for better heat retention
Leak-proof lid
Cushioned pad to prevent damage and scratches
Hamilton is another popular kitchen brand that delivers quality products that are practical, easy-to-clean and nice-looking. It is a great partner for professionals because of its nice cushioned pad and no-spill, leak-proof feature.
Why Would You Buy an 8 oz Insulated Mug?
Small 8 ounce travel mugs are perfect for home made espresso shots or small one-cup coffee makers. I have been using a Moka pot a lot lately to make an awesome bit of espresso-like coffee every morning but 6 ounces of moka doesn't even come close to filling standard size travel mugs.
If you are looking for a quality insulated mug to take small amounts of coffee to go then I hope you find this page useful. There aren't a ton of options in this category but you'll find much more luck finding a good thermal coffee mug here than you will in your local Target.
Also, keep in mind that this page focuses on travel mug / tumbler style coffee cups. If you want a double-wall insulated coffee cup which is more appropriately used in the home or at a desk rather than out and about then check out this page or this one featuring many different kinds of insulated coffee cups.
If you are actually shopping for a small mug and don't necessarily need something eight ounces in size then see our page dedicated to 10oz travel mugs here. You will find a selection of great travel mugs that are bigger than 8oz but still quite small compared to all others.
Is This a Good Size to Use as an Espresso Travel Mug?
Around my house I tend to think of 8 oz thermos as a quick and easy way to take a single cup of coffee into the car for a couple of morning errands. I frequently use my Umbria for drinking coffee around the house but when I hit the road a small insulated travel mug is all I need.
On the occasional morning however I make espresso or stovetop espresso and for those my drink only ends up being 4 ounces or so. When I use a smaller 1-cup stovetop espresso maker I end up with only a shot or two of coffee! For an amount this small a 8oz mug is a little big… it works, but it's a little bigger than you really need.
Now having said that I know a lot of people who brew a quad-shot of espresso or even make a large cup of espresso with a couple of Nespresso pods. This will increase the amount of espresso in your cup and will fill a 8oz coffee cup pretty fast.
Personally I think having a small insulated coffee cup like this is worth it no matter what you drink.
---
10 Ounce Travel Mugs: Short Enough For One-Cup Coffee Machines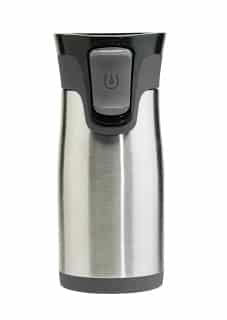 Below I've featured more small mugs. This size is a bit bigger and is perfect for the larger single cup makers that have larger brew serving sizes.
I find these mugs also very nice for short commutes as they can be used in the car and easily double as a desk mug in the office.
I'm sure you love the idea of having a short insulated mug that sits directly under your single serve coffee maker.
I do to!
The problem with a lot of the best travel mugs these days is that they are simply too large to use at home. You have to remove drip trays to use them with a Keurig and they are just too big for sipping on coffee at home comfortably.
Luckily there are more options than ever before in the small travel mug market. Here on the site I've got a lot of options listed below – each of them are 10 oz.
Here are my Favorite 10 oz Travel Mugs
If you have a single cup coffee maker then it's worth investing in a good Keurig sized travel mug.
EPIC Stainless Steel Vacuum Insulated Travel Tumbler, 10 oz, Black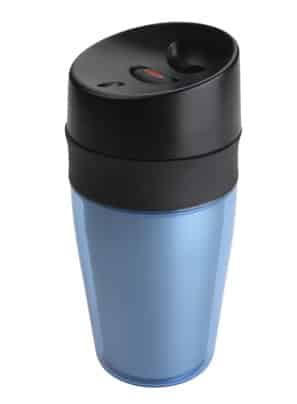 Oxo Good Grips Mini LiquiSeal 9.5 Oz Travel Mug
YETI Rambler Stainless Steel Vacuum Insulated Tumbler with Lid
 Zojirushi Stainless Vacuum Mug, Rose Quartz, 10 oz/0.30 L
 Huswell Insulated Double Wall Glass Coffee Travel Tumbler, 10 oz.
 Chantal Single Serve Stainless Steel Easy Travel Mug, 10-Ounce, Red
&
Additionally I've provided some details on some of the above mugs in the section below.
EPIC Stainless Steel Vacuum Insulated Travel Tumbler, 10 oz, Black
Main Features:
Double wall vacuum insulation with added copper lining between the walls maximizes temperature retention
Hot beverages – stays warm for up to 6+ hours so you can enjoy your hot morning coffee in this gorgeous flask until lunch time – perfect for college students and for taking it to work place
High grade of 18/8 stainless steel construction make these cups rust proof and long lasting
Oxo Good Grips Mini LiquiSeal 9.5 Oz Travel Mug
Main Features:
9.5-ounce fits most single serve coffee makers including Keurig and Nespresso

3-silicone seals lock in liquids for no spills
Double wall plastic construction improves thermal retention
Polycarbonate outer cup is shatter resistant
Soft, non-slip grip
Fits most single serve coffee makers
Double wall construction improves thermal retention and is shatter resistant
Yeti Rambler Stainless Steel Vacuum Insulated Tumbler with Lid
Main Features:
Ideal drinking companion at home or around the campsite
Its 18/8 stainless steel construction (made with kitchen-grade stainless steel) will hold up in the wild
Will never leave a ring on your coffee table, thanks to No Sweat Design
Double-Wall Vacuum Insulation will keep your hot drinks hot and your cold drinks cold far longer than standard drinkware
Dimensions: 4 1/8 inches high, 3 ½ inches in diameter
Zojirushi Stainless Steel Vacuum Mug Rose Quartz
Main Features:
Stainless steel vacuum insulation keeps beverages hot or cold for hours
Tight-fitted lid keeps beverages hotter or colder
Easy-to-clean nonstick interior
Stopper disassembles for thorough cleaning
Plastic cover around the mouth of mug for drinking
Huswell Insulated Double Wall Glass Coffee Travel Tumbler, 10 oz.
Main Features:
Dual walled brosilicate material is designed to maintain hot or cold beverage optimal temperature
Gap between layers ensures you can handle hot drinks safely without any risk of injury
Unlike plastic portable mugs, this contains no harmful chemicals that can leach into your drinks
Dishwasher-safe, Eco-friendly, reusable glasses help reduce waste & helps save you money
Large 10 oz. (300 ml.) traveling mug fits most car cup holders & has silicone leak-proof lid & grip
Chantal Single Serve Stainless Steel Easy Travel Mug, 10-Ounce
Main Features:
Triple-wall vacuum seal; will keep beverage hot for up to 7 hours
Simple push-button top allows you to drink from any side of the rim
Easy to operate with just one hand
The entire mug is top-rack dishwasher safe
Made of stainless free plastic top
I've also got a few other sizes featured here on the site. Click through to see my favorite large travel mugs here.
Buyer's Guide & FAQs
Our modern lifestyle made us fall in love with things that are mobile, on-the-go, convenient and ready to consume in minutes. I guess this is one reason why coffee shops mushroomed in just about every corner of bustling cities and metropolis.
We love our coffee but we really don't have the time to always brew one for a single serving. We'd rather buy out of necessity and convenience.
But thanks to travel mugs, we can now brew more coffee at home and bring it just about anywhere. If we are in a hurry, we can brew at home, fill our travel mug and get on the road.
It's simply amazing.
Because travel mugs have become part and parcel of our daily grind, manufacturers have gone an extra mile to provide consumers with so many options.
But before anything else, what are the things you need to keep in mind before buying?
According to Consumer Search, these are the things you need to remember when buying a travel mug.
Excellent heat-retention. You don't want to drink a cold coffee, unless you initially made a cold brew. While you don't expect travel mugs to keep piping hot coffee for the whole day, you don't need a travel mug that only holds hot coffee for 30 minutes. A good insulated travel mugs should keep your coffee warm for a couple of hours. Some travel mugs offer double insulation system.
Leak-proof seals. Since you will be travelling, you don't want your coffee spilling on you or worse, spilling on the person beside. That's a lot of mess and will cause you unnecessary hassle, not to mention embarrassment. If you are driving a car and bring a travel mug with coffee, the last thing you want is coffee stain on your leather seat.
One-hand usability. Get a mug that has a lid that you can flip open with your thumb or an automatic, push-button lid. You don't want to be unscrewing and screwing the lid back and forth, especially if you are on the wheel.
Durability. During rush hour, your travel mug could get banged and knocked off. Some models easily break. You want a durable and sturdy one.
Easy-to-clean. You will not always have your detergent and bottle brush with you. Make sure that your travel mug is dishwasher safe and easy to clean.

Some Tips to Protect Your Travel Mug

A good travel mug is an investment. It will last you for years if you take good care of it. Always follow manufacturer's instruction on how to use and clean your travel mug. If it's dishwasher safe, then go for it. If it says best to hand wash, follow it carefully. Care and usage will extend the life of your travel mug and you can make good memories with it.

What do you Use a 10oz Tumbler For Anyway?

Most 1-cup coffee machines make only 6-10 ounces of coffee at a time. This is perfect for a normal sized coffee cup but way to small for the most common travel coffee mugs sold today. Average size travel mugs typically span anywhere from 14oz all the way up to 24 oz with many even larger than that.

Unless you like drinking your coffee really quickly a small travel mug can help keep your coffee at an ideal drinking temperature for longer while also minimizing the potential for spills in the car or at the office. In fact just using your cup around the house you'll find that these are nowhere near as likely to get tipped over because they are so short. Unlike the taller top heavy tumblers these tend to be short and stocky.

Also, if you are shopping for something to use in the home you may also want to consider a double walled espresso cup or a stainless steel coffee cup. They aren't great for travel but they are great for a desk or kitchen table.

And if you are not steadfast in your search for a 10-oz mug exactly see this page for more popular small insulated travel mugs or this page for insulated coffee cups.

---

My Top 12-Ounce Travel Mug Picks

Still yet larger these mugs are getting closer to average size. There are more to choose from in this size range and in many cases the mugs here are more popular than the smallest travel mugs due to them being a bit more versatile. They are small but not too small.

You can also be sure to find a lot of excellent insulated travel coffee mugs right here in the store.

If you are looking to pick up a really nice travel mug for yourself or someone else then make sure to spend an extra couple bucks to get one that will perform better over the years.

Look into anybody's cabinet and you're sure to find at least one or two cheap travel mugs that don't ever get used. Many low cost mugs leak or don't retain heat very well. Some of them even make your coffee taste a bit like plastic. And in some cases the seams between insulated walls has separated making the mugs perform poorly.

Everyone appreciates a well made thermal mug. If you're going to buy one for anyone, a few extra dollars spent goes a long way towards getting a much better product.

Unlike really small travel mugs 12-oz mugs are easier to come by and they come in many different styles. On this page I've attempted to feature primarily travel mug style tumblers. You can of course see this page for more insulated coffee cup style mugs or this page for a more options in the small travel mug category.

12 Oz OXO Good Grips LiquiSeal Travel Mug

12 Oz Foam Insulated Thermoserv Travel Coffee Mug

I Am Not a Paper Cup 12-Ounce Porcelain Travel Cup with Lid




Not married to the 12-oz mug? See this page for a list of the best travel mugs sold today.

The Beauty of owning a 12oz Travel Coffee Mug

What's good with a 12 ounce travel mug? Well, here are the practical reasons why you need a 12 ounce mug in your life.

A 12 ounce travel mug holds just enough coffee for half a day. This is the optimum amount that you can enjoy while you travel and still have enough coffee to go by during your work.

A 12 ounce travel mug has the right width and height to fit in back pack or a medium-sized handbag.
A 12 ounce mug can easily fit in the cup holder of your car's dashboard.

Features to Look for When Buying a 12 ounce Travel Mug

Before buying a travel mug, here are some tips and guides to help you choose the best 12 ounce mug for your need.

Leak and Spill Protection – Find a travel mug that is leak and spill proof. Remember that you will use it for traveling. Expect that it will get knocked over and bumped at. You don't want coffee spilling around your workstation, on your lap or on your seatmate's shirt.

Easy-to-Open – Many buyers look for flip open or push-button lids so they can enjoy drinking from the travel mug with just one hand. Imagine if you would need to unscrew the lid, drink coffee and put the lid back. It's such a hassle! So, opt for an easy-to-open travel mug.

Coffee Lid Mess Avoidance – Travel mugs can be a bit messy, leaving trails of coffee around the lid, with some even spilling on your favorite white shirt! Choose a travel mug with a nice lid that's perfect for you. Some are just too wide, causing coffee to spill out from the corners of your mouth. Inspect the design of the lid. Some travel mugs have a beaker that's a bit shallow, with a surrounding surface to collect coffee spillage. Others have a built-in sipper. But I can't imagine using a straw for hot coffee.

Easy-to-Clean
Travel coffee mugs can be notorious when it comes to cleaning. Choose a model that is easy to handwash. Having one that is dishwasher safe is also convenient. But since travel mugs are often brought to trips, you need a mug that is easy to wash manually.

Heat Retention – Who likes to drink cold coffee? Unless you intend to make an iced coffee, no one enjoys a hot coffee that has gone stale and cold. Choose a travel mug that has excellent heat retention. Keeping the coffee pleasantly hot for at least 3 hours is good enough. Some travel mugs can keep your coffee hot for 6 to 8 hours. It's simply amazing!

Durability – Among plastic, glass and stainless travel mugs, the latter is always a runaway winner in terms of durability. Drops and accidents can happen. Choose a travel mug that is durable and sturdy, especially for every day commute.

Affordability – It's ok to invest on a good travel mug. But also keep in mind that you are bound to replace it, one way or another. Be reasonable and think long-term when purchasing a new travel mug.

Here is Some Data on Some of the Top Rated 12-Ounce Travel mugs Sold Today

Here's a round-up of the best 12 ounce travel mugs based on product tests and reviews.

CamelBak Forge
Most loved features:

Spill-proof and leak-proof
Easy-to-clean
One hand usability
Can keep coffee hot for 6 to 8 hours

The CamelBak Forge has a straightforward design that's ergonomic and practical. It can easily fit in your bag and will never spill a drop. In fact, testers tried the Camelbak Forge and put it inside a spin dryer for half an hour. No spill at all!

Zojirushi SM-SA48-BA Stainless Steel Mug
Most loved features:

Compact and lightweight
Easy-to-open and mess-free lid
Easy-to-clean lid and interior
Vacuum insulated

Zojirushi models are known for efficiency and practicality. Users love its lightweight feel. It makes carrying and using easy. The lid is detachable so you can clean it thoroughly, avoiding common travel mug problems such as stale coffee smell and stain.

Klean Kanteen Wide
Most loved features:

Leak-proof
Wide bottle feature
Good for Keurig single serve
Easy-to-clean
Vacuum insulated

Klean Kanteen has new models featuring wider bottles for easy cleaning and just the right height for users who have Keurig single serve. They can brew directly to the mug and bring it along wherever they go.

Contigo Autoseal West Loop Stainless Steel Travel Mug
Most loved features:

Leak-proof and spill-proof
Push-button lid for one hand usability
Easy-to-clean lid, lid-lock feature
Can keep coffee hot for up to 5 hours
Lid is dishwasher safe, container for hand-wash only

Users love the push button lid because it allows them to use the Contigo travel mug with just one hand. It also has a lid lock feature to prevent from accidentally pushing the Autoseal button.

Stanley Classic
Most loved features:

Leak-proof
One-hand usability
Can keep coffee hot for up to 7 hours

Stanley models are known for the slogan "can't leave the household without it". True enough, it features the basic necessities that travel mug users want.

---

Remember when shopping, pricing should be a reflection of quality. If you want something that will last a long time and will be better at heat retention, leak-proof-ness, and at the drop test then lean to the high side of the pricing scale.

For basic single cup coffee however just go with the cheaper models. They are pretty good relative to their price just don't expect them to take the same kind of beating of a YETI mug.