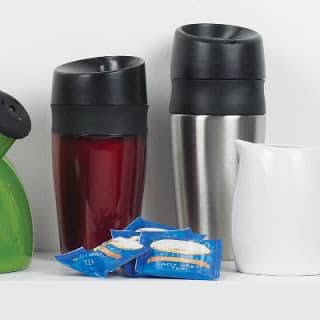 Sometimes you just don't need an oversized travel mug. 16-20 ounces is more coffee than a lot of people want at a time which is why small travel mugs are great to have in your cabinet.
For all of those people who only drink a little bit of coffee or for those that only brew a small amount at a time it's almost necessary to have a good miniature travel mug on hand.
They fit better under Keurig machines, are easier to travel with, and are better for drinking single cups of coffee out of.
Most people who use single-cup coffee makers like Keurig systems find that normal sized travel mugs don't even fit under them at all so finding smaller options becomes even more important.
Luckily I've done the legwork for you.
On this page you'll find many different travel mugs that are all either very small and/or very short.
Most of the mugs featured below truly are tumbler style travel mugs and not insulated desk mugs – you know, those thermal coffee cups that you wouldn't take with you in the car.
So if you are looking for one of those that have a handle and look better on a desktop rather than a car's cupholder then see this page featuring only insulated coffee cups.
Below you'll find a short list of bestselling small travel mugs which are all perfect for the car, single cup coffee makers, or for your desk at the office.
Below those I've included links to various size travel mugs in the "small" category – you know, to give you more options to choose from.
FYI – For the purposes of this page I've considered any mug that holds 12oz or less to be a small travel mug. I tend to think of 14-20oz as normal and anything over that to be a large travel mug.
Happy shopping!
Bestselling Small/Short Travel Mugs
These are my abosolute favorits small travel mugs on the market today. There are others though so I've included links to a few others for variety sake.
1 – The Contigo Autoseal Travel Mug (2079497), 10 oz, Matte Black
This mug is the gold standard in quality. It's leakproof, spill proof, and it keeps your coffee hot for up to three hours full.
See pricing and specs on Amazon here.
---
2 – The Rubbermaid Leak Proof Flip Lid Thermal Bottle, 10 oz
This is an excellent alternative to the Contigo featured above because it can be purchased for a bit less coin.
It insulated nearly as good as the Contigo but the lid is designed so that the mug can stay in an open position making a bit more prone to accidental spills.
See pricing and specs on Amazon here.
---
3 – The OXO Good Grips Mini Travel Mug, 10 oz
Oxo has made this mug for many years now and it's been my favorite small insulated mug since around 2013 or so when I was first introduced to it.
For me I like this mug best because of the lid design. It feels the easiest to use and the most comfortable to drink out of.
Oxo's lid is tall making this feel more like a travel mug but once that lid is removed it's super short, short enough to fit under most single serve k-cup brewers.
Also, the price is low enough to work for almost any budget!
See pricing and specs on Amazon here.
---
In addition to those mugs I also particularly like the 10oz YETI Rambler Vacuum Insulated Tumbler. It is a stainless steel mug with a lowball lid making it seem a lot smaller than alternatives.
Also, the Tahoe Trails 10 oz Travel Cup With Lid is another really great alternative that is a bit cheaper than the YETI but still does roughly the same thing in the same style. Check that out for a nice basic small thermal tumbler.
Here Are Some More Small-Sized Thermal Mugs Sorted by Size
8 Ounce Travel Mugs – This page features insulated travel mugs or tumblers that are roughly 8 oz in size. These mugs are perfect for small single serve coffee makers, smaller americano's or even double/triple shots of espresso. When I drink small amounts of coffee I have to have a travel mug otherwise the coffee always gets cold on me. Sure you could guzzle but why? Coffee is meant to be sipped and savored.
10 Ounce Travel Mugs – This page features more small mugs. The size is a bit bigger and is perfect for the larger single cup makers that have larger brew serving sizes. I find these mugs also very nice for short commutes as they can be used in the car and easily double as a desk mug in the office.
12 Ounce Travel Mugs – Still yet larger these mugs are getting closer to average size. There are more to choose from in this size range and in many cases the mugs here are more popular than the smallest travel mugs due to them being a bit more versatile. They are small but not too small.
You can also be sure to find a lot of excellent insulated travel coffee mugs right here in the store.
Remember when shopping, pricing should be a reflection of quality. If you want something that will last a long time and will be better at heat retention, leak-proof-ness, and at the drop test then lean to the high side of the pricing scale.
For basic single cup coffee however just go with the cheaper models. They are pretty good relative to their price just don't expect them to take the same kind of beating of a YETI mug.