Which Nespresso Machine Makes The Best Lattes?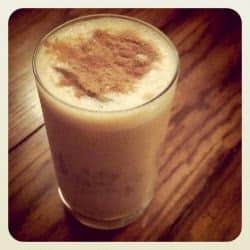 Nespresso makes some really awesome single serve coffee and espresso drinks. They are on par with Keurig in the single serve coffee department but set themselves ahead by really nailing the espresso drinks as opposed to the coffee drinks.
Three of the most popular espresso based drinks are the latte, the cappuccino, and the macchiato – each of which Nespresso machines particularly excel at making.
Depending on your love of automation (and budget) any of the Nespresso machines will make a fine espresso at the touch of a button but the Lattissima machines will make the best lattes and cappuccinos without the need of human intervention.
If you pick up the entry level Lattissima One for instance you get a small milk reservoir that you can keep in your fridge between uses.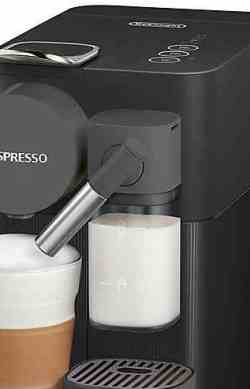 To brew a latte you just take this milk tank out from the fridge and insert it onto the front of the machine, insert an espresso capsule and press the latte button.
That's it!
It will then brew the espresso and add the frothed milk to it automatically. This is why the Lattissima One is the best option for making Lattes by far. You can check Amazon pricing for the Lattissima One here.
It's not exactly cheap but it is a lot cheaper than the super automatic machines on the market and it's a lot cheaper than even the advanced Lattissima machines like the Gran Lattissima which is bigger and comes with a few additional bells and whistles.
The Best Alternatives to the Lattissima Espresso Machines
If the Lattissima One is too expensive for you then you can easily save some cash by going with one of the smaller Nespresso units which all make excellent espresso. Some of them even come bundled with the Nespresso Aeroccino 3 Milk Frother.
For the price sensitive shopper the Essenza Mini bundled with the Aeroccino 3 is usually going to save you quite a bit over and of the Lattissima machines but you will have to froth your milk separately and add it to your espresso drink by hand. The Aeroccino 3 also don't include a water reservoir for immediate cleaning nor is it designed to store in the fridge between uses so keep those details in mind as well.
Related: The Difference Between Milk Froth & Foam
What I like most about the Lattissima machines is that you can hook your milk compartment up to it and remove it so easily. Attach it and hit a button and it makes the mixed drink of your choosing without you actually having to dirty up anything else.
Possibly even better is the after brewing cleaning cycle that is just as easy. You just press a button and plain hot water and steam come through the wand cleaning out all the milk residue. The wand that releases the steamed milk is easily cleaned, again and again, at the push of a button. I love that!
The Lattissima System Vs The Aeroccino Method
The Lattissima costs more but it will froth your milk for you and then clean itself almost automatically and without a trip to the sink or dishwasher. You can buy a basic Essenza Mini or Pixie plus a stand-alone Aeroccino and save a little bit money but you'll have to combine drinks manually to make a latte and then discard excess milk froth and manually clean the Aeroccino by hand.
The Lattissima Plus, Pro, Touch, One, & Gran
Fully Automatic Lattes Made Easy
The Gran Lattissima is the best option possible for the home barista that wants to make a great latte at the touch of a button. The machine will heat and froth your milk for you and then add the espresso all at the touch of a button for maximum convenience.
 Nespresso Lattissima Plus Espresso and Cappuccino Machine by De'Longhi Nespresso Lattissima Touch Espresso Machine with Milk Frother by De'Longhi
One thing worth noting – the original Lattissima is a bit old and not worth getting, I recommend opting for the Plus or One version as they have been improved but still cost about the same.
The Lattissima Plus is great model but the Gran and Touch models will give you more space to use bigger and wider cups. They also have larger milk containers for less frequent refills.
If I were buying a Nespresso for mixed espresso drinks today I would definitely be opting for the Gran Lattissima because I do love the bigger size and extra features it offers!
Nespresso's Essenza Mini vs Pixie: Paired With the Aeroccino Frother
If you want to save significant money then you should go for the Essenza Mini, Essenza Mini Plus, or the Nespresso Pixie each of which make really excellent shots of espresso at the touch of a button and cost way less than even the cheapest Lattissima machine.
You can then also use the separate Aeroccino frother to heat and froth your milk for you to add to the espresso for your drink. This creates a manual set of steps but it also gives you full control on the volume of milk and/or froth you add to any of your drinks which in my opinion is a big plus.
 Breville-Nespresso USA Essenza Mini Espresso Machine, Pure White Nespresso by De'Longhi Pixie Espresso Machine, Aluminum
My Nespresso Machine Buyers Guide
What things should you consider when buying a Nespresso machine? Here are some factors to consider.
Do you want plain coffee or mixed drinks with milk foam?
You need to decide what type of drink will you be making more often in your Nespresso machine. There are Nespresso for black brewed coffee and Nespresso for drinks with milk like latte and cappuccino. If you will make more lattes, make sure that your Nespresso has a milk frother function to ensure that you can make a beautiful cup of latte.
For straight coffee-like lungo shots only then basic models like the Nespresso Essenza may suffice.
See this post for the difference between lungo, espresso, and ristretto.
Coffee Capsule Compatibility
Coffee capsule are not standard sizes. Some coffee capsule may not work on Nespresso. Before you buy one, make sure that your favorite flavor of coffee capsule fits well with the Nespresso model that you are eyeing for. This is particularly important for all the third party manufacturues that may be making capsules for machines similar to nespresso. Read labels carefully.
Design and Size
Nespresso machines are eye-candy. It can easily lure you into buying one over the other just by the exterior looks. But before you give in, think about where you will be placing the unit.
Some models can be bulky and eat up a lot of kitchen space. Most Nespresso machines however are designed to fit in small kitchens and under low countertops. Also, there are various colors to choose from. Pick one that will suit the overall design of your kitchen and remember that each unit will take more or less counter space.
Ease of Operation
Remember, you are buying a Nespresso because you want to conveniently make a latte or cappuccino at home. If it looks too complicated operate, it will be more complicated at home. Also remember that the all-in-one models like the Lattissima Pro are complicated devices but they do everything at the touch of a single button – it doesn't get easier to sue than that in my opinion!
Easy to Clean
Again, you want something that's easy to manage. Some parts should be dishwasher safe so you can easily clean it up after use. The smaller espresso only units are super easy to keep clean and they pair well with the milk frothers that can easily be cleaned out in the sink after use.
Affordability
Nespresso does not come cheap – even on the low end. But there are budget-friendly models to choose from. Still, do not exchange functionality over affordability. Some functions are worth paying for especially if you are going to be making lattes frequently in the kitchen. So keep an open mind, have a working budget if you really plan to get a Nespresso machine.
Warranty
Make sure that your unit comes with a warranty – new models do whereas used models don't typically. If this is your first time to buy a Nespresso, chances are you will encounter some troubleshooting at some point. Make sure your unit is covered by the standard warranty card.
Recommended Nespresso Machines for Lattes and Cappuccinos
Here are highly recommended Nespresso machines that are perfect for your favorite drink with milk.
DeLonghi Nespresso EN750MB Lattissima PRO
Best features:
Yields barista-style cappuccino thanks to its signature DeLonghi automatic cappuccino Latte Crema System
Makes single serve coffee in an instant
Pre-programmed with six drinks: ristretto, espresso, lungo, cappuccino, latte, hot milk and hot water function
Sleek and elegant design, perfect for contemporary homes
This is a favorite among users because of its intelligent system to create barista-style coffee. Now, getting a latte or cappuccino is literally just a click away. It also has a special temperature setting that allows you to make multiple servings of the same drink and still maintain the right temperature. No waiting time to heat up the milk or the coffee.
Nespresso D121-US4-BK-NE1 Citiz Espresso Maker with Aeroccino Milk Frother
Best features:
Can hold up to 10 used capsules
Has a large water tank, about 34 oz
Fast program to create cappuccino, latte, macchiato and iced cappuccino
Quick preheating time, usually up to 25 seconds only
If you are looking for something in the mid-price range, this is your second best choice. It performs well with Nespresso capsule and you can use up to 10 capsules in one round. This is a perfect way to start a love for Nespresso without breaking your bank.
How to Make A Latte With The Lattissima
Here's a video demonstrating how it's done.
What Do I Prefer?
I always want full control over my drinks. Yes the Lattissima allows you to program the machine to make drinks the way you like it best but I like to switch things up from time to time and experiment.
I also like to have the freedom and flexibility to make drinks differently every time especially if I'm preparing drinks for friends or family. I know that if my sister comes to town then I need to have more milk in the cup. My wife? She wants more foam than milk. Me? I want less milk in the morning and more milk in my drinks later in the day.
The basic machine makes great shots for me and the separate frother lets me make drinks however I please… all while saving me money in the end. I like that.
This is also why other coffee lovers enjoy Nespresso too!
The main reasons why it's hard not to fall in love with Nespresso convenience can be summed up as follows:
All Nespresso Models Look Amazing! – No doubt, these units are beautiful. They are elegant, shiny and they create the perfect crema for you espresso, latte and cappuccino.
They are Consistent – Nespresso is programmed to make the same type of coffee over and over again. So if you love the first cup, you will always be reminded of its aroma, flavor and pleasant taste every single time that you make another cup.
Their Convenience is Unmatched! – Get a latte or cappuccino in less than 5 minutes? No more long lines in the coffee shop? Espresso anytime I want? Take my money now and give me a Nespresso!
Why Don't You Learn A Little Bit More About Nespresso and Pod-Based Espresso Makers
► Is Nespresso Worth It Or A Waste Of Money?
► The Best Espresso Machines That Use Pods
► Does Nespresso Make Good Enough Espresso?
► The Quietest Nespresso Machines
► Can You Use Other Pods In A Nespresso Machine?
► Are All Nespresso Machines Basically The Same
► Can Nespresso Machines Make Regular Coffee?
► How To Reprogram Nespresso Machines For Larger Shots
► Nespresso Espresso vs Lungo vs Ristretto
► What The Intensity Numbers Mean on Nespresso Capsules
► Can You Use Your Own Coffee In A Nespresso Machine?
► How Much Caffeine Is In Nespresso Capsules
► What's The Difference Between Lungo And Espresso