It's no secret that I think the best espresso maker for the average family is a simple stovetop espresso maker (have you seen the Moka Express?!?). But even still I recognize that the coffee produced on the stovetop is not exactly the same thing as true espresso so for purists I wanted to start a series here on Top Off My Coffee on actual espresso machines designed for use in the home.
If you were to take a look at all the espresso makers out there and categorize them ruthlessly into just a few buckets I would have to say you'd be looking at four basic categories:
Steam Driven (Value) Espresso Makers
Semi-Automatic Espresso Makers, and
Super Automatic Espresso Makers
Follow the links above (when the pages get published) to see more from those areas specifically.
Among these categories the espresso machines in them all are worthwhile for certain functions. This page however will only be looking at super-automatic espresso makers and which one's are best for you and your family. They tend to be the priciest residential models made but if your budget allows for it just about any of these models will give you amazing espresso shots every time.
First Things First
In my opinion a good fully-automatic espresso machine should make excellent quality espresso every time requiring little to no effort on your part. Everything else is secondary.
The Best Automatic Espresso Maker For The Home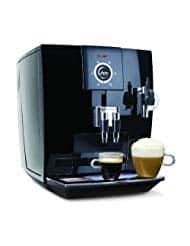 Above all the super-automatic home espresso machine that makes the best shots of espresso with the least amount of effort is the Impressa J6 Automatic Coffee and Espresso Center by Jura-Capresso. It's fairly pricey but it has some of the best customer support systems of all brands and the machine simply works without fault. You can setup your own customizations to all brew settings and the machine will do everything from grind beans to rinse the machine out and everything in between all on it's own.
Of course there are other excellent options in this category. The following are the three best sellers on Amazon in the category which you can check out for yourself. You can also simply click through to the pages listed at the bottom of this page to narrow down what you are looking for in a super-automatic espresso machine.
Best Selling Super Automatic Espresso Machines
KRUPS Espresso Machine, Espresso Maker, Burr Grinder, 60 Ounce, Black
DeLonghi ESAM3300 Magnifica Super-Automatic Espresso/Coffee Machine
Gaggia Brera Super Automatic Espresso Machine in Black. Pannarello Wand Frothing for Latte and Cappuccino Drinks. Espresso from Pre-Ground or Whole Bean Coffee.
What Matters Most To You?
There's nothing wrong with ditching the herd and going with something a little different. Below I've got a number of pages on this site which feature some of the top rated fully automatic espresso makers in different styles featuring different features. Click through to any page that interests you.
Best Automatic Espresso Machines Under $1000
Best Automatic Espresso Machines Under $500
Best Automatic Espresso Machines Under $300
Best Automatic Espresso Machines Under $200
Super Automatic Espresso Makers With Milk Frothers
Automatic Espresso Machines With Timers
Top Rated Automatic Espresso Machines
Super Automatic Espresso Machines With A Bypass Doser
Automatic Espresso Machines With Water Line Hookups
Automatic Espresso Machines That Are Easy To Clean
In the coming weeks look for my upcoming section on semi-automatic espresso machines. These tend to cost less but require a bit more of your attention and skill.
You can also see our store for more ideas on making and serving espresso. Have you considered getting a dedicated set of insulated espresso mugs for instance?
========
The Best Super-Automatic Espresso Makers For The Home
As much as we love coffee, let's admit that it is not always easy to make. Often, it requires time, effort and resources.
To brew coffee at home, you would need ground coffee, a brewing machine, water, thermometer. These are the basics. If you want fresh tasting coffee, you would need to grind your own beans and this means getting an additional burr grinder.
When you wake up in the morning, you will grind your beans. Prepare your brewing machine. Wait for the coffee to brew and enjoy. It would take around 10 to 15 minutes to complete all of these. And since everything is manual, it means you need to allot at least 15 minutes every morning to get your favorite cup.
But if you are running out of time, you would simply grab a brewed coffee from a nearby café shop. You are lucky if the queue is just getting started. But in the heat of the morning rush, you might end up not getting your coffee mix and wait until you reach your destination.
Coffee lovers have experimented and tested different kinds of brewing methods. Here are some of the common methods used:
Drip coffee – this is the most common method used by many households. You can brew coffee with a simple switch and wait for it. You can do something else while preparing this.
French press – one of the most convenient. The most effort you will do is press the plunger. Just make sure you have the right water temperature.
Moka pot – works like the drip coffee but you will need a heat source like a stove.
Espresso machine – this is one of the most expensive coffee brewing machine but you have a lot of option and get a super automatic espresso machine. This will help you make latte, cappuccino and macchiato. It's like having your own barista at home.
Different types of espresso machine
There are 5 basic types of espresso machines.
Capsule espresso machine – Think about Nespresso. You prop pre-packaged capsules of espresso liquid. The machine helps you extract using pressure and get a near-perfect espresso into your cup. It is convenient but you won't get a fresh tasting espresso.
Stovetop espresso – Not like your standard, pressure-pushed espresso. But it will not disappoint. Steam from boiling water helps extract the coffee and you get a great espresso alternative, especially if you have budget considerations.
Steam espresso – Works like the stovetop, only you use electricity to create steam and extract coffee.
Semi-automatic – Equipped with the proper pump to hit all of the essential espresso criteria, semi-automatic espresso machines are the real deal. While some of the best espresso machines under $200 are pump machines, many will cost $500 or more.
Super automatic – It does everything, complete functionality from grinding beans to self-cleaning.
Best super automatic espresso machine
If you are looking for the best super automatic espresso machines, check out these recommendations:
Gaggia Anima Prestige Super Automatic Coffee Machine
Best Features:
Burr grinder made with 100% ceramic material, does not heat up the grounds
5 different pre-selected fineness options for grinding
Automatic frothing milk carafe which produces a creamy foam with one button push
You can make two cups of the same coffee simultaneously. Best enjoyed with your loved one. It is grinds beans and does self-rinsing. However, it does not have a milk wand so you cannot customize the type of froth you like.
Gaggia 1003380 Academia Espresso Machine
Best features:
Industrial-grade espresso maker that touts all kinds of useful coffee making features
Programmable one-touch button for milk, hot water and espresso to create your latte, latte macchiato, cappuccino, cafe lungo, espresso and hot water
Can make up to 10 cups in one batch
This is a large super automatic machine perfect for a big family. You can even start your own coffee shop if you have this one at home. It has removable milk carafe for quick refills.
DeLonghi ESAM3300 Magnifica Super Automatic Coffee/Espresso Machine
Best features:
Built-in burr grinders are amazingly quiet
Small-sized machine, good for home use
Unique cappuccino system provides a full 180-degree rotation, allowing for any size milk container to fit in
Stainless steel broilers for equal distribution of heat
This is one of the smallest machines available. Perfect for personal use. It can brew two cups of coffee at the same time.
DeLonghi ECAM22110SB Compact Automatic Espresso, Latte and Cappuccino Maker
Best features:
Renowned Direct to Brew Technology makes it so that the coffee beans are ground just seconds before the brewing starts
Sophisticated technology, it's like a personal barista at home
5-strength coffee setting, which produces anything from mild strength to extra strong
This model is highly customizable, it easily picks up the profile of your favorite drink and saves it for your personal use. Milk frothing wand is so nice to use and creates the perfect froth for your latte and cappuccino.
Jura Impressa C65 Platinum Automatic Coffee Machine
Best features:
Innovative fine foam technology
15-bar pressure delivers just the perfect amount of flavor extracted from the coffee grounds
Capable water tank holds about 1.9 liters
This is a coffee making beast with the ability to make 12 cups in one tank fill. Perfect for entertaining guests. If you have an office, this is a great addition for holding meetings and entertaining clients.