A top of the line fully automatic espresso machine with a built in burr grinder is going to easily produce the best espresso possible in your kitchen with the least amount of physical effort. This is obvious but which units are going to give you the best value? Which super-automatic home espresso makers are going to be best for the money?
Below I've listed the best fully automatic burr grinder espresso makers for the money. Lower on this page I've also listed a few other contenders all of which are bestsellers in their own right. The difference is that these are going to be best for very specific types of people. Do your own homework on all other machines not immediately featured below if you have special needs or wants.
My Picks For Best Super Automatic Burr Grinder Espresso Machines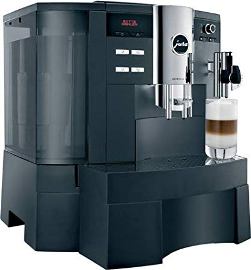 Jura Impressa XS90 One Touch Automatic Coffee Center
By a large margin the Jara XS90 is going to be the best super-automatic espresso maker with conical burr grinder for the home. It may be a bit more expensive than the average home barista is willing to spend but for ease of use, automation, and quality of espresso this unit is top of the line and my number on choice.
It has can heat water for brewing and steaming simultaneously meaning there is very little wait time. You can make specialty drinks without moving your cup (extreme automatic functions), and the burr grinder can be set to grind beans at 6 different grind sizes so that you can get the perfect cup every time.
Remember, grinding beans right at the time you brew is the only way to get that perfect crema. 🙂
Click here to see full product specs.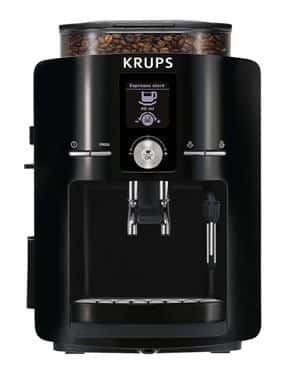 KRUPS EA8250001 Espresseria Full Automatic Espresso Machine with Built-in Conical Burr Grinder
If you have a smaller budget then the best value conical burr automatic espresso maker is going to be the Krups Espresseria which is roughly a third of the price of the XS90. It also has a fresh bean hopper and a stainless steel conical burr grinder that is going to last you for a long long time.
Like all super-automatic machines this is going to be a push button model meaning you have next to no work to do to get your shot of espresso in the morning. For the money invested this is going to be your best bet.
Click here to see full product specs.
More Top Rated Automatic Espresso Makers W/ Conical Burr Grinders
Here are a few more best selling espresso machines with built in burr grinders. All are good and worthy of your dollar but they are simply not my favorites. Do your own research before buying.
If you have found this page helpful then make sure to see our store for more hand picked selections. You can find the best super automatic espresso machines here and it never hurts to have a stovetop espresso maker in your arsenal too.
In my opinion you can't make high end espresso without a set of insulated espresso mugs – check them out while you're at it.
=====
Fully Automatic Espresso Machines With Burr Grinders
If you are a coffee lover like me, you have probably imagined yourself having a coffee shop at home. Think about getting your own barista to prepare your favorite cup of coffee. Plus, waking up with a perfect shot of espresso waiting for you, who wouldn't say no to this pure indulgence. It already makes my day.
This may seem impossible, but thanks to fully automatic espresso machines, this dream is closer to reality. I just need to shell out a good deal of money to take home one.
Fully automatic with grinder vs regular espresso machine
A regular espresso machine is already a treat. You can make a perfect shot of espresso with just one button push. I have tried creating espresso using French press, but I only end up with espresso-like drink. The absence of the crema makes all the difference. But an espresso machine can give you that because it has the required pressure to extract espresso.
But with a regular espresso, you still need to grind your own beans. There lies the trick. Espresso ground is crucial. If you got it wrong, you will end up with just a darker brewed coffee. Nothing like the espresso you are aiming for. Either you get a nice espresso burr grinder or buy ready espresso ground coffee.
You can solve that with a fully automatic espresso machine with burr grinder. With one push button, the coffee machine will grind the beans, brew it and you can collect your espresso, just the way you want it. It is highly programmable so you can select the amount of beans you want and schedule it to brew when you want it. You can also make your own latte, cappuccino and macchiato.
Fully automatic espresso machine with grinder is expensive. But if you add up the cost of buying a regular espresso machine and a separate burr grinder, chances are the total cost is just the same.
Best fully automatic espresso machines with grinders
Since you will be investing a good deal of money with this purchase, it will be better to check out the available products in the market and compare.
Breville BES870XL Barista Express Espresso Machine
15 bar pump pressure with 1600 watts thermocoil heating system.
Stainless steel conical burr grinder with 1/2 lbs bean hopper.
Adjustable coffee grind options.
Semi-automatic machine allows for better control
Built-in tamper and porta-filter cradle.
67 oz removable water tank
Purge function automatically adjusts water temperature after steaming for perfect extraction of espresso
Steam temperature gauge
Single and double filter basket included
Steam wand for milk frothing
Philips Saeco Vienna Plus Espresso Machine
Affordable and reliable super-automatic espresso machines with built in grinder
1250 watts, 15 bar pump pressure
Adjustable conical burr grinder
12 oz bean container
Used puck drawer holds up to 15 used bean pucks
57 oz removable water tank
Stainless steel boiler
Pannarello steaming wand
KRUPS EA8250001 Espresseria Full Automatic Espresso Machine with Built-in Conical Burr Grinder
Another great super-automatic espresso machine with built in conical burr grinder
1450 watts, 15 bar pump pressure
LCD display allows for easy machine adjustment and control
Patented thermoblock heating system ensures consistent temperature from first cup
60 ounce removable water tank
9 oz bean container
Height adjustable coffee dispenser eliminates splashing when using a short cup
Adjustable and re-programmable coffee grind and coffee volume.
Milk frothing wand
Water filtration system allows you to use tap water that will be automatically cleaned and filtered
DeLonghi ESAM3300 Magnifica Super-Automatic Espresso/Coffee Machine
Patented "Cappuccino System" frother that mixes steam and milk to create a rich, creamy froth
Easy-to-use rotary and push button control panel with programmable menu settings and beans container capacity is 8.8 ounces
Grinds beans instantly with the patented, compact and easy-to-clean "Direct-to-Brew" system.
Use your favorite coffee beans to create your perfect espresso. Beans with less visible oil, usually a medium roast, are recommended for best grinder performance
Professional-quality, conical low-pitch burr grinder with adjustable grind fineness.Maximum cup height: 4.25 inches
Saeco X-Small Automatic Espresso Machine with Built-In Grinder
Delicious milk froth thanks to the classic milk frother
Coffee without burned taste thanks to 100% ceramic grinders
Save your favorite coffee length
Play with the coffee's richness with our adjustable grinders
Always a clean machine thanks to automatic circuit cleaning
Why get a fully automatic espresso machine with grinder?
If you are figuring out how to invest wisely in a coffee machine, consider getting a fully automatic espresso machine with grinder.
Convenience. It takes out all the tedious part and makes a perfect brew with just a button's push.
Customize. Get your coffee just the way you like it, when you like it.
Efficiency. These machines are built to last and provide you with the best coffee experience. After all, you will be paying at least $500 for a unit.
Comfort. You can enjoy gourmet coffee at the comforts of your own home. Enjoy it with friends and families. Even impress important guests that would visit your home.
Elegance. If you are living in a contemporary and modern home, having this unit will add style and statement in your new home.