Sure you could use a travel mug to keep your drinks colder or hotter a bit longer but when you're sitting in the comfort of your own home or even at a desk at the office sometimes it just feels better to use a regular old coffee cup.
As a middle ground I've decided to feature a whole slew of insulated coffee cups for you to look though. I've found that even when I'm at home I may not want to use a big travel mug but I still want an insulated cup to retain the heat a bit better in my coffee and keep me from gulping it at the optimal temperature.
The mugs below can be categorized a few different ways for better shopping. I hope you'll find something that meets your needs on the following sections of this page.
What are you looking for? Click the link below:
► Insulated Espresso Cups
► Insulated Desk Mugs (With Lids)
---
The Best Insulated Espresso Cups & Mugs For Sale Today
Are you looking to pick up a set of insulated espresso cups or shot glasses for your coffee creations at home?
No matter what your preferred brewing methods of choice are (whether you are making shots of true espresso, cups of stovetop espresso, or small cups of single serve coffee) many of the insulated cups featured further down on this page should be perfect for your needs.
Click here to jump directly to the cups.
I've tried to put some cheap espresso mugs into the list below but I've mostly tried to stay true to the title, most of these are the best quality insulated espresso mugs on the market and as such, they are probably more expensive than what you might find from your local Target.
Personally I like double wall stainless steel because of their durability. I don't care who you are or how careful you are in the home it is simply too easy to break an espresso mug. I know because I've done it probably a half-dozen times already.
Of course not everyone likes the metallic style so I've presented a number of excellent alternatives that should help keep your shots hotter longer so you can sip on your espresso a tad bit slower if you like.
There are Many Different Types of Insulated Espresso Cups
Now that I've been making myself and my wife "espresso" each morning out of our new Moka Pot it's become quite clear that we need some sort of insulated mug sized just right for the large espressos and small Americanos we make around the house.
I like using a 2-cup stovetop espresso pot to make roughly 4 ounces of moka every morning.
My wife likes a little less moka but she always mixes it in with milk. For the most part we both are looking for 6 ounce cups.
Doing a little digging I've found there are plenty of small double-wall insulated coffee cups and many even smaller espresso shot glasses out there which would work perfect for our needs and probably yours too.
Below I've included a selection of the best options I've come across. In most cases these insulated mugs are less than 8oz in capacity with some dropping all the way down to 3oz in size. Most are made from glass so that they impart no unwanted flavor into your espresso although you may find the occasional stainless steel or ceramic mug featured below.

The Best Insulated Italian Espresso Mugs Sets For Sale Today
 DeLonghi Double Walled Thermo Espresso Glasses, Set of 2
 Harold Stackable Porcelain Espresso Demi Cup and Saucer Set, Pack of 9
 JoyJolt Savor Double Wall Insulated glasses Espresso Mugs Set of 2, 5.4-Ounces
 Bormioli Rocco Oslo Espresso Cup With Stainless Steel Handle, 3.5 ounce, Set of 4, Gift Boxed
 Le Creuset Stoneware Petite Espresso Mug, 3.5-Ounce, Caribbean
 Cutehom Espresso Coffee Cups – Set of 4 Double Wall Shot Glasses
 Stoneware Ceramic Espresso Cups Set – 13 Pc Colorful Stacking Espresso Cup and Saucer Set w/ Rack
 Espresso Cups With Lids – Set Of 4 – Double Walled Demitasse Shot Glasses To Keep Your Coffee Hot. By Alpha Grillers
 Francois et Mimi Set of 4 High-fire Pure White Porcelain Espresso Cup and Saucer
I hope this list helps you out. In the case of my family we found we could use a basic coffee cup but then we had to drink the espresso shots faster than we wanted assuming we wanted to drink it hot. Bigger travel mugs were also an option but the size seemed liked overkill. These double insulated cups are a perfect solution and we'll be picking up a few of them to keep on hand at all times.
Lastly, just in case you want to shop around for related products make sure to see the following pages which feature small travel mugs and this page which features nothing but unique and novelty coffee mugs.
---
Insulated Coffee Mugs With Lids: An Awesome Idea For Anyone Who Sits At A Desk All Day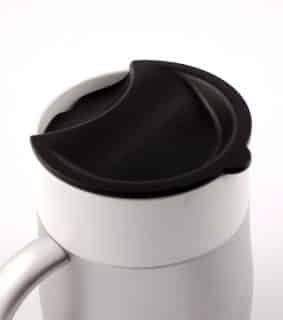 I love my insulated travel mug(s) but a lot of the time I'm just working in my office sipping on a bit of Joe. When I'm around the house or working I find myself not wanting to use my big travel mug.
Even though my travel mug keeps my coffee hotter longer than anything else I own I find myself gravitating towards regular coffee mugs or insulated desk mugs instead. It just feels better in my opinion.
I've been trying out a lot of insulated coffee mugs that have lids or smallish wide-base travel mugs and I've found I like them a lot. In time I'll probably post on some of the specific covered coffee cups I've tried but for now I wanted to share with you some of the more popular options out there in this category.
In most cases these are low cost items that make great gifts for others in addition to being nice splurge items on one's self.
Please note I've actually sorted this list by style. You'll find ceramic/glass mugs with lids in the top section and all other materials in the lower section.
Plastic/Stainless Steel Coffee Cups With Lids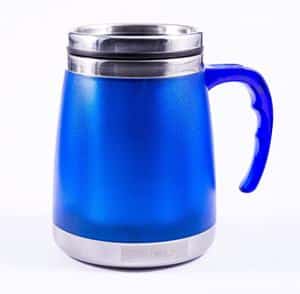 The Patterson Wide Bottom Travel Mug in Blue or Red
by Hot Java Mugs
The Patterson insulated coffee mug is a newcomer to the space but I do like it a lot. It's got elements of a desk mug and a travel mug in one package. It will keep coffee hot for a long time, will travel with you, has a comfortable handle, and it won't spill. Competitively priced it's a good option for lots of people.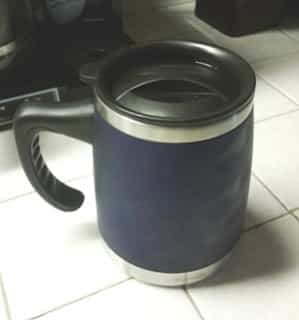 The Trudeau Umbria Desk Mug in Blue or Red
by Trudeau
I'm a huge fan of the Umbria desk mug by Trudeau. It's a 14-15oz double walled mug that has a super simple lid and looks slick. It comes in both blue and red and it keeps your coffee hot for an hour or two depending on how hot you brew your coffee and how quickly you drink it. For the price and the quality it's a good choice for insulated mugs in the home or office – far better than an ordinary ceramic coffee cup and less intrusive and cumbersome than a large/tall travel mug.
See my full review of this mug here.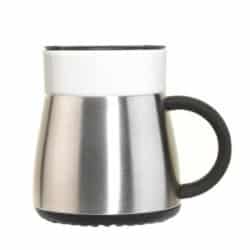 Thermo Ceramic 10-Oz Desk Mug
by Contigo
Contigo makes some awesome insulated mugs. They tend to be some of the best made. Likewise I find the style of mugs they make to be very appealing and this desk coffee mug is no exception. It comes with a basic plastic lid to cover the coffee and keep heat in while remaining small enough to feel like a normal coffee cup.
Ceramic/Glass Mugs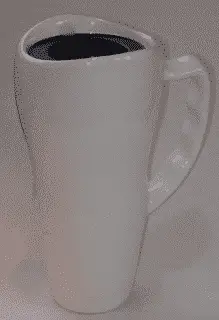 20 oz. Ceramic Travel Mug
by CoffeeCakes.com
This is a really cool ceramic mug because it's basically a travel mug that can be placed in the dishwasher or even the microwave. It's completely ceramic all the way through so it's not exactly well insulated but the provided lid makes this a much better mug than your run of the mill coffee cups that go cold in 20 min.
For the time being these are the basic coffee cups with lids that I am planning on buying to test out. I'll add more to this list as I run into them and I'll add links to reviews of these mugs when/if I get around to actually doing them.
---
Unique Coffee Mugs – Looking for a fun or interesting coffee mug for your desk or commute? Here is a fun listing of random and unique cups to wow your friends with. These make fun gifts for the right person too. 🙂
Stainless Steel Coffee Mugs – If you're looking for the stainless steel look in your coffee cup then this is the list for you. These are not stainless travel mugs – they are stainless steel double walled cups meant for your desk or couch. They make for a cool upgrade from your run-of-the-mill coffee cups.
Insulated Coffee Mugs With Lids – Much like the stainless steel coffee cups page this is all about insulated coffee cups that come with lids. These are not typically best for travel but the lids do make light occasional travel possible so long as you're careful. Usually though, these mugs are again best for a desk or coffee table.
Insulated Espresso Cups & Mugs – Espresso requires far less "room" than a standard cup of coffee. Even still unless you plan on downing it as a shot an insulated cup lets you sip a bit longer before it loses it's heat. Here are some worthy contenders in the space.
Travel Cups For Smoothies – Good travel mugs are great for hot or cold drinks but not often best for cold smoothies. Usually cold cups with lids and straws are best for the cold smoothie or for the post-workout shake. Here are some great to-go options in this category.
Make sure to take a look at the store for related shopping or see this page for a list of quality travel coffee mugs.
How Much to Pay for an Insulated Coffee Cup
As I said above we've got a handful of pages on this site dedicated to lots of different styles of insulated coffee mugs but do you really know why some mugs can run you a few bucks at your local grocery store while others can be $30 or more online?
The fact of the matter is that many places that sell low priced items online (ahem, Amazon) charge sellers fees for every product they list and sell. On the low end for physical goods the fees must be offset by higher prices.
This is why cheap plastic mugs can be purchased for a lot less in your local gas station, dollar store, or grocery outlet than they can on Amazon. Online you pay the convenience markup for low priced items.
Once you get into the metal mugs the price gets high enough that online retailers can usually compete on price relative to physical retailers in your own town.
Aluminum or stainless steel mugs with air or foam insulation simply cost more than those made from plastic and they perform better as a result.
A stainless steel double walled coffee cup can insulate far better than a thick plastic walled mug, even if it's got double walled construction.
Where online retailing really succeeds is providing the mid-range to high end products in any space for a decent price.
Your local Safeway for instance probably can't find a lot of customers for a really expensive premium brand insulated tumbler so they don't stock them very often. If the products don't move fast enough then they simply won't order them from their supplier.
I usually recommend to my friends to buy cheap plastic insulated mugs at local stores because pricing is lower and the quality of the mug is always going to be low regardless if you bought it for $20 or $3.
Mid-range insulated mugs like basic Thermos units can usually be found just about anywhere for decent prices but unless you pick up a Stainless King or a Vacuum insulated beverage bottle from Thermos the most expensive options will be easiest to find online.
It's not uncommon to buy specialty products from Contigo, Zojirushi, or HydroFlask for well more than $20 or even $30. These units though are usually designed to keep drinks hot or cold for the better part of a day – the price you pay is for the high cost of engineering and design coupled with the fact that these companies won't be selling nearly the volume of cheaper models from the likes of the vast array of bargain brands.
I suggest, if you are looking to buy an insulated coffee cup to either go for a super cheap unit locally or a mid to high end unit online. The premium cups will be better made, insulated longer and stronger, and the mugs themselves will hold up over time better in comparison to their cheap plastic counterparts.
Usually you can tell cheap construction by the lid. Pick the lid up and if it feel beefy and strong then usually the rest of the mug is worth buying.
For years I've though the Thermos Stainless King tumbler was the best around – I still do but there are now brands that make products that are even more pricey.
Are they worth it?
In my opinion not really. Second shelf from the top is good enough for me and $20-$25 is about my limit in this space for a product like this.
The only real reason I'd go much higher is if I wanted to get something particularly large like a large vacuum insulated bottle but I personally have no regular need for one of those.