Some espresso fans may claim that the best possible drinks come from a Moka Pot.
Meanwhile, others may just like the ability of a Moka Pot to make strong, delicious coffee.
However, many Moka Pots on the market today tend to be quite large.
That's great when you're making a drink to share with friends or family, but it may not be the best for just one or two people.
Consequently, it's worth taking a look into the smallest Moka Pot options available!
To help you with that, we're providing a list of 10 small Moka Pots of different sizes.
Continue on, and find the perfect Moka Pot for you!
One Cup
Primula
The Primula is a simple, small Moka Pot that offers a variety of sizes from 1 cup to 12 cups.
Furthermore, the 1 cup size is extremely compact and reliable.
It includes a lid knob and handle that will avoid picking up the heat, so that you can easy pour your beverage.
You'll also get a safety release valve that ensures the pressure is just right for the perfect espresso.
With heat distribution that stays even, you won't have to worry about over-extraction.
It's also one of the options that comes at quite a low price.
With this 1-cup device, you'll be able to make about enough coffee for a 4 ounce espresso.
Bialetti Restyled
The well-known Bialetti gets a whole new look with the Musa Restyling version.
This option provides a smooth, classy option whereas others tend to be more traditional in appearance.
It also offers a variety of sizes from 1 cup to 6 cups, so you can get a small option if you need.
Furthermore, this option is able to be used on electric and gas stoves easily.
For those who want to compare the sizing options for espresso, the 1-cup is able to work for a 2-ounce espresso.
Like other options, it's made from stainless steel so you can rely on it to be sturdy.
It is an option that's a little more expensive than others, but many claim that it's worth the cost!
Bialetti Original
For many, the Bialetti Original is the top choice.
It comes in plenty of sizes, from 1 cup to 12 cups for any situation you may need.
The one cup allows you enough coffee for a 2-ounce espresso, just perfect for one serving.
In addition, this option is able to provide a delicious cup in about 5 minutes.
As a result, waiting for your brew will be quite minimal!
It's truly a great option for those who love espresso, and it comes at a fantastic price.
On top of that, there's a two-year warranty to seal the deal!
Two Cup
Pedrini Italy
For those who like a little color added to their espresso routine, the Pedrini Italy is a perfect choice.
It comes in an adorable cute color and makes 2 cups of coffee.
In addition, this is also a handmade option, which isn't a common thing on today's market!
Furthermore, it's made from aluminum, making it durable and lightweight.
Due to the enhanced process of extraction, it also offers a rich, strong brew.
Many customers love the authentic design as well as the pop of color.
It also comes at a price that is affordable for many.
Bialetti Mukka
If you like something with a unique appearance, the Bialetti Mukka is a fantastic choice.
This simple two-cup Moka Pot offers the spotted look of a cow, making it an adorably novel device.
It's able to be used on most stoves, including ceramic, gas and electric.
Furthermore, it's able to make enough coffee for a pair of 4-ounce espresso cups.
Using this handy little tool, you'll be able to easily get the most delicious espresso.
There is a little bit of a learning curve for those who are new to making beverages with a Moka Pot, but it's unlikely to be long before you get the hang of it.
Many customers find that it's a well balanced, efficient little tool.
Pezzetti Moka Pot
For those who prefer the simple, chrome look of a quality Moka Pot, the Pezzetti is worth a look.
This little device is available in sizes from 1 cup to 14 cups, so you'll be covered for just about anything you need.
It also uses a specialized shape that helps to heat evenly and effectively.
Furthermore, this option is able to heat up your espresso in a matter of just a few minutes.
As a result, it's able to provide a very authentic espresso as a result.
It's also a highly durable option that you'll be able to rely on for years to come.
Many customers find that this device is simple to use, and able to offer great espresso or just a fantastic cup of coffee.
Three Cup
Ilsa Espresso Maker
The Ilsa is a classy, smooth option that allows for a great look as well as a great cup of coffee.
It's able to brew 3 cups, but you can also find 9-cup and 6-cup options as well.
Furthermore, it's made from stainless steel, so it's likely to work perfectly well on just about any stove.
It's also a very simple device to use overall, so you won't need to worry about a large learning curve.
Most reviewers find that this Moka Pot is able to make an absolutely delicious beverage.
However, some can find that it may begin to rust after a while of use.
So if you decide to try this one out, keep an eye out to avoid problems with rusting.
Grosche Milano
The Grosche Milano contains a look that is simple and very appealing.
It offers a simple, elegant black or white coloring and is able to brew 3 cups.
For those who might want a little more, there are also 6-cup and 9-cup options.
Furthermore, it's an option that is very durable as well as lightweight.
On top of that, you'll be able to enjoy a warranty that will keep your investment protected for a year.
The resulting coffee from this device is often thick and strong, great for those who like rich flavor.
However, in rare cases some may find that the outer paint can begin to chip off after a few months.
Minos Moka Pot
The Minos Moka Pot is an option with a very interesting appearance.
It offers 3-cup and 6-cup sizes, and is made from durable stainless steel.
That way, you'll be able to trust that the product is going to last for many years.
You'll even be able to select a handle color that best suits your personality, or the color scheme in your kitchen.
Customers tend to love the highly durable design, saying that it's built similarly to a tank.
They also tend to find that it's easy to use, ensuring you get a delicious cup with just a little effort.
Keep in mind that some customers can have issues with handle breakages, but it's quite rare.
Cuisinox Vista
One option that has been getting some very high reviews is the Cuisinox Vista.
While it may not be as well known of a name, those who have tried out this device have had nothing but praise for it.
It offers a simple design, made from aluminum built to be high quality.
Furthermore, it's able to make 3 cups of coffee, which is just perfect for a small group.
On top of that, it's an option that comes at a very good price.
Reviewers tend to love the authentic, quality coffee they can make with this device.
In addition, they find it to be very solid and reliable overall.
---
Ellusive 2-Cup Stovetop Espresso Makers – I Found Them!
If you find single cup moka pots to be a bit too small for your liking but you still want a really small stovetop espresso maker then a 2-cup espresso maker is right up your alley.
These double shot moka pots are a lot less common than other small stovetop espresso makers and there are fewer manufacturers make them but as you can see below the one's that are for sale are quite stylish. 🙂
Personally I am quite fond of the three cup moka pots, it's what I use in the home more than all the others but to each his own.
Below I've listed some of the most popular two cup espresso pots on the market today. You'll notice that there's only a couple of main brands in this space.
The Best Two Cup Stovetop Espresso Makers For Your Money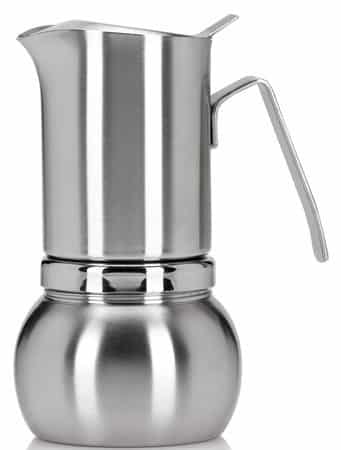 Stella Inox Satinato 2-cup Stainless Steel Stovetop Espresso Maker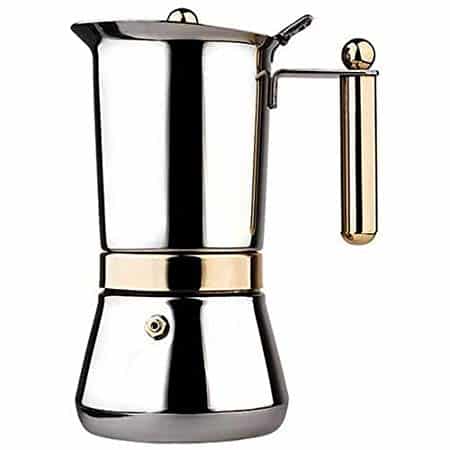 VeV Vigano Vespress Oro Espresso Maker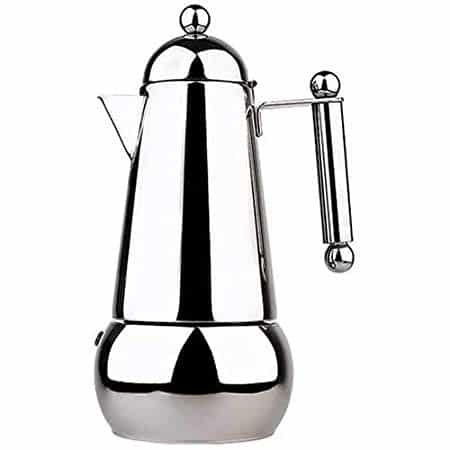 Vev Vigano 8072 Itaca Inox 2-cup Espresso Pot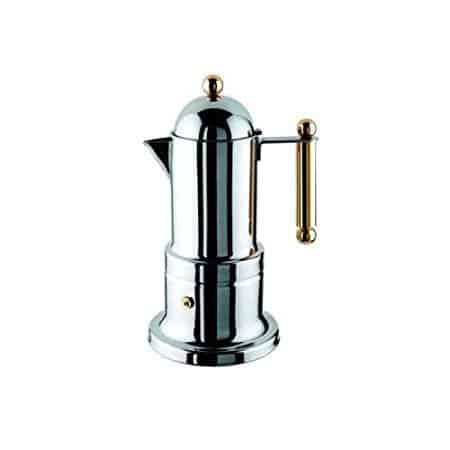 VeV Vigano Kontessa Oro Espresso Maker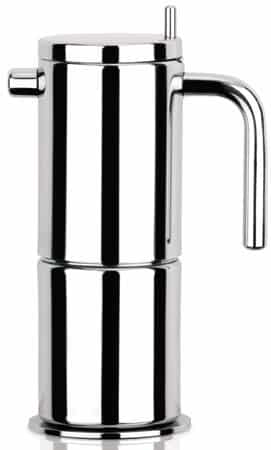 Stella Aroma 2-cup Stainless Steel Stovetop Espresso Maker
Remember That 2-Cup Moka Pots Brew Roughly 3-5 ounces of moka at a time.
These "cups" are not the same size as a cup of coffee (6-8 oz) or even a shot of espresso (1-1.5 oz).
In the coffee world a "cup" typically refers to a serving size. If you are expecting to fill a 16 oz travel mug with a 2-cup stovetop moka pot then you are mistaken.
These pots will however give you plenty of stovetop moka to make a great Americano – 4oz of espresso to 4oz of hot water is a real nice strong cup that will remind you of strong coffee.
You'll also find that 2-cup pots are a lot harder to find than the more common single cup pots and three-cup pots.
Of the five options I've singled out above you'll notice that they are all stainless steel models that are all styled a bit differently. None are made from traditional aluminum construction so although they will be a bit more durable they will also be a bit more expensive and heavier than the Moka Express for instance.
What Do You Use a Two Cup Moka Pot For?
Lots of people who make moka make only a small amount to mix in with a bit of milk or to add to a special coffee drink at home. They make it easy to make a single shot of "espresso" to dishes that are prepared in the kitchen too, recipes that include a touch of coffee.
Stovetop espresso is like the shots of regular espresso added to your cafe drinks like lattes and mochas. You start with a few ounces of water and force it through loosely packed coffee ground with the pressure of steam. In a way it is kind of how steam pump espresso makers work the difference is the amount of pressure generated is far less and the brew time is a bit longer.
When comparing a stovetop espresso maker vs a machine you'll probably like the quickness of making espresso from a machine but the simplicity of moka is awesome. It will also taste more like really strong coffee compared to true espresso which is why it's serving size is slightly larger.
If you are in the market for a small moka pot then I would also like to invite you to take a look at our collection of insulated espresso cups. Most of them are the perfect size to drink stovetop espresso out of.
Are There Different Sizes to Choose From?
There aren't nearly as many options to choose from in the 2-cup size.
For more variety I recommend checking out the 1-cup pots as well as the popular 3-cup size.
Take a look at our store for more coffee related accessories.
There's a lot more to learn about moka pots. Check out one of the following articles on brewing stovetop moka or espresso right now!
► How To Use A Moka Pot To Brew Coffee
► The Best Stovetop Espresso Makers
► Stainless Steel Moka Pots
► How Long Does It Take To Brew Moka
► How Moka Pots Work
► Stainless Steel vs Aluminum Moka Pots
► Moka Pot Cleaning Instructions