The classic material used to make a moka pot is aluminum but these days stainless steel moka pots are becoming more popular than ever.
The main reasons for this is that the price differential isn't that big, stainless steel has far less health concerns over aluminum when it comes to cookware, and because steel can be made to conduct heat better than ever before.
All that said what I like best about stainless steel stovetop espresso makers in relation to aluminum is that steel can be easily cleaned with normal techniques… like soap!
With aluminum pots like the best seller Moka Express, you literally just rinse the pot out after each use.
This sounds awesome but in real world living it only works if you are able to rinse it off immediately.
Further down this page I've fully reviewed six of the best stainless steel stove-top espresso makers but before we get to those let's first look at a summary of them in the following table.
In the real world your Bialetti Moka Express will probably sit on the stovetop for hours after you drink your coffee before you get along to cleaning meaning all the grind will get crusty and kind of stick to the filter basket.
In my home the pot can sometimes sit on the stove or near the sink for days before getting properly cleaned!
Yes days, gasp!
When that happens you have to scrub it down because the oils do go bad after all and then your coffee is left with a metallic flavor that doesn't go away until you brew a few batches.
Bialetti has been making the Venus and the Kitty for a long while now so if you don't want to deal with the aluminum problems and you don't want to settle for anything but the Biealetti name then those are great SS options… but little known but to the most informed there are some other awesome brands that make amazing stainless steel moka pots.
The premiere brand that comes to mind is Alessi.
My favorite stovetop espresso pot is actually made by Alessi and it's a 3-cup model that's super easy to keep clean and never has a foul metallic taste.
Alessi models are expensive, no doubt about that, but they are built like tanks and perform slightly better than other brands across the board.
Even still, for people without the deepest of pockets there are a lot of good stainless moka pots to choose from that are worth your money.
Below I've reviewed my favorite six stovetop mocha makers. Read through them, surely one will be right for you.
Stainless Steel Moka Pot Reviews – The Best SS Models Sold Today
Naturally, there are a lot of steel moka pots that are available out there. So, you must be knowledgeable about the things that you're looking for in yours, if you want to find the best one for yourself. Frankly speaking, buying the best one for yourself is actually way harder than it seems, because you have to do it a lot of proper research.
Anyway, Gamble Bay Coffee is here for you and we'll help you find the best steel moka pot for yourself, but keep in mind that, in the end, your personal needs really decide the best option for you. That said, the main models available are as follows:
Bialetti (06812) Kitty Coffee Maker, Stainless Steel
Bialetti has been a well known line of products when it comes to coffee making ever since 1933. Thus, this model comes from a brand that's stood the test of time.
The Bialetti 06812 Kitty Coffee maker is a beautiful stainless steel coffee maker. The main reason we decided to keep this model at the top of this list was because of how much all the users have loved this model.
This model, according to people who have used it, is one of the strongest built models that you can expect to find.
Venus Espresso Coffee Maker, Stainless Steel
Made from 18/10 high quality stainless steel, the Venus Espresso Coffee Maker is one of the most well known and revered products in the market. This model is not only known for it's unique looks, but also because of its durability and functionality.
This 8-ounce model is, thusly, something that you simply must consider if you're looking for a beautiful moka pot that's made of stainless steel because its perfect size, shape and design make it fit on your tabletop or counter-top perfectly, as well giving your whole kitchen an entirely new and elegant look.
AMFOCUS Stovetop Espresso Maker Moka Pot, Stainless Steel
Again, you might not always want to go for a large model. In such a case, AMFOCUS brings to you the perfect moka pot! The AMFOCUS Stovetop Espresso Maker Stainless Steel Moka Pot is a really handy model with a capacity of about 2 cups, making it one of the best products, if you're looking for a low capacity pot.
This one is also really reasonably priced, making it one of those models that are great for a tight budget. All of these factors come together at the end of the day to make this one of those models that you simply must consider if you're thinking about moka pots.
Primula 6-Cup Stovetop Espresso Maker
Next comes the Primula 6-Cup Stovetop Espresso Maker. Just as the name makes clear, the model has a capacity of about 6 cups, which is around the typical capacity of 10-12 ounces. This model also has a good name for being pretty versatile.
However, this does have some complaints too. One of these is that no one knows where these models are made. That's something that seems to be concerning the amazon customers of this model. There are also some complains where its mechanisms are not working properly.
These are actually really concerning and you might want to look up a bit more if you're planning to go for this model, so that you can be sure that you get a pot that doesn't need replacing within a few months.
Ilsa Stainless Steel 3 Cup Stovetop Espresso Maker
The Ilsa products are made in Italy, making sure that the best quality is maintained and they have one thing about them that people seem to be loving a lot: Everything except the silicone gasket is made of stainless steel in this model. Yes, you heard me right, nothing is made of anything else!
If that doesn't say QUALITY, I don't know what will. This 3-cup capacity model has a beautiful look, the perfect size, and a super high level of quality and durability. Honestly, there's not much more that we could ask for, right?
Vev Vigano Carioca Nero 6-Cup Espresso Maker
And let us end the list with the Vev Vigano Carioca Nero 6-Cup Espresso Maker. This model might be called a slightly upper end model among the ones in this list but it's actually well worth the price- I'll explain why.
This model has a polished high quality 18/10 stainless steel body. It has a stainless steel filter basket. It even has a safety pressure release valve, though made of  brass. All of these things come together to make this model worth the price. So, if you're not on a tight budget and can afford this model, I'd certainly recommend this one for just about anyone!
A Stovetop Espresso Maker Buyer's Guide
Naturally, a stovetop espresso maker has a lot of factors that we must consider if we intend to select one to purchase. In order to do so, it's important to first make ourselves acquainted with the factors. As such, I take it upon myself, as the host of this article, to make it clear to you which points were taken into consideration when writing this article.
Then, you can judge them once again based on your own specific needs. That would help you easily find the one that would be better for you than any other model, even in this article. So, the main things that we took into consideration were:
First and foremost, the fact that it has to be made of stainless steel in order to even be considered for a position in this list. Since that is one of the main things that list is compiled centering upon, it's indispensable.
Next comes the economic aspect. We have often touched on this during the article and we still feel like we should mention it again. Not all models are affordable for everyone and there's nothing wrong with that. What is important is that you must be well aware about your budget and you must pick a model that fits it, perfectly. It's not a good idea to settle for too less, as much as it's not a good idea to opt for something that exceeds your budget too much.
Another thing that really makes any model worth it is how long they are going to last. Yes, you got it, I'm talking about  durability. Actually, any model's price is always related to how long it's going to last. If two models of the same price last for different amounts of time, then the one lasting longer is clearly costing you less.
And, of course, capacity is one of the things we can't escape considering. Everyone has different needs in terms of capacity and that's why so many models with different capacities exist in the first place. So, it's absolutely indispensable to take it into consideration when judging a model.
Moka Pot Comparison Information
Now, it all seems super simple right? Well, guess what? It isn't! There are quite a few things that we can't still judge for you because we don't know your specific needs. Only you can know your needs, making it really important for you to judge for yourself. Keep in mind that the best model for you isn't the best one out there, but the one that serves all your needs at the most affordable price.
Stovetop Espresso FAQs
Now, a lot of questions might be popping up in your mind. And it's entirely natural and within your right to ask me all the questions that you might have. But, since this is an article and not a conversation, I'm going to leave the answers to most of the questions that I can think of.
However, should you have any more questions, feel free to contact me and ask me anything! After all, we are here for you and we aspire to help you in any and every way we can. So, please don't hesitate to reach out to us if you have any questions at all!
What is this "Moka"?
Moka is a type of coffee made in a similar fashion to espresso, but at lower pressures and with stovetop or electric coffee pots. We discussed the difference here.
Are the small models any different from the larger ones?
Except the capacity/size, not really. The whole mechanism is the same; it's only the size that's different to suit some specific needs in some cases.
What are some of the features I might look for?
As I said earlier, this depends on what your needs are. Some people look for a convenient brewing feature, while others look for  better insulation. So, the best feature that you might look for varies with your needs, but keep in mind that there is a model dedicated to serving every need and you just need to search properly.
Conclusion
At the end of the day, all these models are available out there and you can just go out and buy any of them right now, but that's not all that there is to it. You must still remember that you're buying the model for yourself and your needs matter. That's the only way to ensure that you're being a smart buyer and that you're actually making a smart investment. It's important to consider all the aspects before investing in a product, however minor it might seem in the first place- because nothing is truly minor in life.
Gamble Bay Coffee is here for you all the time and you're free to reach out to us for any help you might need! We hope you've learned something from this article and we promise to be back with more really soon!
---
Our 9 Favorite Stainless Steel Moka Pots (Top Rated Too!)
Moka Pots are fantastic tools that create wonderful coffee and espresso drinks and are super easy to use.
Instead of plugging them in to the wall all you have to do is place them directly on your stove. Just make sure to add water and ground coffee beans first!
As you know moka pots don't make real espresso but they are great affordable alternatives to big expensive machines.
While many Moka Pots out there are made from aluminum, some users can find that stainless steel is a better option.
It tends to be more reliable, and often a lot more durable.
As a result, finding a high quality stainless steel Moka Pot is worth the hunt!
To help with making it a little easier, we're taking a look at 10 great stainless steel Moka Pots
If you read on, you'll learn about all of these options as well as what they can do for you.
This list can really help with finding the perfect Moka Pot for your home!
Bialetti Kitty
The Bialetti Kitty is an option that many people enjoy.
It offers all the benefits of a Bialetti Moka Pot in a smooth, stainless steel model.
Furthermore, it provides multiple sizing options, in 10-cup, 4-cup and 6-cup, so that you'll be able to get the perfect size for your needs.
The construction also allows this to be an extremely durable model, resistant to heat and able to last for years.
On top of that, the parts are all dishwasher safe, making it easy to wash.
Making espresso is simple using this model, and it's a good choice for those who like a strong cup of coffee as well.
Customers love the sturdiness, durability and ability to create a delicious brew.
Bialetti Venus
Another popular Bialetti option is the Bialetti Venus, which is an option with a very modern appearance.
This option includes sizes in 6-cup and 4-cup amounts, allowing you just the amount you need.
It's also a choice that can brew more quickly than others, in about five minutes.
However, you will want to keep in mind that this option isn't dishwasher safe, so it will need to be washed by hand.
You'll also be able to use it on just about any stovetop, including induction.
The handle is very resistant to heat, so you'll be able to pour easily without too much trouble.
Most users find that it's a perfect tool for their daily espresso.
Bialetti Musa
For those who enjoy a Moka Pot that can provide a bit more speed, the Bialetti Musa is a great choice.
This stainless steel option is able to provide 1-cup, 6-cup, 2-cup and 4-cup options.
You're sure to be set whether you're brewing for one, or a whole group!
Typically, beverages are able to finish brewing in around 5 minutes at the most, meaning there isn't much of a wait.
The handle is also black nylon, and is made to resist the heat of the container.
Many customers find that it's a very reliable Moka Pot capable of making a great beverage.
Do keep in mind that there can be a bit of a learning curve with any Moka Pot.
Primula
For those who prefer a simple, elegant option, the Primula is worth a look.
This Moka Pot is able to make both 6 and 4-cup amounts, depending on the model you choose.
The stainless steel design is also very durable and modern.
Furthermore, it's easy to use as well as easy to clean, making it an easy tool to keep.
The beverages it brews tend to be highly rich and flavorful.
In addition, the safety release valve ensures the water pressure in the device is ideal.
On top of that, easy instructions are included so that you can easily make the perfect brew.
Maggift Moka Pot
If you're interested in something closer to the fringes of  the market, the Maggift Moka Pot is a decent option.
This device offers a unique, modern look that is able to make 6 cups at a time.
Many find that the results are velvety, rich and absolutely delicious.
Because it's a durable, stainless steel option it's also able to be used on a variety of stoves including ceramic, gas and electric.
On top of  that, the brewing process only tends to take about 5 minutes, so you won't have too long of a wait.
For those who are sick of paper filters, it can also be useful to know that this option includes a permanent filter.
In addition, reviewers enjoy that the Maggift is easy to break down and get clean.
SONGMICS Espresso Maker
This solid-looking device is a great option for those who like an elegant look to their Moka Pot.
The SONGMICS Espresso Maker is made with 18-8 stainless steel, making it an option that can last for a long time.
On top of that, it's easy to get clean out with hot water and gentle soap.
This option provides up to 6 cups of brew at a time, and the handle makes pouring without discomfort easy.
It also works on a wide range of stoves, including electric and gas.
The silicone gasket it uses is also made to be odorless, non-toxic and durable.
There's also a pressure control valve that allows the device to get rid of excess vapors.
Cuisinox Roma
Similar to the previous Moka Pot, the Cuisinox Roma is an option with a smooth, simple look.
Like the others in this list, it's made from stainless steel and is therefore quite durable.
It's also available in 10-cup, 4-cup and 6-cup sizes to allow you to brew the perfect amount.
On top of that, you'll get both an extra reducer and an extra gasket just in case there are any breakages.
There are also simple instructions available to ensure you get a delicious brew every time.
This is also an option that can brew rather quickly, diminishing wait times.
While it isn't as well known as Bialetti, there are many customers who love this device!
AMFOCUS Espresso Maker
The AMFOCUS offers a look that is nearly futuristic, and it's made from stainless steel.
Consequently, you'll be able to rely on it to be incredibly durable for years to come.
This option is able to provide 6-cups of brew at a time, and it comes at a very affordable cost.
Furthermore, the silicone handle is made to remain cool even when the Moka Pot is hot.
The durable design also means it's great at home, or elsewhere if you want to travel with it.
It's truly a simple device to use, allowing you a strong cup of coffee or a delicious espresso.
Customers tend to enjoy this espresso maker, and appreciate that it avoids the aluminum oxide deposits that can come on aluminum models.
bonVIVO Intenca
For those with an interest in something a little more colorful, the bonVIVO is a fantastic option.
It offers a very unique look with a copper color, but it's made from stainless steel.
This option is also able to brew up to 6 cups at a time, which is plenty for sharing.
Furthermore, the manufacturers boast that this device is able to create results that are truly authentic.
When you make the purchase, you'll get the Moka Pot, a kettle and a sieve basket for your grounds.
It's also a simple device to use, meaning that even those new to making espresso can get the hang of it pretty quickly.
While it is one of the more expensive options on this list, it's also one that is highly promising.
General Product Descriptions
Most of the stainless steel stovetop espresso makers listed above range in price from $10.00 to $100.00 and make from 3 to 14 cups of espresso (2oz per cup).
These come with handles so that you can carry and pour your espresso without difficulty.
The espresso maker's lid comes with a knob to make opening and pouring simple; however, the lid is not completely removable because it's still attached to the body.
To clean them, we suggest hand washing, as a dishwasher may not do the job correctly. Please check the product description to see if they are dishwasher safe before purchasing.
For the material, you can select from stainless steel with stainless steel, plastic, or brass accents and handles.
Typical Materials
Stovetop espresso makers usually use either stainless steel or aluminum for their base and body, but they use plastic handles and pour spouts to keep you from being burned. However, some are 100% stainless steel – including their handles. You can also choose from gold accented, stainless steel espresso makers for a more elegant, or professional touch.
Stainless steel: stainless steel provides better insulation (keeping beverages hot or cold longer), and does not stain as quickly as other materials. Some people think stainless steel moka pots are safer than the aluminum versions too!
Brass accented: Brass accents add a refined and elegant look to an espresso maker. These espresso makers are suitable for high-dollar establishments, events, or parties, such as weddings, televised or celebrity events. These espresso makers will also last longer, due to the materials used.
Additional Perks and Information
Although more expensive than aluminum or other coffee maker materials, stainless steel is a guaranteed long-lasting and durable material, meaning you'll have your espresso maker for longer than other, cheaper options.
Stovetop espresso makers heat your espresso in only about 4 to 5 minutes.
Alternatives
If you definitely want a stovetop espresso maker but it doesn't need to be stainless steel, you can refer to our selection of small or large stovetop espresso makers in our product section. Both our selection of small and large stovetop espresso makers come in various materials.
---
The Best Stainless Steel Stovetop Espresso Makers
Stainless Steel moka pots are a great alternative to the traditional aluminum stovetop espresso makers that have been on the market for generations. For those who are health conscious and are concerned about using aluminum when other options are available this is a no-brainer.
Are you worried about the negative health ramifications of using aluminum in your kitchen? You wouldn't be alone if you said yes. Stainless moka pots are stronger and more durable than aluminum models and they have no health questions surrounding them. Although they do not have the classic build and do not generate the timeless taste of an aluminum model some of these are still among the best stovetop espresso makers made today.
For me I would consider using a steel espresso pot over an aluminum one for the main reason to ensure I don't have to deal with the seasoning of an aluminum pot which is necessary to overcome the metallic taste issues which can be common in unseasoned moka pots made of aluminum.
Why Are Stainless Steel Stovetop Moka Pots Better Than Aluminum?
For starters this is not a fact. Many people believe that stainless moka pots are inferior and needlessly cost more money. However, stainless steel doesn't impart that metallic taste that is common with other metals so it's a dream for people who just can't stomach rinsing their stovetop espresso maker out after every use and never using soap on it.
I can understand this concern for sure because sometimes I wait uncomfortably long before rinsing the espresso maker out. During times like this I am frequently tempted to give it a good scouring.
The other main reason for me why stainless is better is because of durability. Steel simply holds up to bumps, dents, and scratches better than just about anything over time.
Here Are The 6 Best Stainless Steel Moka Pots For sale Today
Although most stovetop espresso makers are made from aluminum there are quite a few stainless steel moka pots to choose from as well. I've tried to list some of the best steel espresso pots from the bestsellers lists for your convenience. Some of these I've used and others I haven't but they are all top rated espresso makers.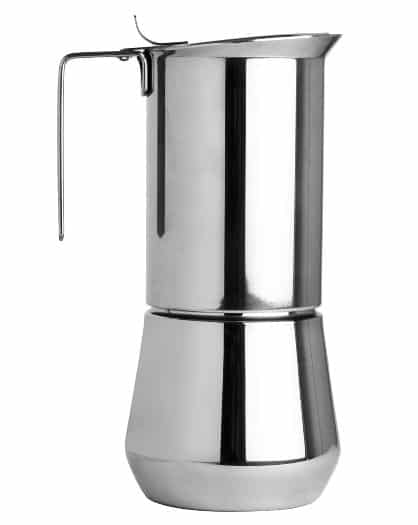 Ilsa Stainless Steel Stovetop Espresso Makers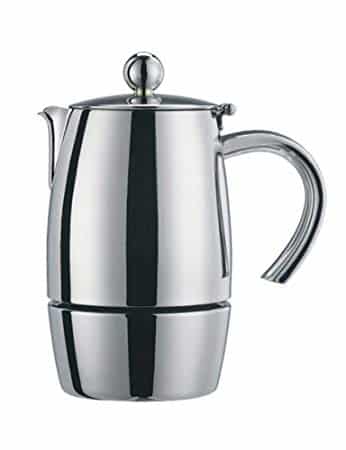 Cuisinox Liberta 6 cup Espresso Coffeemaker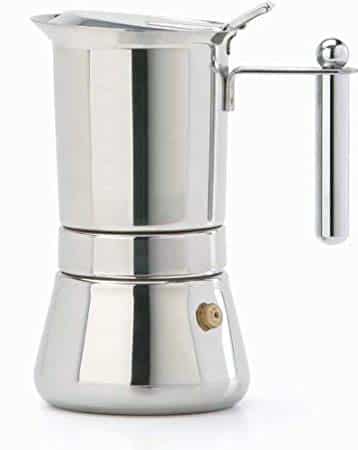 Vev Vigano 8310 Vespress Inox 12-cup 18/10 Moka Pot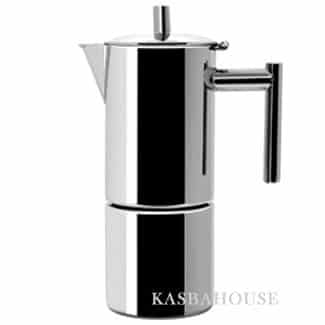 Altho Stainless Steel Stovetop Espresso Maker – 2 Cup Size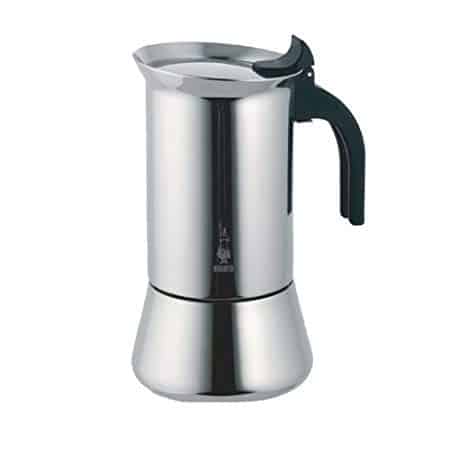 Bialetti Venus Stainless Steel Espresso Maker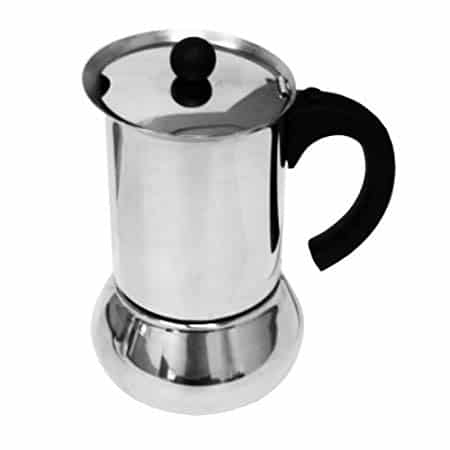 Vev Vigano Carioca Nero 6-Cup Espresso Maker
Does a Stovetop Espresso Maker Make Real Espresso?
One thing that I must point out for those unfamiliar with stovetop espresso is this – stovetop espresso is very different from the espresso made in a steam or pump espresso machine. If you were to compare the output from a super automatic espresso machine and the output from a Bialetti Moka Pot you would find the two to be totally different.
If you were to imagine brewing the darkest and strongest coffee possible you would be getting close to moka but the character of true espresso just isn't found in moka. It's different. You don't get the crema, you don't usually get the cherry in nearly the same way, and the speed of the brewing method changes things quite a bit too.
Make sure you go for a real espresso maker if that's what you are looking for otherwise open yourself up to something new and enjoy.
Lastly, if you're not set on getting stainless steel and are open to picking up an aluminum model then be sure to check out our list of best moka pots here or the store for a wide variety of coffee accessories.
==========
The best stainless steel moka pots
There's no denying that the moka pot is a staple kitchen home equipment. Whether the household is a regular coffee drinker or not, having a simple brewing machine is handy. You can easily prop it atop the stove and brew away.
But not all moka pots are the same. If you want to invest on a new moka pot or planning to buy your first stovetop espresso, here are some important factors to think about.
Who is the manufacturer? Europeans know their coffee well. And if you will make a background check, the Italians are known as the best brew machine manufacturer. Choosing an espresso maker made from Italy will give you an idea that you can have quality espresso style coffee every time. If you choose otherwise, at least you have been warned.
How much coffee can the moka pot hold? Check the volume of coffee that the stovetop can yield. Some models can make single serving, which is good enough if you are leaving alone or you are the only person in the house who loves coffee and espresso. But if you have a partner, entertaining guests frequently or a medium-sized family, get a stovetop maker that can accommodate at least 4 cups of coffee. This will be good enough for a small group. There are larger size stovetop espresso makers when really needed.
Is it compatible to any stove? Some stovetop makers require electric or induction stove. Always check this because it will be frustrating to take home a stovetop maker that will never work on your stove.
Is it made from stainless steel? Do you prefer aluminum or stainless steel? Aluminum is not as shiny and elegant as stainless steel, but it is more affordable and slower conductor of heat. Stainless steel is eye-catching but conducts heat fast so be careful when touching the handle.
What are the reviews about it? If you really want honest to goodness feedback, read reviews of the product you want and check praises and complaints about the stovetop espresso maker you are planning to buy.
Why Choose Stainless?
If you and your family love coffee in the morning, your moka pot will be one hardworking machine. This is just one reason why you need a durable and long lasting. What are the other benefits of getting a stainless steel moka pot?
Stainless steel moka pots are built to last. It is very durable and can sustain every day use, bumps and falls.
Stainless steel is good-looking. It always look shiny and new. With proper care and cleaning, it can extend for years and still looking good as the first time you buy it.
It never goes out of style. Manufacturers love to experiment with design. But if you have a stainless steel moka pot, it will always be in style.
Best Stainless Steel Moka Pots
Bialetti Elegance Venus Induction 6 Cup
This model is perfect if you love coffee in the outdoors. It has an indicator in the pot so you can regulate heat easily. The handle is made from heat resistant technology so you can use the unit without burning your hands. The caveat is that it can only make 6 cups of coffee. Just enough for a small group who has a fine taste for coffee.
Best features:
Portable design
Compact, lightweight and sleek looking
Very durable
Makes great tasting coffee in an instant
Bialetti Kitty Coffee Maker
This is one of the most-loved model of Bialetti brand. Many users loved its durable and sturdy built. It was a good investment for most of the buyers.
Best features:
Durable stainless steel construction
Super heat resistant and lightweight
Suits any stove – gas, electric, even ceramic stoves
Value for money
Venus Espresso Coffee Maker Stainless Steel
This is one respected model and brand. It has an ergonomic design that is elegant and functional. It looks good on your countertop plus it is efficient for single serve coffee brewing.
Best features:
Made from 18/10 high quality stainless steel
Durable design and elegant, stylish look
Suits most gas and electric stove
AMFOCUS Stovetop Espresso Maker Moka Pot
If you are looking for just the right size of moka pot, check the AMFOCUS model. It is handy and makes two perfect cup of coffee. It is easy to clean and easy to maintain for morning brew.
Best features:
High grade stainless steel
Stylish design
Budget-friendly
Primula 6-cup Stovetop Espresso Maker
This is a large moka pot that suits a large family or a group of people, maybe in the office or camping outdoors. It is very versatile and portable, perfect for having coffee even away from home. Just make sure you have a suitable source of heat.
Best features:
Value for money
Quality and durable stainless steel body, built to last for years
Body remains cool to hold for easy handling
Easy to clean and maintain
Ilsa Stainless Steel 3-cup Stovetop Espresso Maker
Also made in Italy, you know you are getting a good one. Just like the Bialetti, it has an efficient design and makes perfect cup of brewed coffee. Buyers love the fact that everything is made of stainless steel, except for the gasket, of course.
Best features:
3-cup capacity, just right size for every day use
Super durable model
Value for money
There's a lot more to learn about moka pots. Check out one of the following articles on brewing stovetop moka or espresso right now!
► How To Use A Moka Pot To Brew Coffee
► How Long Does It Take To Brew Moka
► How Moka Pots Work
► Stainless Steel vs Aluminum Moka Pots
► 1-Cup Stovetop Espresso Makers
► 2-Cup Stovetop Espresso Makers
► Moka Pot Cleaning Instructions