Most long time users of stovetop espresso makers agree that smaller pots are usually better. They are cheaper to buy, built a bit sturdier, and they tend to make better moka – albeit in smaller quantities.
A 1-cup moka pot is unquestionably the smallest of them all. In the Moka pot world one cup generally refers to 1 to 1.5 ounces of coffee. This amount of water heats up very quickly, even on lower temperatures, and can produce a good drink in much less time than alternative brewing methods.
In America where double shots are so common a 1-cup moka pot may seem too small but a single shot of espresso can make a fine coffee mug sized Americano for a perfect afternoon pick me up.
Note – you can see our featured 2-cup moka pots on this page.
There aren't nearly as many single cup stovetop espresso makers out there but there are a few to choose from. I've listed some of the more popular one's below for your convenience.
These Single Cup Moka Pots Make a Really Fast Shot of Fake Espresso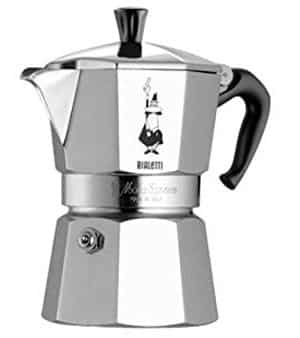 Bialetti Moka Express 1-Cup Stovetop Espresso Maker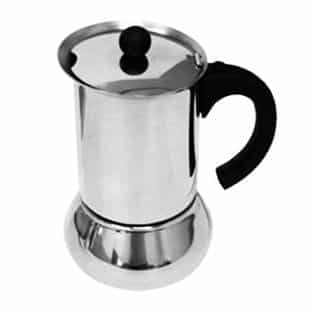 Vev Vigano Carioca Nero 1-Cup Espresso Maker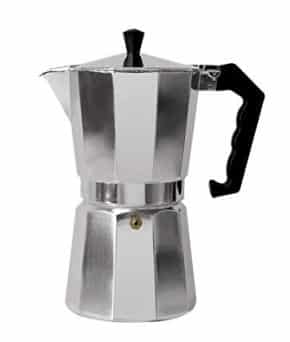 Primula Aluminum 1-Cup Stovetop Espresso Coffee Maker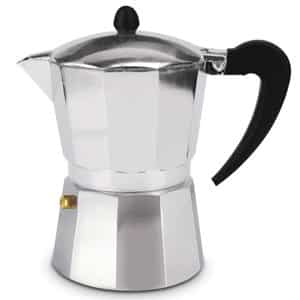 Aluminum Espresso Stovetop Coffeemaker – 1.5oz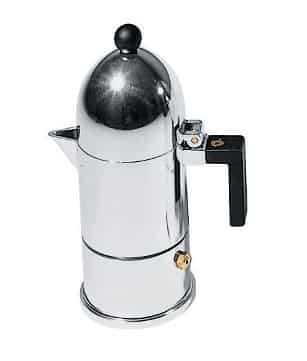 La Cupola Espresso Maker by Aldo Rossi Size: 1 cup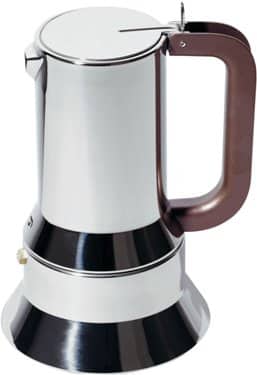 The 9090 Moka Pot by Richard Sapper 1 cup
Stop by our store for more options or consider jumping up to a still small 2-cup size pot.
Why Would You Want a Stovetop Espresso Maker to be So Small
As I alluded to above a single serving moka pot in my opinion is best for making a quick single serving americano in just a couple minutes.
For my morning coffee I like to have a bit more volume but sometimes in the afternoon I like to make a single cup of coffee. I frequently make a pour over cup or a small batch of french press but the 1-cup moka pot is another really good option to have.
My drip coffee maker also has a hot water dispenser in it so I can easily whip up a single serving of moka on the stove while my hot water comes to temperature. Once the moka is ready I add it to my mug and then fill to the top with hot water and it's an easy Americano -like drink.
The moka pot doesn't really make true espresso but it's close enough when it's used in mixed drinks.
Another fun way to use a tiny stovetop espresso maker is to make coffee shots for your dinner prep. If you are making a stew or a chili or some other kind of a marinade a shot of moka from a pot like this can add a lot of potent flavor to your meal.
How Fast Does a 1-Cup Stovetop Espresso Maker Brew Coffee?
Curious how fast these little guys are? For starters moka pots can be one of the fastest coffees to brew aside from pump espresso.
Here's a video demonstrating how fast a moka can brew coffee.
The 1-cup pot blows the 4-cup pot out of the water in terms of speed.
======
The Smallest Stovetop Espresso Makers
Nothing beats the smell of freshly brewed coffee in the morning. The aroma alone can send you off with good vibes. And finally, the pleasant taste of this bittersweet drink will surely perk up your mood.
To achieve this, you need a nice brewer that will create the perfect cup of coffee goodness for you and your family.
Reasons why you need a stovetop espresso maker
One of the most convenient coffee makers is the stovetop espresso or moka pots. It may look like just another kettle but coffee aficionados love its simple and hassle-free functionality.
Here are the main reasons why you need to make a little investment on your stovetop press:
Stovetop is relatively inexpensive. You can take home a new one with less than $30
It is easy to store, requires minimum storage space
It is portable. You can bring it to camping and any outdoor activity. You just need a source of heat.
Many coffee lovers prefer the strong flavor created by stovetop espresso makers.
Some stovetop espresso are designed to impress
No need to buy paper filters, ever!
Important factors when buying a stovetop espresso maker
Before you buy any stovetop espresso maker, consider the following first:
The espresso maker should not only look good but feel and work good, too. Honestly, you will be using it daily and if you are like me, you will be using it twice or thrice a day.
It should be easy to maintain, hassle-free cleaning. Dishwasher safe for some.
It should ne durable enough to withstand a number of falls.
It should be affordable.
It should make a consistent cup of good tasting coffee.
Smallest stovetop espresso maker
Check out these smallest stovetop espresso maker list:
The Original Bialetti Moka Express Made in Italy 1-Cup Stovetop Espresso Maker with Patented Valve
When you buy a Bialetti, you are buying a nicely made Italian brand. As they say, Italians know coffee like the back of their hand.
Pros:
It's built to last a lifetime.
Trusted brand of coffee makers
Easy to clean and straightforward functionality
Comes in different sizes, like this small 1-cup model
Value for money
Cons:
A bit messy when pouring over the cup, some coffee spill from the spout
Aluminum made, still waiting for a stainless steel model but it's a pricing thing that they maintain using aluminum
Needs regular cleaning, hand wash preferred
Alessi Moka Stovetop Espresso Maker – 1 Cups

This one-cup maker is like having your personal barista at home.
Pros:
Follows the efficient and functional design of the Bialetti
More sleek looking with a nice stainless finish
Makes good tasting espresso
Cons:
Hand wash only, takes time to clean
A bit on the pricey side
Vev Vigano Carioca Nero 1-Cup Espresso Maker
This model and brand is another proud Italian manufacturer of quality espresso maker.
Pros:
Made of high grade stainless steel
Has a stainless steel filter basket
Makes pleasantly good espresso
Cons:
Some find it too small
Hand wash only
Primula Aluminum 1 Cup Stovetop Espresso Maker
The Primula is a good starting point for first time buyers who want to try out a stovetop espresso.
Very easy to use
Affordable pricing
Makes coffee quick
Cons:
Handle can break easily, made of plastic
Hand wash only
1 cup moka express coffee Latte Espresso maker pot + extra rubber gasket
This is another entry level moka pot to play around. If you are looking for a spare, this can do the work.
Pros:
Easy to use
Can work in most stoves
Affordable pricing
Cons:
Is the stovetop espresso maker for you?
Many people love buying in big volumes and large capacity. Talk about wholesale pricing. While it may be practical, coffee lovers know that it's not always the case. Often, great tasting coffee comes in little packages. Take espresso for instant. It's coffee perfection in a tiny cup.
The smallest stovetop espresso is for you if you want the following:
Single serve convenience. Most of the time, you need just a cup of coffee for yourself and/or your partner. Even if you have kids, they don't really drink coffee everyday. A small stovetop espresso works best for you and your daily morning routine. You can even bring it to the office and make a fresh cup of coffee anytime.
Low maintenance. Stovetop espresso makers are easy to use, manage and keep. Even if most of them are hand wash, it will only take you about 3 minutes to clean everything. Even if you are so busy, there's no stopping you from getting a good cup of coffee in just 5 minutes.
Value for money. Stovetop espresso will never burn your wallet. Even the most expensive one is still within budget. This brewing machine is unpretentious. The design and function is very straightforward. Prices vary depending on the brand and material used. Aluminum body are inexpensive. Stainless steel models have a premium.
Other brewing methods to explore
After getting a stovetop espresso, you can also explore other brewing methods:
French press – No heat source required. Just prepare hot water, coarse ground coffee and the French press. You can have brewed coffee in just 4 minutes.
Automatic drip machine – You can set the timer and leave the machine to brew on its own.
Pour over – Learn the artsy way of using Chemex and Hario.
Cold brew – If you are willing to wait, you can enjoy a cold and light tasting coffee after 24 hours.
There's a lot more to learn about moka pots. Check out one of the following articles on brewing stovetop moka or espresso right now!
► How To Use A Moka Pot To Brew Coffee
► The Best Stovetop Espresso Makers
► Stainless Steel Moka Pots
► How Long Does It Take To Brew Moka
► How Moka Pots Work
► Stainless Steel vs Aluminum Moka Pots
► Overview & Review of the Bialetti Moka Express
► Moka Pot Cleaning Instructions