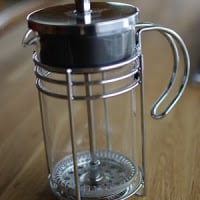 It's good to have bigger items around the house for those few times when you need to serve lots of people at once but I have found that the smaller items get far more use in my house.
I tend to make coffee for myself more than for a group of people and I tend to make small amounts of coffee a couple times a day more often than I make lots of coffee for myself all at once.
For travelers the advantage of owning smaller items is abundantly clear. It's hard to tote a big coffee maker everywhere you go. A small french press coffee maker may be a different story however.
Some of these things are small enough that you could probably take them camping just as easily as you could take them on a business trip.
There are lots of smaller french press pots out there but I've featured the handful that I like the most. For the most part these are the smallest french press coffee makers sold today and the ones featured below are sturdy and make good coffee… not to mention they are well regarded and reviewed by actual owners.
My Favorite Small French Presses
In addition to those mentioned above I've added expanded information of the following units listed below.
---
Related – Check out the following posts to see my favorite insulated French presses and the largest French presses I've experimented with.
---
The Smallest Coffee Press is the Best in my Book!
The idea of a small French press coffee makers can refer to the size of the French press or the actual coffee amount it can produce. Some French press are bulky in the exterior but it can only produce 1 or 2 cups of coffee. Others are ergonomically designed and surprises you with 6 cups of coffee output.
Here are some recommendations if you are keen on buying a small French press.
Espro 18 Ounce Vacuum Insulated Stainless Steel Press
Main Features:
The two patent-pending filters get beneath the grinds and filter twice, leaving all of the flavor and none of the grit
The double lip seal prevents grinds from sneaking past the micro-filters, and the buffer between the filters prevents over-extraction after brewing
The vacuum insulated double walls maintain stable temperature during the brew and keeps coffee hot for hours
Filters are BPA, BPS and phthalate free, made from USA manufactured materials in Canada
Top rack dishwasher safe or hand wash with bottle brush
Frieling USA Double Wall Stainless Steel French Press Coffee Maker with Patented Dual Screen, Polished, 17-Ounce
Main Features:
Double-wall 18/10 stainless-steel French press for coffee or tea; 17 ounce capacity, measures 8.3-inches high
Mirror finish outside and brushed finish inside; full-length handle is comfortable in the hand
2 stage filter system uses a pre-filter & super-fine mesh filter for zero sediment in cup; metal wire inside coil presses plunger against inside wall
Carafe doubles as insulated serving pitcher; retains heat 4 times longer than glass
Disassembles easily for washing; dishwasher safe; 5 year warranty against manufacturing defects
Constructed of 18/10 stainless steel
• All steel plunger mechanism
Bodum Chambord 4 Cup French Press Coffee Maker, 17-Ounce, Chrome
Main Features:
17-ounce capacity
Durable stainless-steel frame
Heat-resistant borosilicate glass beaker
Dishwasher-safe
Accepted as one of the best ways to brew coffee
Bodum CHAMBORD Coffee Maker, French Press Coffee Maker, Stainless Steel, Glass, 12 Ounce (3 Cup)
Main Features:
French press brews a premium cup of coffee in just 4 minutes, simply add course ground coffee, hot water and press
Made of durable, heat-resistant borosilicate glass with a BPA free plastic handle and base; easy to use and easy to clean
3-part stainless steel plunger has a mesh filter that helps extract your coffee's aromatic oils and subtle flavors instead of being absorbed by a paper filter
This premium French press coffee maker makes 3 cups of coffee, 4oz each; dishwasher safe
Francois et Mimi Single Wall Borosilicate Glass French Coffee Press, 12-Ounce, Chrome
Main Features:
Elegant Chrome Finish
Dishwasher Safe
Micro-Mesh Filter
Works great with coarse-ground coffee or tea leaves
GROSCHE CHROME French Press Premium Coffee and Tea Maker Small – 350 ml (12 oz)
Main Features:
A true premium quality french press coffee and tea maker, unlike any others on the market today
Brews 12 oz of the best tasting coffee or tea, allowing the fullest flavor extraction from the coffee or tea
Secondary filter is in the lid, turn the lid to close the spout and retain heat, turn back to pour
Always use coarse ground coffee in a french press, (1 to 3 tablespoons per mug 300ml)
You can also use this french press to make loose leaf or blooming tea
Bodum New Kenya 12-Ounce Coffee Press, Black
Main Features:
New Kenya coffee press uses the preferred plunger method
Heat-resistant, borosilicate glass beaker with curved plastic frame
Stainless-steel 3-piece filter system; no paper filter needed
Frame protects table from heat; all parts are dishwasher-safe
12-ounce capacity makes 1 mug or 2 after-dinner cups of coffee
Primula 4-Cup Classic Coffee Press – 16 oz. – Black and Chrome
Main Features:
Classic French press design with chrome accents, heat-resistant knob and stay cool handle
The Primula French press coffee maker features a temperature safe borosilicate glass beaker
Finely crafted plunger with superfine stainless steel mesh filter that reduces sediment
Paper filters are not needed for this French press coffee maker, which saves you money
Easy-to-use coffee press has a fitted lid and angled spout which allows for clean, even pours
Stansport French Coffee Press
Main Features:
800 ML capacity for gourmet coffee anywhere
Just add coffee grounds, hot water, steep, press and pour
Extra strong tritan carafe
BPA Free
Ideal for home, outdoor living or camping
Ideally, you can own at least two types of French press at home. One is a large French press that can accommodate up to 12 cups of coffee, perfect for entertaining guests. The other is any of these small French press coffee makers for a more personal coffee experience.
If these are a little too small for you then I recommend taking a look at the French Press Store here and finding something that's more in line with what you need.
Why get a small French press coffee maker?
Again, it's a question of preference. Single-serve French press or those French press that serve at most 3-4 cups of coffee are considered small. Who will enjoy a small French press?
If you are the only person in your household who loves coffee
If you are living alone
If you want a little coffee shop in your workstation
If you are student who wants coffee anytime, anywhere
If you love collecting French press coffee makers
Once you started using French press, it's hard not to fall in love with it. It's simple yet sleek design, super convenient features and near-perfect brew are enough reasons to buy just another one.
French press lovers have more than one French press at home. Why? Because one is just not enough.
Plus, French press comes in different shapes and sizes. Some are big enough to brew coffee for 10 people! Others are good enough for a single serving that you can bring on-the-go.
Buying a French press is a matter of preference, style, and budget. Have fun with it!
---
The 5 Best Small French Press Coffee Makers
Adding a french press to my collection of kitchen gadgets was one of my best decisions. When I don't want to make a whole pot of coffee for myself, my french press allows me to make a single serving instead.
The best part is that the taste of french press coffee is so much more fresh and flavorful than a pot of drip I brew at home. Nothing beats a morning where I can take the french press to my bedside table, refilling my cup at my leisure.
The convenience and versatility of a french press coffee maker is a big selling point. It's just a matter of grinding up the beans and heating some water. The whole process takes under five minutes and produces delicious results.
I appreciate the freedom of portion control with french press coffee makers. They come in a variety of models and sizes, with glass bodies and usually a plastic or stainless steel outer layer.
I prefer my medium-sized stainless steel french press, as it serves 2-3 cups and spends most days beside my bed in the morning.
If you are looking into buying a french press, this list of best small french press coffee makers will help you make your decision.
If you've spent much time making french press coffee, you've probably experienced the dreaded floating grounds. I value any french press maker with a strong mesh screen to keep the floaties away. This one has two screens, with one at the pour spout to stop any last-minute invaders from getting into your coffee.
The device is made from German borosilicate glass, with a lid made from stainless steel BPA-free polypropylene. This french press looks classic and sophisticated and brews a single serving.
My favorite part about this product is the cork pad that comes with it. It's not necessary for the coffee maker to stand upright but is a nice added touch and prevents the all-too familiar rings water rings I tend to leave on the counter when making coffee with my french press.
I prefer the look of this one to the previous, mainly because of the option to own a french press in teal. It comes in black and white as well and has a much more contemporary look than some other products.
Like the Brillante, this french press has multi-level filtration which promises to keep all the coffee grounds out, while locking in all the essential oils that keep the flavor strong. The best thing about this coffee maker is the shatter-resistant carafe, which means even the clumsiest connoisseurs can rest easy making a cup of joe.
It is also dishwasher safe, making the breakdown and cleanup of the device simple. This would be a great addition in a modern home, as it strays a bit from the typical look of a stainless steel and glass french press and allows for the possibility of a color pop if you choose one of the colored items.
I don't see many french presses in bright colors, so this one stands out in a unique way.
This french press is a nice blend of the classic look of the Brillante with the modern look of the Clever Chef. The durable chrome housing gives it a professional-looking twist, with the frame and handle protecting hands from exposure to the hot glass. I love the lines on this product, as it creates a solid rhythm and makes the whole piece look very composed.
This french press actually has a three-level filtration system, which guarantees no coffee grounds will be floating around in your cup. This press makes up to 12 ounces, so it's perfect for someone who just wants a single serving.
I love the retro look of this french press, and the bronze stainless steel stands out and gives the coffee maker a sleek edge. The look is so versatile it would blend well with a retro-style home or a contemporary one.
This is a great heavy-duty option, and one that I lean towards as I have a tendency to drop things. It is made with heat-proof, non-breakable glass, which is a great feature for an item that is usually very dainty.
Despite being heavy duty, this french press still is compact and makes just one serving. This would be a great choice for someone who spends time camping or outdoors, as the non-breakable glass and overall design will keep it in top shape. A cold, crisp morning in the woods could be turned into a comfortable oasis with access to boiling water and this french press.
I like the look of the black plastic on this one, and the matching scooper is a nice touch.
I'm all about the classic looks, so when I saw this chrome french press, I knew it would make the list.
This one is small and elegant and looks exactly as you'd expect a french press to look; durable, heat-resistant glass body, and sleek, stainless steel lid. The rounded edges make this french press look complete and sophisticated.
The stainless steel plunger has three parts, including a mesh filter to keep the grounds away. Another convenient aspect of this french press is that it's dishwasher safe. Since it is easy to disassemble, put in the dishwasher and then reassemble, it would be a great choice for someone looking for a quick option.
In terms of convenience, look and function, this french press takes the cake.
How to Choose a Small French Press
There are a lot of different varieties out there and choosing the ideal one for your lifestyle requires a bit of consideration. All of these compact french presses are great choices, but some work better than others for different lifestyles.
The Single Serving French Press is a great choice for outdoor use, but the Brillante could be a disastrous option if taken on a camping trip and dropped or exposed to the elements.
Keep in mind the aesthetics of your coffee equipment and whether or not you'd like to keep a theme going. All stainless steel might not look as good with a Clever Chef as it would with a Zakura.
All of the small french presses listed are quality products, so choosing the right fit comes down to your personal needs.
If you're someone who prefers a classic look, stick to a french press with a glass body and a simple stainless steel top. The amount of contents the press can hold is important to consider, because you will want to purchase one that fits your desired intake to avoid having to make multiple presses in one go.
FAQs About French Presses
How do I use a small french press?
Using a small french press is no different from a larger-sized one. The steps are quick and easy. Start by boiling an appropriate amount of water. While the water is heating up, you'll want to grind your beans them to be coarse enough to look like crushed black pepper.
Then, you will put the coffee grounds at the bed of the carafe. When the water is boiling, you can pour a bit into the bed of the carafe over the grounds. Stir the water and grounds a bit, and then finish filling the body with hot water.
Place the plunger on top and create a seal and sit back for about four minutes. Once that time has passed, you can press down with the plunger and pour yourself a hot cup of coffee.
Is french press better than drip or pour over?
Although preference is key here, most would agree that french press is better than drip, and easier than pour over . Different methods result in different tasting coffee, so don't be afraid to experiment. I personally prefer the taste of a french press over any other type of coffee.
Why should I use coarse ground instead of finely ground coffee?
The result of a coarsely-ground cup of french press is much more flavorful and rich than one that was made with finely-ground beans.
While using beans that were ground finely will still produce a good cup, it is recommended to only coarsely ground your beans until they resemble crushed black pepper.
Don't leave them too coarse though, as not grinding them enough could cause the cup of coffee to taste bland.
Conclusion
French presses are an extremely useful and handy item for a coffee lover to have around. When brewing a whole pot of coffee is too much, brewing a single serving in a personal french press can make life a lot easier.
The enhanced flavor from the essential oils and freshly ground beans is worth the investment alone. Choosing the right french press for your individual needs does not have to be a complicated issue. The right choice should stand out after a bit of consideration about your lifestyle.
For me, the Bodum Chambord French Press is the perfect combination of what I look for in a french press: dishwasher safe, an effective filter, and the classic look of a french press. The rounded edges are what won me over, but the overall functionality is what sealed the deal.
There are so many options to choose from, and the right choice will come with consideration of lifestyle.
---
Top 13 Small French Press Coffee Makers
If you're not a big coffee drinker, live alone, or just want a smaller, easier to manage coffee maker – a small French press is an excellent choice.
In GGC Coffee's selection of small French presses, you can choose from standard, insulated, and traveling ones. Regardless of what you choose, they will all be small and give you between 1 and 2 servings of coffee.
If you are looking for an affordable French press, we suggest choosing a standard glass one.
If you need an insulated French press, check out the stainless steel options as many of them provide high heat retention.
If you want an on-the-go French press, take a look into the ones that also double as travel mugs.
Need a smaller french press for travel or for single serve purposes? Each pot listed below is on the small size measuring roughly 16-20 ounces or less. These make perfect companions to the larger 12-cup french press pots you pull out when guests come over.
To start lets look at the best on the market:
The Best Small Sized French Presses
These are not the cheapest french press coffee makers but for the size they are the best models by far.
Espro 18 Ounce Vacuum Insulated Stainless Steel PressHere ate GGC we really love all the coffee presses made by Espro Press! They are great coffee makers across the board.
To boil them down to the basics their coffee presses will give you the cleanest cup free of sediment or "mud" as you've ever had from a french press, regardless of your chosen coffee grinder.
Every Espro Press is insulated too meaning your coffee will brew at a more stable temp giving you better coffee.
This is definitely worth checking out.
Frieling Polished Stainless French Press, 17-OunceFrieling is a close competitor to the Espro models. They have consistently made some of the best french press coffee over the years due to their insulation and patented filter screen.
Again, you will get a super clean cup out of this french press but we do love the ingenuity of Espro in creating a whole new way of pressing the grind out of your coffee.
This model is a bit cheaper than the Espro model so go for it if you don't want to spend any more than you have to.
Bodum Chambord 4 Cup French Press Coffee Maker, 17-Ounce, ChromeBodum Chambord makes the perennial favorite Chambord french press which is one of the best selling french press pots in recent years.
This is a glass press (not insulated) so the price is a lot lower. It is the value play in the little french pot space. 🙂
The style is very similar to a lot of cheaper units featured below but the build quality is excellent and worth the small increase in price over the cheapest options available.
You can also see all of the best french press coffee makers here.
The Smallest Coffee Presses
These aren't the best exactly but they are smaller than all the rest!
 Bodum Chambord 3 cup French Press Coffee Maker, 12 oz., ChromeMore Info Francois et Mimi Single Wall Borosilicate Glass French Coffee Press, Chrome Design (12oz)More Info GROSCHE CHROME French Press Premium Coffee and Tea Maker (Small – 350 ml (12 oz))More Info Bodum New Kenya 12-Ounce Coffee Press, BlackMore Info
There are a number of other 12 ounce french presses for you to look at here.
The Cheapest Small French Press Coffee Makers
These are not the best models made nor are they necessarily the smallest but if price is your main concern these will not cost you very much at all!
 Primula 4 Cup Classic Coffee Press, ChromeMore Info Stansport French Coffee PressMore Info Wyndham HouseTM 12oz French Press Coffee MakerMore Info
Here Are a Few More Alternatives
These include some additioanl favorite small size coffee presses in glass, stainless, and french press mug styles.
 Frieling 0103 Ultimo 23 Oz. Mirror Finish French PressMore Info Bodum Insulated Stainless-Steel Travel French Press Coffee and Tea Mug, 0.45-Liter, 15-Ounce, BlackMore Info Planetary Design Commuter Double-Shot Stainless Steel French Press Mug, BlackMore Info
If you want to see more french press travel mugs click here.
Product Descriptions
Our small French press coffee makers range in price from $10.00 to $90.00.
These small options either come with handles designed for easy pouring and carrying, or are small enough to grip and carry in hand. All of them come with removable tops with attached plungers that allow for fast and efficient washing.
All options come with a built-in, 3-piece filtering system, which means – no paper filter.
For the material, you can select from glass, stainless or brushed steel, or BPA-free plastic.
Materials
Glass: glass provides transparency so you can see how much coffee you have, and it makes cleaning up easier. Glass is more likely to shatter than stainless steel or plastic, but they are heat resistant so you can pour extremely hot water in the carafe for coffee brewing.
Stainless or brushed steel: stainless steel or brushed steel provide better insulation (keeping beverages hot or cold longer) than other materials, and does not stain as easily. However, many of these coffee makers require hand washing, so please check the product description if you prefer it to be dishwasher safe.
Plastic: plastic insulated French press coffee makers are lightweight, designed to be shatter-resistant, and usually can go in a dishwasher; however, they may stain and scratch easier as opposed to stainless steel ones. If you're worried about the type of plastic, make sure the coffee maker you're buying is "BPA-free plastic."
Additional Perks and Information
Regardless of the style of small French press coffee maker you choose, all of these are easy to transport and clean – they also make an excellent gift!
Just remember to use coarsely ground coffee when brewing with a French Press.
Alternatives
If you want to use a French press coffee maker, but are looking for a larger size, our coffee maker page offers sizes that hold all the way up to 51oz of liquid.
If you are looking for something small, that provides you with a single serving of coffee but don't need a French press, our "Our Products" page lists other small travel mug and coffee maker options.
To see more options make sure to see our page on insulated french press pots or this page featuring only 16 ounce coffee presses.