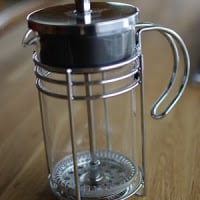 It's good to have bigger items around the house for those few times when you need to serve lots of people at once but I have found that the smaller items get far more use in my house.
I tend to make coffee for myself more than for a group of people and I tend to make small amounts of coffee a couple times a day more often than I make lots of coffee for myself all at once.
For travelers the advantage of owning smaller items is abundantly clear. It's hard to tote a big coffee maker everywhere you go. A small french press coffee maker may be a different story however.
Some of these things are small enough that you could probably take them camping just as easily as you could take them on a business trip.
There are lots of smaller french press pots out there but I've featured the handful that I like the most. For the most part these are the smallest french press coffee makers sold today and the ones featured below are sturdy and make good coffee… not to mention they are well regarded and reviewed by actual owners.
My Favorite Small French Presses
In addition to those mentioned above I've added expanded information of the following units listed below.
The Smallest Coffee Press is the Best in my Book!
The idea of a small French press coffee makers can refer to the size of the French press or the actual coffee amount it can produce. Some French press are bulky in the exterior but it can only produce 1 or 2 cups of coffee. Others are ergonomically designed and surprises you with 6 cups of coffee output.
Here are some recommendations if you are keen on buying a small French press.
Espro 18 Ounce Vacuum Insulated Stainless Steel Press
Main Features:
The two patent-pending filters get beneath the grinds and filter twice, leaving all of the flavor and none of the grit
The double lip seal prevents grinds from sneaking past the micro-filters, and the buffer between the filters prevents over-extraction after brewing
The vacuum insulated double walls maintain stable temperature during the brew and keeps coffee hot for hours
Filters are BPA, BPS and phthalate free, made from USA manufactured materials in Canada
Top rack dishwasher safe or hand wash with bottle brush
Frieling USA Double Wall Stainless Steel French Press Coffee Maker with Patented Dual Screen, Polished, 17-Ounce
Main Features:
Double-wall 18/10 stainless-steel French press for coffee or tea; 17 ounce capacity, measures 8.3-inches high
Mirror finish outside and brushed finish inside; full-length handle is comfortable in the hand
2 stage filter system uses a pre-filter & super-fine mesh filter for zero sediment in cup; metal wire inside coil presses plunger against inside wall
Carafe doubles as insulated serving pitcher; retains heat 4 times longer than glass
Disassembles easily for washing; dishwasher safe; 5 year warranty against manufacturing defects
Constructed of 18/10 stainless steel
• All steel plunger mechanism
Bodum Chambord 4 Cup French Press Coffee Maker, 17-Ounce, Chrome
Main Features:
17-ounce capacity
Durable stainless-steel frame
Heat-resistant borosilicate glass beaker
Dishwasher-safe
Accepted as one of the best ways to brew coffee
Bodum CHAMBORD Coffee Maker, French Press Coffee Maker, Stainless Steel, Glass, 12 Ounce (3 Cup)
Main Features:
French press brews a premium cup of coffee in just 4 minutes, simply add course ground coffee, hot water and press
Made of durable, heat-resistant borosilicate glass with a BPA free plastic handle and base; easy to use and easy to clean
3-part stainless steel plunger has a mesh filter that helps extract your coffee's aromatic oils and subtle flavors instead of being absorbed by a paper filter
This premium French press coffee maker makes 3 cups of coffee, 4oz each; dishwasher safe
Francois et Mimi Single Wall Borosilicate Glass French Coffee Press, 12-Ounce, Chrome
Main Features:
Elegant Chrome Finish
Dishwasher Safe
Micro-Mesh Filter
Works great with coarse-ground coffee or tea leaves
GROSCHE CHROME French Press Premium Coffee and Tea Maker Small – 350 ml (12 oz)
Main Features:
A true premium quality french press coffee and tea maker, unlike any others on the market today
Brews 12 oz of the best tasting coffee or tea, allowing the fullest flavor extraction from the coffee or tea
Secondary filter is in the lid, turn the lid to close the spout and retain heat, turn back to pour
Always use coarse ground coffee in a french press, (1 to 3 tablespoons per mug 300ml)
You can also use this french press to make loose leaf or blooming tea
Bodum New Kenya 12-Ounce Coffee Press, Black
Main Features:
New Kenya coffee press uses the preferred plunger method
Heat-resistant, borosilicate glass beaker with curved plastic frame
Stainless-steel 3-piece filter system; no paper filter needed
Frame protects table from heat; all parts are dishwasher-safe
12-ounce capacity makes 1 mug or 2 after-dinner cups of coffee
Primula 4-Cup Classic Coffee Press – 16 oz. – Black and Chrome
Main Features:
Classic French press design with chrome accents, heat-resistant knob and stay cool handle
The Primula French press coffee maker features a temperature safe borosilicate glass beaker
Finely crafted plunger with superfine stainless steel mesh filter that reduces sediment
Paper filters are not needed for this French press coffee maker, which saves you money
Easy-to-use coffee press has a fitted lid and angled spout which allows for clean, even pours
Stansport French Coffee Press
Main Features:
800 ML capacity for gourmet coffee anywhere
Just add coffee grounds, hot water, steep, press and pour
Extra strong tritan carafe
BPA Free
Ideal for home, outdoor living or camping
Ideally, you can own at least two types of French press at home. One is a large French press that can accommodate up to 12 cups of coffee, perfect for entertaining guests. The other is any of these small French press coffee makers for a more personal coffee experience.
If these are a little too small for you then I recommend taking a look at the French Press Store here and finding something that's more in line with what you need.
Why get a small French press coffee maker?
Again, it's a question of preference. Single-serve French press or those French press that serve at most 3-4 cups of coffee are considered small. Who will enjoy a small French press?
If you are the only person in your household who loves coffee
If you are living alone
If you want a little coffee shop in your workstation
If you are student who wants coffee anytime, anywhere
If you love collecting French press coffee makers
Once you started using French press, it's hard not to fall in love with it. It's simple yet sleek design, super convenient features and near-perfect brew are enough reasons to buy just another one.
French press lovers have more than one French press at home. Why? Because one is just not enough.
Plus, French press comes in different shapes and sizes. Some are big enough to brew coffee for 10 people! Others are good enough for a single serving that you can bring on-the-go.
Buying a French press is a matter of preference, style, and budget. Have fun with it!