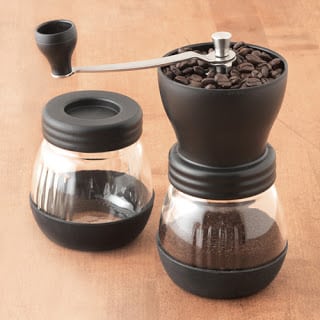 It's taken me longer that I originally thought it would take to decide which burr coffee grinder to buy. Last month around this time I outlined my thoughts on getting a manual burr grinder vs an electric burr grinder.
Since that time it's become clear to me that I want to spend my money on something that is inexpensive but still gets the job done well. The time and effort involved in hand cranking a coffee mill is a non-issue for me. I've got plenty of time on my hands and manual labor isn't a chore for me.
What I find important though is a need to find a good grinder that can be adjusted for different grind sizes somewhat easily.
It also needs to produce a consistent grind size for me and be able to produce grind that is good for both a french press coffee maker and a Moka pot as these are the two most common ways for me to be brewing coffee these days.
I'll be getting a manual grinder for sure but now I wanted to explore that better manual coffee mills out there because they are not all made the same.
For my research I'll be looking at the reviews of coffee fans out there on Amazon and major forums like those found over on CoffeeGeek.
A quick look at the best seller list on Amazon shows a lot of happy customers for the Hario hand crank coffee grinders. Of them the Mini Mill Slim Grinder is probably the best seller.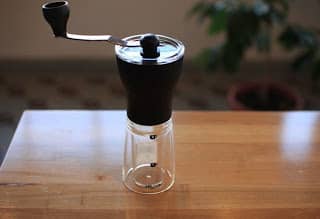 I like this grinder mostly because of it's size but based on the input from many users this grinder is only good for making small amounts of coffee at a time. For me this is perfect seeing as though I usually only make a max of 32oz of coffee in a french press at a time. That's just two big cups or 4 8-ounce cups of coffee.
The most common praises for this thing though is that it has a cap for the beans (so that they don't spill out while cranking, the basket is not going to be prone to static, and the grind size is consistent. It can make more consistent grind than just about nay other hand coffee grinder.
For me this is big because both French Press coffee and Moka Pot espresso is prone to having mud on the bottom of the cup due to coffee dust created during the grinding process. Anything to minimize this is awesome.
Also, I read over on CoffeeGeek that of all the major manual grinders brands out there Hario grinders are just about the only grinders that can produce decently large coffee ground acceptable for French Press.
For me I've completely decided that the Hario Slim is for me but I know it's not going to be the best manual coffee grinder for everyone either.
For those who are looking for something that makes more coffee at a time the Hario Skerton is a better option.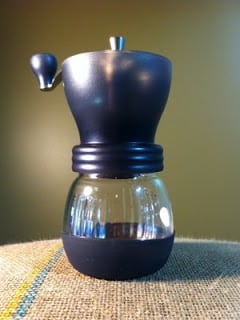 It's bigger and can hold more grind but it's burrs are just as capable as the mini. Just be prepared to for tougher time holding it because slim grinding mills are simply easier to use.
As an alternative to the Hario lineup I've also seen a ton of people loving this Porlex Stainless Coffee Mill.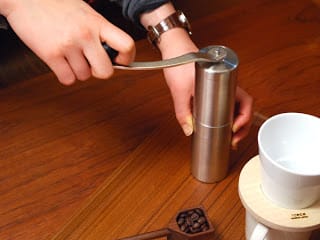 Not only is is a different style than the Hario models but it's also arguably better built. The Hario model's crank use a hex fitting. If the handle slips out of the fitting it could slowly get stripped over the years. The design of the Porlex grinder makes this a non-issue.
Also, the Hario's are made of glass meaning they are much more prone to breaking than a stainless steel model.
And like the Hario's this is static resistant and will produce a consistent grind size every time due to a burr adjustment nut that clicks from position to position rather than simply screwing one way or the other. Set it in a position and it won't move until you want it to.
In some cases I think this may be the best manual hand crank coffee grinder for the money but it isn't the cheapest either. As much as I'd like to not care about money I do and I can probably save $20 or so going with the Hario Slim. In fact I'm almost completely sure I'll be buying the Slim. It's the best manual grinder I'm going to come across in this price range and it's going to be loads better than my old cheap electric blade grinder that has been banished to the back of the top shelf of my coffee cabinet,
If you have any thoughts about these or other manual grinders do let us all know in the comments below.