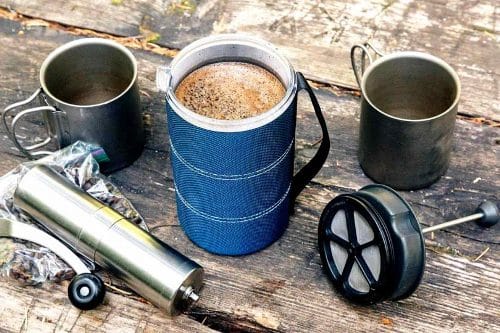 Imagine bringing french press coffee with you on the road. Maybe you'll be using it in a hotel room as you head out the door.
No matter how you plan on using one there is no doubt that having a portable french press tumbler is quite handy.
The french press is one of the best ways to make coffee in the home and on the road. These travel mugs and coffee cups make good portable coffee even easier.
What are the Best French Press Travel Mugs
Bodum coffee mugs are probably the most commonly found french press coffee mugs on the market but they aren't the only options out there. There are a number of other brands making french press mugs that are worth it too.
By principle, all French press follow the same basic design and process. There's a plunger with a mesh that acts as filter to extract the liquid.
The battle among French press travel mugs boil down into three features: durability, weight, capacity and price.
I hope you find something that suits your needs and price range below.
In addition to the mugs listed above I've provided some additional details below on a few of them.
Bodum Insulated Stainless Steel Press Mug
Main Features:
Excellent for brewing coffee or tea on the go.
Stainless steel body.
Silicone sleeve wrapped around the mug for an easy grip.
Vacuum sealed, double walled insulation keeps your drink's temperature for a long time.
Lid is spill resistant and has the plunger built into it.
15 ounce capacity
A known French press manufacturer, the Bodum French press mug performs. It's a coffee press and mug in one. Talk about travel essential. You can make coffee and drink it, virtually anywhere. While this travel mug has good points, several users complain about getting too much coffee ground when they sip their coffee. The fact that the lid and plunger are the same, this could be one reason why coffee grounds often end up in your mouth.
Asobu The Hot Press Vacuum Insulated Cup
Main Features:
Vacuum sealed, keeps drinks hot for 6 to 8 hours.

16 oz capacity.
Built-in plunger, no need to switch lids.
Available in many colors.
Users love the Asobu model because it's more affordable than most brands and is more spill-resistant. It is an essential feature that makes it an efficient travel buddy if you love taking coffee in the great outdoors. Some buyers noticed that the plunger does not reach all the way down and about 3 oz of coffee is left. You don't get to drink all your coffee.
Planetary Design Desk Press Stainless Steel French Press
Main Features:
Vacuum sealed stainless steel press mug.
20 oz capacity.
Mug handle.
Plunger in a separate lid – requires lid switch before use.
Available in different colors.
This French press travel mug takes pride in its double filtration system that ensures no grounds go into your drink. No need to pour into a separate container, you can drink right from the pot. The mug presses are ideal for the coffee or tea connoisseur that doubles as an outdoor enthusiast or professional on the run. However, some users still complain that they get coffee grounds in their drink. Also, the Planetary Design is in the expensive end of the spectrum.
Espro Travel Coffee Press Stainless Steel
Main Features:
Patented double micro-filter gives you deep, rich flavor without any grit in your mug
Insulated, double-walled stainless-steel keeps your brew toasty for hours and won't ever break or leak
Makes 10 oz coffee and holds 15 oz as a travel mug
The Espro Travel Press is for people who love coffee and tea, and want to take it with them anywhere. Whether you're crossing the Amazon, or just trying to commute across an urban jungle. It's designed so you can brew their favorite cup, seal it with the travel lid, throw it in your bag, and go.
GSI Outdoors – 30 Fl Oz JavaPress
Main Features:
BPA Free, made from copolyester, and is shatter resistant.
Can hold up to 30-oz coffee
wrapped in a cloth sleeve with the handle made from water-resistant cloth
This is certified favorite among travel bugs and campers. Its durability, water-resistant feature and ease-of-use are top preferences among buyers. You can easily become the star of your trip because you can hand a cup of coffee good for 3 to 5 people.
Stanley Classic Vacuum Steel Travel French Press
Main Features:
BPA Free
Easy to use
Spill-proof
Easy to clean
It's hard to beat the classic. This travel French press is a hardworking little coffee machine that is loved by campers and professionals. It may be on the heavy side but it does not disappoint loyal users of the brand.
ZYLISS Travel French Press
Main Features:
Brew coffee and take it on-the-go with one mug
Double-wall helps keep your beverage hotter for longer
Simply put in the ground coffee, add hot water and press the fine mesh filter to brew fresh coffee
Suitable for all kinds of beverages as well as hot chocolate and tea
BPA free and dishwasher safe
This is good for single serving. The double wall feature helps keep your drink hot for a longer period of time. Perfect for long trips or extended working hours in the office.
Presse by Bobble
Main Features:
Micro-filter separates grounds from brewed coffee
3-wall insulation keeps your coffee hot for hours
no plastic pod or paper filter waster
made of food-grade 304 stainless steel and food-grade, high temperature silicone
makes up to 13 oz. of coffee
This allows you to enjoy "always" hot coffee wherever, whenever. The 3-wall insulation is a smart selling point for travelers who really love to keep their coffee warm as long as possible.
This selection of travel mugs has been included in our Travel mug store. I tend to think of these units as special items not designed to replace either a travel mug or a french press but rather compliment both.
You can see some of the best travel mugs for sale here or take a look at the following page for a wide array of quality insulated french press coffee makers.
A French press is one hardworking coffee machine. Its simplistic design is not one to be looked down. For one, French pressed coffee tastes better than the average coffee maker. You can even make an espresso-like brew with a French press.
The common type of French press has a glass carafe. It looks portable enough and you can bring it anywhere.
But the glass carafe makes it less durable and prone to breakage. If you plan to go on a trip or camping, chances are the glass carafe can break, that's why I love the concept of the travel mug coffee press!
Good thing, there are several French travel mugs available in the market today.
The travel French press is a sturdy, rugged version of its glass cousins. Designed to withstand the bumps and bruises that come along with being a road warrior.
Reviews of These French Press Travel Mugs will Follow
For the time being this page is just a collated list of all the options available in this market. At this time I haven't used these mugs and can't say much about them in terms of a review. I do however plan on getting my hands on them and reviewing them so that I can help a bit with product selection.
I can say however that Bodum has a great reputation in the coffee accessories market. They make decent coffee presses and their combination french press and travel mug products will probably be just fine.
The Bistro Mug press by Bodum is actually a really cool looking option in my opinion though. It really fits the theme of portability as you can use it to press coffee into any mug of your choosing. This is one I'll be looking into closely in the near future..
If you have used any of these mugs then please share with us your experience in the comments below.