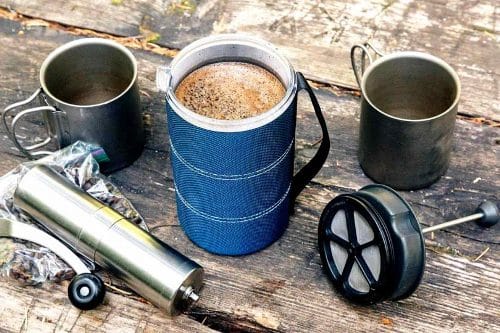 Imagine bringing french press coffee with you on the road. Maybe you'll be using it in a hotel room as you head out the door.
No matter how you plan on using one there is no doubt that having a portable french press tumbler is quite handy.
The french press is one of the best ways to make coffee in the home and on the road. These travel mugs and coffee cups make good portable coffee even easier.
What are the Best French Press Travel Mugs
Bodum coffee mugs are probably the most commonly found french press coffee mugs on the market but they aren't the only options out there. There are a number of other brands making french press mugs that are worth it too.
By principle, all French press follow the same basic design and process. There's a plunger with a mesh that acts as filter to extract the liquid.
The battle among French press travel mugs boil down into three features: durability, weight, capacity and price.
I hope you find something that suits your needs and price range below.
---
ALSO – Although a French press mug is convenient for those days you need to brew and head out quickly a large French press makes better coffee for those days you are working from home.
---
In addition to the mugs listed above I've provided some additional details below on a few of them.
Bodum Insulated Stainless Steel Press Mug
Main Features:
Excellent for brewing coffee or tea on the go.
Stainless steel body.
Silicone sleeve wrapped around the mug for an easy grip.
Vacuum sealed, double walled insulation keeps your drink's temperature for a long time.
Lid is spill resistant and has the plunger built into it.
15 ounce capacity
A known French press manufacturer, the Bodum French press mug performs. It's a coffee press and mug in one. Talk about travel essential. You can make coffee and drink it, virtually anywhere. While this travel mug has good points, several users complain about getting too much coffee ground when they sip their coffee. The fact that the lid and plunger are the same, this could be one reason why coffee grounds often end up in your mouth.
---
Related – See the best insulated French press coffee makers here.
---
Asobu The Hot Press Vacuum Insulated Cup
Main Features:
Vacuum sealed, keeps drinks hot for 6 to 8 hours.

16 oz capacity.
Built-in plunger, no need to switch lids.
Available in many colors.
Users love the Asobu model because it's more affordable than most brands and is more spill-resistant. It is an essential feature that makes it an efficient travel buddy if you love taking coffee in the great outdoors. Some buyers noticed that the plunger does not reach all the way down and about 3 oz of coffee is left. You don't get to drink all your coffee.
Planetary Design Desk Press Stainless Steel French Press
Main Features:
Vacuum sealed stainless steel press mug.
20 oz capacity.
Mug handle.
Plunger in a separate lid – requires lid switch before use.
Available in different colors.
This French press travel mug takes pride in its double filtration system that ensures no grounds go into your drink. No need to pour into a separate container, you can drink right from the pot. The mug presses are ideal for the coffee or tea connoisseur that doubles as an outdoor enthusiast or professional on the run. However, some users still complain that they get coffee grounds in their drink. Also, the Planetary Design is in the expensive end of the spectrum.
Espro Travel Coffee Press Stainless Steel
Main Features:
Patented double micro-filter gives you deep, rich flavor without any grit in your mug
Insulated, double-walled stainless-steel keeps your brew toasty for hours and won't ever break or leak
Makes 10 oz coffee and holds 15 oz as a travel mug
The Espro Travel Press is for people who love coffee and tea, and want to take it with them anywhere. Whether you're crossing the Amazon, or just trying to commute across an urban jungle. It's designed so you can brew their favorite cup, seal it with the travel lid, throw it in your bag, and go.
GSI Outdoors – 30 Fl Oz JavaPress
Main Features:
BPA Free, made from copolyester, and is shatter resistant.
Can hold up to 30-oz coffee
wrapped in a cloth sleeve with the handle made from water-resistant cloth
This is certified favorite among travel bugs and campers. Its durability, water-resistant feature and ease-of-use are top preferences among buyers. You can easily become the star of your trip because you can hand a cup of coffee good for 3 to 5 people.
Stanley Classic Vacuum Steel Travel French Press
Main Features:
BPA Free
Easy to use
Spill-proof
Easy to clean
It's hard to beat the classic. This travel French press is a hardworking little coffee machine that is loved by campers and professionals. It may be on the heavy side but it does not disappoint loyal users of the brand.
ZYLISS Travel French Press
Main Features:
Brew coffee and take it on-the-go with one mug
Double-wall helps keep your beverage hotter for longer
Simply put in the ground coffee, add hot water and press the fine mesh filter to brew fresh coffee
Suitable for all kinds of beverages as well as hot chocolate and tea
BPA free and dishwasher safe
This is good for single serving. The double wall feature helps keep your drink hot for a longer period of time. Perfect for long trips or extended working hours in the office.
Presse by Bobble
Main Features:
Micro-filter separates grounds from brewed coffee
3-wall insulation keeps your coffee hot for hours
no plastic pod or paper filter waster
made of food-grade 304 stainless steel and food-grade, high temperature silicone
makes up to 13 oz. of coffee
This allows you to enjoy "always" hot coffee wherever, whenever. The 3-wall insulation is a smart selling point for travelers who really love to keep their coffee warm as long as possible.
This selection of travel mugs has been included in our Travel mug store. I tend to think of these units as special items not designed to replace either a travel mug or a french press but rather compliment both.
You can see some of the best travel mugs for sale here or take a look at the following page for a wide array of quality insulated french press coffee makers.
A French press is one hardworking coffee machine. Its simplistic design is not one to be looked down. For one, French pressed coffee tastes better than the average coffee maker. You can even make an espresso-like brew with a French press.
The common type of French press has a glass carafe. It looks portable enough and you can bring it anywhere.
But the glass carafe makes it less durable and prone to breakage. If you plan to go on a trip or camping, chances are the glass carafe can break, that's why I love the concept of the travel mug coffee press!
Good thing, there are several French travel mugs available in the market today.
The travel French press is a sturdy, rugged version of its glass cousins. Designed to withstand the bumps and bruises that come along with being a road warrior.
Reviews of These French Press Travel Mugs will Follow
For the time being this page is just a collated list of all the options available in this market. At this time I haven't used these mugs and can't say much about them in terms of a review. I do however plan on getting my hands on them and reviewing them so that I can help a bit with product selection.
I can say however that Bodum has a great reputation in the coffee accessories market. They make decent coffee presses and their combination french press and travel mug products will probably be just fine.
The Bistro Mug press by Bodum is actually a really cool looking option in my opinion though. It really fits the theme of portability as you can use it to press coffee into any mug of your choosing. This is one I'll be looking into closely in the near future..
If you have used any of these mugs then please share with us your experience in the comments below.
---
The 6 Best French Press Travel Mugs For Sale Today
There are a lot of great French press travel mugs these days. Some are more expensive than others and some make better coffee than others but can you just choose one based on price alone?
Probably not the best idea.
If you are shopping in physical stores you probably don't have much choice, these are products that are pretty hard to find in places other than with online retailers.
Most of the options you find online are priced between $10 and $40 but even with this wide price range there are some good reasons to own the cheaper mugs as well and serious reasons to fork out for the premium models.
I for one love the Zyliss french press coffee mug which I've listed below. You can also see pricing for the Zyliss here.
It's one of the cheapest mugs on the list but its perfect for making a simple cup of pressed coffee and taking it on the road to work.
For outdoors activities however I wouldn't think twice about leaving the Zyliss at home and taking the more expensive and durable Stanley travel press. Its more expensive but much better for camping or hiking.
Of course for making perfect coffee, that would be a different portable coffee press.
I'd probably go with the Espro Ultralight if I wanted to make the best coffee possible… although quality comes at a steeper price because the Ultralight is one of the most expensive options in this space.
If you want more info on any of these three coffee maker travel mugs then read the following reviews. I've even included three additional options that may make even better sense for you.
My Reviews of the Top French Press Travel Mugs – The Top Rated Models On The Market
Now, there are quite a few models out there from quite a few different companies.
Before you decide on one to buy you need to have a good idea as to how you are most likely to use your mug.
Campers and outdoorsman of all sorts should stick with the pricier and more durable options reviewed below.
Likewise, commuters, desk workers, and stay-at-home folk will likely gravitate to the options that are cheaper or built to make the best quality coffee possible.
So, let's now look at the best coffee press mugs of 2019.
Espro Coffee Travel Press, Stainless Steel, 12 oz
Espro is one of the names you simply must be aware about if you're talking about coffee. It's just that common in this market because of all the great products that it offers, so sooner or later, you'll run into it. This can be proven by the fact that the first thing in this list is the Espro Coffee Travel Press.
This aesthetically pleasing model provides you with a stainless steel body that makes it both durable and functional (when it comes to retaining temperature). These factors combine with the great brand name of this product to make this 12 ounce coffee travel press one of the best, according to all of the people who ever got the chance to use it.
Bodum Travel Tea and Coffee Press, Stainless Steel Insulated Travel Mug (15 oz)
The Espro model is followed by the Bodum model. Incidentally, Bodum is also a really popular line of products with a lot of dedicated customers out there. The people who have used their products are willing to swear that those are among the best (if not THE best) that they have ever used.
This specific model, for instance, has a stainless steel body, making it both aesthetically pleasing and durable. At the same time, it's insulated to ensure that your coffee remains warm as long as you keep it in this mug. This 15 ounce container is one of those which you simply must consider.
Zell Vacuum Insulated French Press Mug for Tea & Coffee (12 oz)
And then comes the Zell Vacuum Insulated French Press Mug! All the people who have used this model simply love it. In fact, some of them even venture to say that this is by far the best that they have ever had the chance to use.
It's undeniable that this model has a beautiful look to itself, but that's not all that it boasts. This model also has vacuum insulation. Vacuum insulation is the best kind of insulation you can get for any mug because it ensures that the temperature is retained for the longest period of time. This mug boasts of a capacity of 12 ounces, which is just the right size for carrying around with ease.
To sum it all up, this model has one of the largest fan bases out there for any single French press mug and that forces you to consider all the aspects of this model. And once you do that, you find out that this model actually deserves all that praise. So, for now, this model remains one of those that you simply must try out if you're looking for a French press travel mug.
ZYLISS Travel French Press and Coffee Mug, Single Serve
ZYLISS Travel French Press and Coffee Mug. This is one of those models that I've been waiting to write about. Honestly, I just love this model because of the way it looks. Take a look for yourself, this model just looks unique, doesn't it? And guess what- it's just as unique when it comes to functionality as well!
This mug, to begin with (and once again) has a beautiful look. Besides that, it's also a really handy model. It's the ideal size for a single serving and just the right size to carry around with ease, making it a really great model that you might try out.
Presse by bobble, On The Go Brewer
Presse by bobble, On the Go Brewer is one of the models that's just unique from every aspect. Be it looks, construction, or even just the name of the model! This is one of those models that are just unique in their own ways.
The Presse by bobble boasts of a great insulation system that ensures that your drink is kept warm as long as it remains in the brewer, allowing you to just keep it in until you want to have a warm sip of coffee (or two!). At the same time, the model has a unique look, which makes it even more special.
Overall, it's a great model that you simply must give a shot if you're ever in need of one!
Stanley Classic Vacuum Travel Press Mug – 16oz
And let's conclude this list with the Stanley Classic Vacuum Travel Press Mug. Now, I believe that some of you might have already heard of this mug. It's actually a pretty famous model that all its users really seem to love, making it even more special.
Coming to the features, this model is also vacuum insulated. That means that this model is able to keep your drink warm for a really long amount of time. This mug is also the right size for serving all your travel and storage(size) needs- 16 ounces. So, this mug is really suggested too!
My Buyer's Guide: What is the Difference Between All The Options? What's the Most Important Thing to Consider?
French press coffee mugs are designed to make single serving coffee. All the mugs featured on this page are insulated and because they are designed to incorporate a plunger to actually brew and filter the coffee most will hold less brewed coffee than stanard insulated travel mugs.
When using a standard french press you will likely pour your coffee out of the press immediately after brewing into your mug. This prevents over-brewing or excess bitterness in your coffee.
When you brew and drink from the same mug then you will have to either get used to drinking over-extracted coffee or spend enough money to get a mug that will better filter the grind and prevent back-flow of coffee into the pressed coffee grounds.
Let's consider a few of the most important preferences that you should consider.
If you want your coffee to stay hot as long as possible then you need to opt for a vacuum insulated coffee press mug. The best performing option for thermal retention is the Espro Travel Press but all stainless steel vacuum insulated options will also do very well.
If you care most about making great coffee in your mug/press combo unit then you have to choose one that uses a premium filter plunger. The two Espro models each use a double filtered plunger with a much finer mesh filter than is found in normal french press coffee makers. These plungers also give you the option of using an additional paper filter to prevent the fines from getting into the drinkable coffee.

As an alternative the Kohipress uses an even fancier plunger mechanism that in designed with a one-way valve. As you press the plunger down the grind is filtered tot he bottom and the coffee goes up through the one-way valve. Once it is above the plunger valve it no longer comes in contact with the grind that was pressed out preventing the possibility of over-extraction no matter how much you shake the mug while in transit, hiking, or biking.

Lastly, if you just want a basic mug that can also make coffee then you should know that all the lowest price options will be fine but some are simply better than others. Some of the cheaper mug-coffee presses are leak proof, some are spill resistant, some are more or less insulated, some use better filters than others. Whatever is more important to you needs to be what you focus on at the low end of the price scale.
Comparison Information for Travel Presses
Now, as I just stated, all these facts have been kept in mind while we compared the models that are available in the market. Gradually shortening down the list, we narrowed it all down to these few choices and now, here we are, presenting these choices before you to save you all this work so that you can find the best model for yourself with ease!
Just keep in mind that you still have to judge them according to your specific needs in order to find the one that would be the best for you. That's the only way to find the best model for yourself!
French Press Mug FAQs
By now, you might have a lot of questions. This is natural. So, let us answer the most commonly asked questions here and if you still have something more that you need clarification with, don't hesitate to contact us, alright?
So, the Frequently Asked Questions (and their answers) are as follows:
Why would I need a small French press coffee maker?
Hmm, it's a really great question. But frankly speaking, it's dependent on one's personal needs. Someone might just be making some morning coffee or even just some coffee for themselves randomly and they might not be intending to drink ten glasses of coffee. For such a case, a small French press coffee maker is extremely useful. And the simple fact that there are so many models out there that are selling so many such machines makes it clear that there is obviously demand for it in the market.
Are the small models any different from the larger ones?
Except the capacity/size, not really. Cleaning may be a little different, since these do not separate as easily as non-travel counterparts.
How important is the economic factor in this case?
Well, in most of the cases here, it isn't really too important because these machines aren't too expensive. But of course, you must be aware about how much you can spend. You have to make a budget before you go out to buying anything if you don't want to end up in serious trouble. So, you have to take care of that and buy a model that fits your budget.
Conclusion
At the end of the day, we've listed and discussed the models that are available, but from our place, we can only do that on a general basis. You must understand that your specific needs are only perfectly clear to you. That makes it even more important for you to know them perfectly and to judge every model according to them since that's the only way to find the best model for you.
You must keep in mind that the best model for you isn't always the best one available out there. The best model for you is the one that serves all your specific needs at the most affordable price and that's one of the things that you simply must keep in mind when you go out looking for the right model for yourself.
Finally, do know that Gamble Bay Coffee is here for you. We here at Gamble Bay Coffee try our best to bring you the right information to help you find the models that are the best for you. We hope that you could learn at least something new from your article that would help you do the same. Stay tuned for more great articles such as this one!
---
7 of the Best French Press Travel Mugs (With Reviews)
Love to use French press for coffee, but find it doesn't taste the same when you pour it in a to-go mug? We've got good news. The team at Gathering Grounds has chosen several French press travel mugs you can take with you anywhere!
These travel mugs come with a built-in plunger rod to give you the same texture and boldness you're used to drinking with your French press at home. The plunger comes attached to the lid, so that you can easily remove and wash it.
They are also portable so you can take them in your hand or in the car. We've even found some mugs that are suitable for outdoor use, so you can take your French press on your next camping trip.
The Best French Press Travel Mugs – Our Picks
Bodum Insulated Stainless-Steel Travel French Press Coffee and Tea Mug, 0.45-Liter, 15-Ounce, BlackThe stainless steel french press mug from bodum is a perennial favorite of ours because it comes in a few fun colors.
It isn't just colorful though, it's got excellent quality double walled vacuum insulation and it's even dishwasher safe!
If you hate hand washing your stuff and you don't like the smaller options then this one is a great pick and not very expensive either.
Espro Travel Coffee Press, Stainless Steel, 12 oz (Coffee Filter, Matte Black)The Espro travel coffee press is definitely more expensive than the Bodum featured above but man it is so better – it's worth the price.
The biggest problem with french presses is that they don't filter out the fine particulate from your drink. This mug is different!
You will have the cleanest cup of french press coffee you've ever had with the Espro Press and this thing is built well too. It's money well spent.
KOHIPRESS The Original Portable French Press Coffee Maker Vacuum Insulated Travel MugThe Kohipress is a really awesome little insulated french press travel mug that is a pretty new product.
It is a leakproof mug so you can take it with you however you want and assuming it's closed up even when full it won't leak, cool!
What really sets this coffee press apart is that the plunger is pressurized a bit like an Aeropress so the resulting coffee it makes is super strong. Not quite like espresso or stovetop moka but a bit stronger than you would expect from a good french press.
Did I also mention it is priced very affordably?!?
Here are a Few More Alternative Travel Mug Coffee Presses
 Bodum Insulated Plastic Travel French Press Coffee and Tea Mug, 0.45-Liter, 15-Ounce, BlackMore Info Planetary Design Commuter Double-Shot Stainless Steel French Press Mug, BlackMore Info Asobu The Hot Press Vacuum Insulated Cup, 16-Ounce, GreyMore Info GSI Outdoors Personal Java Press,Blue,20 fl. OzMore Info
Product Descriptions
Our French Press travel mugs normally range in price from $10.00 to $60.00 and can hold from 10oz to 20oz of liquid.
These are mostly hand-held mugs that have a handle designed for easy gripping, or a small enough frame that allows you to carry them with ease. If one of these mugs is not hand-held, it will still be portable.
If you need something spill-proof, look at the mugs that come with open and close lids to make sipping simple.
If you don't need to worry about spilling your coffee, check out our mugs that come with screw-off tops. With these, you can pour your coffee easily into an actual cup once you get to a stationary place – like your office.
For the material, you can select from stainless steel, polypropylene BPA-free plastic, or foam-walled.
Materials
Stainless steel: stainless steel mugs provide better insulation (keeping beverages hot or cold longer) than other materials, and do not stain as easily. Many of these mugs require hand washing, so check to see if they are dishwasher safe or not before purchasing.
Plastic: plastic mugs are definitely the easiest to throw into a dishwasher or microwave; however, they stain faster and may scratch as opposed to a stainless steel mug. If you're worried about the type of plastic, make sure the mug you're buying is "BPA-free plastic" like Polypropylene. This thermoplastic is insulated, lightweight, shatter-resistant, and ideal for taking on long trips with varied outdoor temperatures and weather.
Foam-walled: foam-walled mugs are designed to retain heat well and are also dishwasher-safe.
Additional Perks and Information
Each mug gives you between 1.5 and 3 servings of coffee, depending upon the size.
If you're looking to save money and time on cleaning, these mugs are an excellent option. Why? You don't have to worry about putting these mugs under a coffee maker because they are the coffee maker!
Alternatives
Coffee press mugs are great for travelers but they can over-extract coffee. If you want take a look at these small coffee presses where the coffee can then be transferred to a standard travel mug.