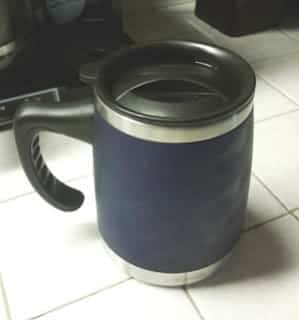 I purchased Trudeau's Umbria insulated desk mug roughly a month and a half ago. I had been eying it for a long time while surfing Amazon lazily and then I noticed my local Fred Meyer was carrying the mug in it's insulated mug section. Every time I walked by it I was tempted.
Why?
Because I don't like drinking out of a big thermal tumbler in the home and all of the normal coffee mugs I have are nothing special. They're just ceramic mugs that don't retain heat in the slightest bit. I like drinking my coffee slowly so I was always drinking tepid coffee or throwing a lot of it out.
In any event I was walking through the store in mid-April and saw the mug was on sale for 25% off. I finally bit and picked it up for the super low cost of $6.99.
Nice!
Amazon sells it for an attractive price too but even they don't go that low. 🙂
Before I get to the nitty-gritty I want to show you my hands on video review of the Umbria coffee mug and then I'll share with you details that I've tracked over the past month and a half – stuff that isn't mentioned in the packaging or any sales page online.
My Observations & Thoughts On The Umbria Desk Mug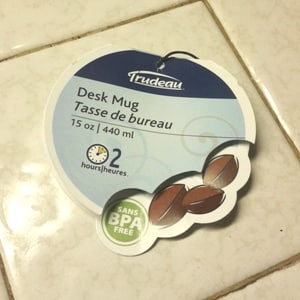 Size & Heat Retention
First of all the Umbria insulated coffee mug is advertised to hold 15 ounces or 440 ml and it's tag says 2 hours. The lack of any wording surrounding the two hours makes you assume it will keep your coffee hot for two hours but it's not clear.
From my testing in the kitchen I found the mug to hold 15oz exactly. The last bit was right at the top and it's probably a bit further than you would fill it naturally but the lid will go on. I would rate the mug as a 14oz container to be on the safe side.
As for heat retention, I boiled some water and let it cool to 195 degrees (measured with a thermometer) before pouring it into the mug. I put the lid on the mug in closed position and then waited one hour before testing the temp again.
Over the hour without opening it at all (or removing any hot liquid from it) the water measured 153 degrees and felt burning hot (but not scalding hot) to the lips. This is in comparison to my generic 8 ounce coffee cup which dropped from 190 degrees to 140 degrees in the first 15 minutes before falling to 110 degrees after another 30 minutes had past. At the 45 minute mark the water felt tepid to the lips at best and would result in me tossing it if it had been coffee.
In the open position you would have to expect the mug to hold heat a little less well and if you were actually drinking from it the temp would fall even faster as you replace hot liquid in the mug with room temperature air. Even still, sipping coffee out of this is far more enjoyable than sipping it from a ceramic cup. I rarely have to think about the temp dropping too fast.
When compared to an ordinary coffee mug in the heat retention department the Umbria was by far better all around. Yes, it's bigger and not as easy to keep clean but that's besides the point.
What Else Is Important?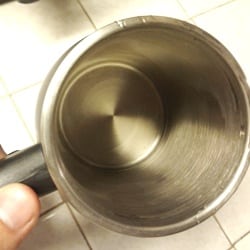 As for cleaning the mug is a single piece of stainless steel on the inside wrapping all the way around the lip area. Basically by drinking out of it you are not slowly introducing liquids to the seam between the plastic exterior and the steel interior. In many cheap mugs this seam is easily compromised and fluids enter the chamber causing a deterioration of the insulative effect and a less sanitary mug overall.
I've only used the Umbria on a near daily basis for around 45 days so I can't speak for longevity of the mug first hand but so far I have seen no indications that the quality of this mug is low. It cleans easy, the lid seals tightly and so long as I don't overfill the mug or tip it over it doesn't leak.
Mind you this is not leak proof – it's far from that. It is however spill proof so long as you have the lid in place. Do not expect this mug to not splash or dribble on you if you overfill it even in closed position. The lid is not high end engineering so don't treat it like it is.

When it comes to cleaning the lid it's worth noting that it doesn't come apart. You can remove the rubberized ring that acts as a seal to clean it and the plastic underneath it but the lid mechanism to open and close it doesn't come apart. I have just been cleaning mine with soap and water but if you really wanted to clean that mechanism good your best bet is to soak the entire lid in a water/vinegar mixture.
Dishwashers are always a no-no for me with mugs like this. You might be able to get away with it but I wouldn't do it if I cared about keeping the mug in good shape. I know it doesn't cost a lot but I still have a pride of ownership thing going on.
Pricing?
Considering the fact that this mug is meant to replace your ceramic coffee cup and not go on outdoor adventures it is not as well made as many of the high end tumblers. I would not consider buying this mug for more than $12 or so.
Doing a quick look over at Google Shopping I see the mug is priced anywhere from $10-$20 depending on pricing and the lowest price I see is for the red version of this mug over on Amazon.com. (Prices change all the time though so please check for yourself to see current pricing for accuracy).
My local Fred Meyer was selling it for about $9 but I caught it on sale for $7 and would buy it for that any time no questions asked. For the price of "just less than $10" this insulated coffee mug is a steal and worth every penny in my opinion.
Even still it's not for everyone. if you want something in a different style, color, material, or even something with expanded features then make sure to take a look at my page dedicated to insulated coffee mugs for more options and to compare.
Alternatively you can take a look at the most common alternatives to the Umbria as selected by Amazon's pool of customers. The Thermos 16 Ounce Stainless Steel Desk Mug and the ThermoServ 20oz Foam Insulated Wide Body Mug. These are the two thermal desk mugs that are most commonly purchased by people who are shopping for the Umbria.
In the future I'll be reviewing each of these for my own comparison. I'll share those reviews here on the blog when I have a chance to use them for a bit.