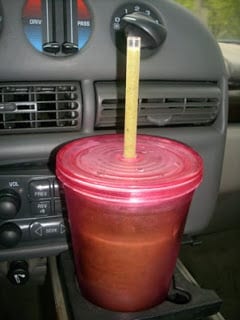 It's really nice to have your own dedicated smoothie travel mug. It's way better drinking out of a cold cup with or without a straw than it is to be slurping your smoothie through a coffee tumblers' lip.
The thing is though there are tons of insulated mugs for smoothies for sale and it's hard to know which ones are actually worth buying.
BPA free is a given and that's easy to check for but what if you want a mug that is really durable? What if you want a smoothie cup that doesn't sweat? What if you want a tumbler that is dishwasher safe?
The most popular of them all these days are probably the Blender Bottles. I own three of them and I see them sold everywhere, both online and in physical retail stores.
The SportMixer 28oz is one of my favorites because it is large, has the shaker ball that comes standard with all Blender Bottles, and includes a soft/comfort grip wrap around the bottle giving you a better grip.
For my and my wife these are perfect because we can easily close the lid and mix up our smoothies with a simple shake but I know that lots of people prefer to drink fro a straw so it's worth checking out the Contigo Autoclose Shake & Go Tumbler which is great for people drinking fresh cold pressed juices or thin smoothies because of the smaller diameter straw.
If you make thick smoothies however you'll probably need a much wider straw to get the occasional chunk out of your cup. These Extra Large Smoothie Straws by Alink do the trick and they fit into even the tallest of tumblers.
I have personally made hundreds of smoothies over the past couple of years for myself and for my wife so we've looked at a lot of bottles and straw cups. I know a thing or two about what is worth buying so let's dive in and look at these smoothie cups and a few other alternative options.
These Top Rated Travel Mugs for Smoothies Are Worth It
If you're taking a smoothie on the road with you, mixing one at the gym or the office, or if you're just out running errands, it's worth investing in a good container that won't spill, won't clog, and is easy to clean up.
Spilling coffee typically isn't that big of a deal so long as it's not scalding hot or overloaded in sugar and cream, water is not a big deal at all either, it dries quickly but a smoothie spilling is a completely different story. They're sticky and can leave behind odors of the powders or fruit and/or veggies in them and most smoothies can and will stain if you spill them.
With smoothies however your travel mug all has to be able to easily mix (and remix) the smoothie easily as many of them tend to separate. They also tend to be thick – even when they're blended quite smooth – so using a traditional travel mug is not usually an option because the drinking spout needs to be wider.
Straw containers that don't leak and don't allow condensation are great but usually only if the straw is wide enough.
Below I've listed some of the best travel cups for smoothies. These smoothie tumblers are made to last, they don't sweat, they have large straws for thick smoothies, they have wide drinking spouts, and they will fit in normal cup holders.. I hope you find this list useful.
I'm going to start with a list of my favorites and then lower on this page I'll provide brief reviews of each mug.
Miniature Reviews of Top Rated Smoothie Mugs
Here are some more recommendations so you can easily follow a healthier lifestyle.
Blender Bottle Pro Series Shaker Bottle, 28-Ounce with Wire Ball
This Pro Series blender bottle comes in 24, 28, and 32-ounce sizes and is built just a little nicer than the ordinary Blender Bottles.
Most people love the rounded bottom that makes it harder for blended powders to get stuck in corners and of course the whisk ball makes it easy for smoothies to stay mixed while you drink.
My favorite part is that I clean all parts of mine in the dishwasher without any problems – no bottle brush needed in my home.
Fits well in your hands
Spill-proof, nice lid lock
Slim design, perfect to store in your fridge and sit in a cup holder
Nice and wide drinking hole
Dishwasher safe
BPA free
Hydro Flair's Insulated Stainless Steel Protein Shaker Bottle
This is another shaker bottle but it's designed to be more travel mug like.
Instead of a compression snap seal at the top this mug uses a twist on/off spout than when sealed allows you to shake and mix your smoothies, protein drinks, and juices.
Best part for me is that it's stainless steel and fully insulated just like a high quality travel mug and if you want to insert a straw for easy sipping you can do that too.
Leak proof and spill proof lid and spout, rapid flow drinking spout for liquids like water
Vacuum insulated tumbler for maximum hot and cold retention
Dishwasher safe, refillable ice tube
Sized perfectly for cupholders and for smaller smoothie portions
Vitamix 20 ounce Container Cup
Main Features:
The dual-purpose Container / Travel Cup is both a standard to-go cup for hot and cold beverages, and a blending container for use with Vitamix S-Series machines.
Bpa-Free cup fits in most car cup holders for easy transport.Safety interlock tabs securely lock the container to the S-Series motor base
Double-Walled container allows you to blend individual servings and quickly take them to go.
Easy cleaning – top rack dishwasher-safe
BlenderBottle SportMixer Tritan Grip Shaker Bottle, Black/Black, 28-Ounce
The Blender Bottle Sport Mixer is like the basic versions but with a contoured gripping area complete with gripping sleeve.
The bottle is great for mixing smoothies and also great for basic hydration while doing physical activities.
BlenderBall wire whisk inside (316 surgical-grade stainless steel)
Made of stain and odor resistant durable Eastman Tritan plastic
28-ounce capacity (to the brim of the cup). NOTE: measurements only go to 26 ounces
Dishwasher safe, BPA- and phthalate-free
Convenient SportLoop makes it easy to carry anywhere
Stylish rubberized SportGrip offers a firm hold on the bottle
Backed by BlenderBottle's Leak Proof Guarantee
Bormioli Rocco Fido Clear Jar, 67.75 Oz.
Main Features
Capacity 67.75 Oz. (2L)
Versatile Jar can be used to store pasta, beans, rice and more
Guarantees 100% recyclable products
Dishwasher safe and shock resistant
Made In Italy
Camelbak Better Bottle™ 25 oz
Main Features:
The 25 oz. (.75 l) 100% BPA free Camelbak Better Bottle comes in eleven colors.
The patented Flip, Bite-N-Sip Bite Valve makes for effortless one handed spill proof drinking.
The Integrated looped handle design makes the Camelbak Better Bottle easy to carry or clip onto a carabiner.
The Camelbak Better Bottle is the perfect size fitting into most cup holders and water filters.
The Better Bottle is dishwasher safe, easy to clean and can withstand a wide range of temperatures.
Contigo AUTOCLOSE Shake & Go Single-Wall Tumbler, 18 oz, Ocean
Main Features:
Make it, Shake it, Take it; AUTOCLOSE Technology allows you to mix and chill your beverages for superior, consistent taste with no leaks or spills
Ideal for iced tea, iced coffee, powdered beverages and water enhancers
No plastic odors or taste with FDA-approved, BPA-free Tritan materials
Fits under most Single-Serve Brewers
Top-rack dishwasher safe
Boston Warehouse Something's Fishy 16-Ounce Insulated Tumbler with Straw
Main Features:
16-Ounce insulated tumbler with straw and domed lid
Made of durable, BPA-free acrylic
Double wall insulation keeps drink cold and prevents condensation
Perfect for indoor or outdoor use
Hand wash recommended
Ello Kella BPA-Free Glass Sipper with Straw, 20 oz.
Main Features:
The classic mason jar with a much needed makeover
Clean tasting glass is the perfect vessel for water
Great for home, work or on the go
Friction fit lid has a fashionable real cork accent
BPA, phthalates, PVC, lead and cadmium free
BOTTLED JOY Protein Shaker Bottle, BPA free Mixer Shake Sports Drinking Water Bottles, Shaker Cups For Gym 28oz 800ml (Black)
Main Features:
BPA-Free: 100% Food Non-toxic grade material, Eco Friendly, safe for drinking, dishwasher safe.
Characteristic Design: Bootlace Type fits in the hand and most bottle holders. Loop top, ergonomic flip cap, tapered spout, and the newest mixer ball whisk (BPA-Free).
Leak proof and spill proof: perfect for protein shakes, smoothies, pancake batter, scrambled eggs, fiber drinks, dressings, meal replacement sand more, no leak and no spill.
Perfect for sports: PP (Polypropylene) Mixer ball whisk moves freely inside the bottle as you shake, mixing even the thickest ingredients with ease. Enjoy your drinking and nutrition when you are in sports.
The BOTTLED JOY Shaker bottle features a secure screw-on lid, a wide mouth for easy mixing, and markings easy measuring both ounces and milliliters.
If you know of another good smoothie cup or shaker then let us know in the comments below and be sure to see this page for more top of the line travel mugs.
This page also falls under my cold cups section of the store. Check that out for more insulated cold cup ideas.
Added Bonus: Here are Some Sample Smoothie Recipes to Try
Here are two smoothie recipes you can try for your smoothie travel mug.
Blueberry and Spinach Smoothie
Ingredients:
1 cup frozen blueberries
1 whole overripe banana (fresh or frozen)
1 cup fresh spinach
2/3 cup 1% milk
1/3 cup plain Greek yogurt
1-2 tbsp. honey or maple syrup
1 tbsp. ground flax seed
Put all ingredients in a blender, puree until smooth. Serve, or fill your travel mug and take your delicious on the go.
Strawberry Pineapple Kale Smoothie
Ingredients:
1 1/2 cups strawberries
1/2 cup milk
1 tablespoon honey, optional
1 cup chopped kale, ribs and thick stems removed
1/2 cup chopped pineapple
1 banana
1/2 cup apple juice
Put all ingredients in a blender, puree until smooth. Serve, or fill your travel mug and take your delicious on the go.
That's A Wrap!
There's no doubt that fruits and vegetables are important part of our diet. But, let's admit. It's easier said than done. With our busy lifestyle, we can't begin to imagine how we could squeeze in our schedule the seemingly tedious task of peeling fruits and vegetables, juicing it, and drinking it. Not to mention, the "weird" taste.
But you know, fruit and veggie smoothie should not be that boring and tedious. In fact, you could make it super easy, delicious and convenient. You can prepare it at home and bring it anywhere with the help of your trusted smoothie travel mugs.
Yes, you can include fruits and veggies in your every day diet and you don't need to fret so much about it.