Post Originally Published Sept 2013 – Most Recent Update May 2019
Looking for the best drip coffee makers for your home? You've come to the right place. On Top Off My Coffee I pride myself in identifying the best stuff for the money and I've gone through painstaking detail to categorize this extremely wide product line to be helpful to you. After all, everyone is going to have different needs and wants and the best drip coffee machine will be different for different people.
Below I've broken down the coffee makers by "most important feature or characteristic" so that you can choose the best machine for your home based on whats important to you… not what's most important to me.
To compile this list I've used my own experiences playing with some of these units as well as the reviews from real customers and owners of these units. When matched up with product specifications and hard data it's easy to break down the top rated coffee makers into groups that would be best for certain types of people. I hope you find it useful.
Jump directly to the section of your choosing:
– Best Drip Coffee Makers With A Conical Burr Grinder
– Best Programmable Drip Coffee Makers
– Best Pour Over Drip Coffee Makers
– Best Single Cup Drip Coffee Makers
– Best Entry Level Drip Coffee Makers
Alternatively you can click this link to see all of the highest rated drip coffee makers on Amazon.com.

Best Conical Burr Grinder Drip Coffee Maker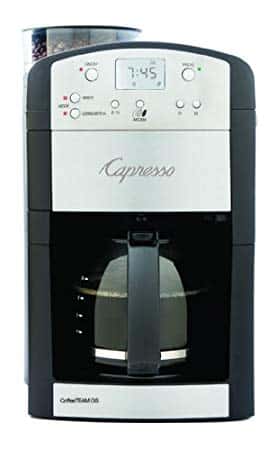 Capresso 464.05 CoffeeTeam GS 10-Cup Digital Coffeemaker with Conical Burr Grinder
This coffee machine is awesome because you don't have to use the grinder if you don't want to. And if you do use it you can set it to grind at multiple grind sizes to and strength settings so that you can program your coffee machine to give you the perfect tasting coffee every time. Set it up once and it does all the work for you until you decide to experiment with settings again. This also comes with standard features like click, timer, and auto-shutoff but you'll find the grinder particularly well made and easy to keep full and clean.
Click here to see full product specs.
Best Programmable Drip Coffee Maker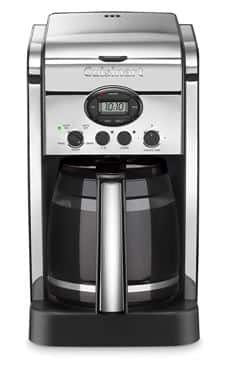 Cuisinart DCC-2600 Brew Central 14-Cup Programmable Coffeemaker with Glass Carafe
This is the best programmable coffee machine in my opinion because it does one thing extremely well and doesn't try to do everything else. I like the idea of having a very good grinder, thermal carafe, and espresso maker, I want a coffee maker to make coffee as well as possible.
The Cuisinart DCC-2600 can be programmed so many different ways. Change the timer on the hot plate, the strength setting during the brew, the program function that can be set up to a day in advance. If you want a coffee maker that simply makes the best cup possible without all the fluff this is the best bank for your buck.
Click here to see full product specs.
Best Pour Over Drip Coffee Maker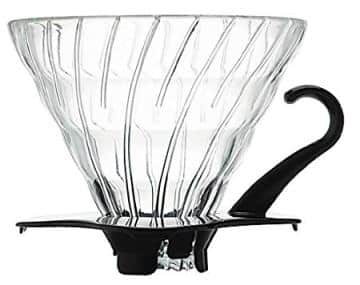 Hario VDC-02W V60 Glass Coffee Dripper
By far an away I think the Hario V60 Glass Pour Over Coffee Dripper is the best manual pour over options on the market. For sure some people are going to want more than single serve coffee and for those people it's worth looking at a Chemex but for the typical coffee connoisseur these single cup-style drippers are much easier to use as well as practical.
The biggest benefits of buying this dripper is that it's made from glass – meaning no plastic taste transfer. It also works perfectly fine with regular cone shape #2 coffee filters (although you can buy special Hario filters which may slow the drip down ever-so-slightly. The glass is very durable so it shouldn't be breaking anytime soon and there's a convenient plastic handle so that you won't burn your hands.
This is the top rated dripper on the market and by far my favorite in the pour-over space.
Click here to see full product specs.
Best Single Cup Drip Coffee Maker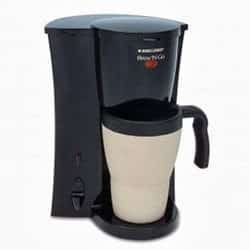 Black & Decker DCM18S Brew 'n Go Personal Coffeemaker with Travel Mug
If you are brewing a single cup of coffee for yourself then skip the small 4-cup drip coffee makers and buy this one instead. It's seriously worth it.
This coffee maker is about as cheap as it gets and it comes with an insulated mug. What I like most about it though is that I can use any mug I want with it so long as the mug (sans lid) is 5 1/4″ or less. This means most of my smaller travel mugs and insulated desk mugs work with it just fine.
Designed to brew up to 15oz of coffee at a time you'll get super hot coffee quickly for your money. Definitely worth it.
Click here to see full product specs.
Best Budget Drip Coffee Maker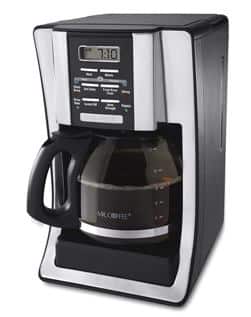 Mr. Coffee BVMC-SJX33GT 12-Cup Programmable Coffeemaker
OK, if you are looking for a low end (cheap) coffee maker that makes coffee then there are a few options cheaper than this one although not by much more than $10 or so. By paying for this unit which often sells for $35 (give or take) you get a far better product with many more useful features.
I don't use a timer often but I do set it about 10 times a year or so. This unit comes with one. I also forget to turn of my hot plate and this one turns itself off so you don't burn the house down.
You can clean this thing far better than most budget coffee makers and the if you want to use a thermal carafe instead of the hot plate this is capable in that area as well. For a value coffee maker nothing cant beat this unit for the money.
Click here to see full product specs.
This page is expanding all the time. Check back again for updates throughout 2016.
You can also get a jump on new products by checking out the newest product releases in the coffee maker market right here.
I know there's a ton of info on this page but if you want more information on any of these "groups" then check out the rest of our store which also features many other excellent coffee makers such as french presses, automatic espresso makers, moka pots, among others.