There are lots of small k-cup coffee makers on the market these days and the K-Mini and K-Mini Plus are Keurig's smallest units in their lineup. Naturally, it made sense to me to compare them against each other and to their predecessors, the K15 Mini, K10, and the ancient B31 Mini.
I would consider both the K-Mini and the K-Mini Plus to be "premium" alternatives to the smallest machines made by other brands but both are nowhere near as fancy as the top-shelf Keurigs like the K-Supreme Plus SMART or K-Cafe. There's a reason why both are very low in price after all.
For instance neither machine can make coffee particularly fast, neither machine can take a charcoal water filter, neither machine has a multi-cup water reservoir, neither have temperature options or programmed brew, neither use the multi-point puncture needle, and neither make the best coffee just to name a few things right off the bat.
What they can do however is important.
Both coffee makers use a water-in-water-out design meaning they will brew whatever amount of water you put in the tank so long as it is between 6 and 12 cups.
This is important because k-cups typically only have enough coffee in them by weight to make a full bodied 6-7 ounce cup so I can easily add 7-oz to my Mini and make pretty good tasting coffee without my cup being too small or my coffee being too watered down.
Both machines are also very small and take up very little real estate on your kitchen cabinet. I've included the K-Mini on my list of smallest k-cup coffee makers. It's the more expensive option on the list but it's probably made to a better quality than the others.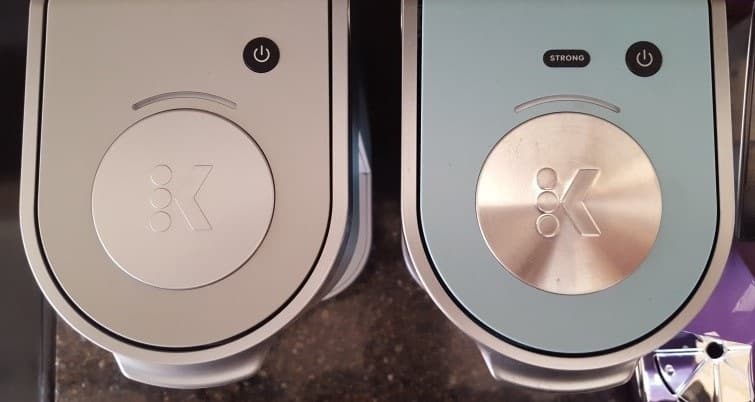 I've also added the K-Mini Plus to my list of best Keurig coffee makers this year because it is one of the cheapest Keurigs that offers a strength selection. Paired with the ability to make 6-7oz cups of coffee a strong button means this machine can actually make great tasting coffee for a k-cup brewer.
Make sure to see my list of best Keurig here if you haven't decided what model to get yet.
The strong button is actually the most important difference between the two K-Mini machines. The other main difference is that the Mini Plus's water reservoir is actually removable which makes it much easier to actually clean it out (or refill it) at the sink.
I own both of these machines and I like them both a lot although I strongly prefer the K-Mini Plus for the strength selector but if that isn't that important to you then you'll almost always save some cash by opting for the cheaper K-Mini.
► You can see my preferred places to buy these units here (K-Mini) and here (K-Mini Plus)…or just price out the K-Mini Plus here on Amazon.
K-Mini Vs The Older Keurig Mini K15
In recent years they also made the older Keurig Mini which was sold under three different model numbers based on the year they were manufactured (K15/K10/B31).
You can still buy the K15 in a number of different colors. I bought mine in 2019 but the black version and a few other colors are still being made and sold. Here's a link direct to the black version on Amazon for specs and pricing.
The older machines have been mostly discontinued due to poor performance, product durability, and customer's distaste for the super short cup clearance.
I actually like the clearance myself and the machine is great for low cabinetry but the build quality is definitely suspect. You can see more of my thoughts below.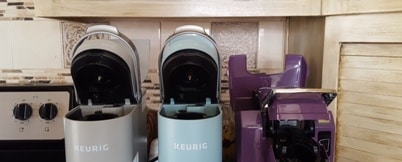 I have personally purchased all three units and I have used each of them quite regularly (just for the sake of this comparison). You see, I love coffee and I run a coffee blog, so this kind of experiment is right up my alley and is pretty fun for me.
In case you are interested you can see this post on K-cup coffee makers with a strong button.
Before I get into the meat of the comparison however I want to give you a summary.
Keurig K-Mini vs K-Mini Plus: The Differences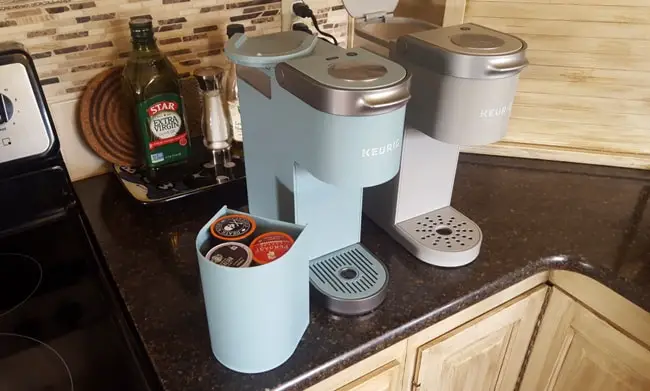 In almost every situation with every retailer out there you will pay more money for the K-Mini Plus.
I personally purchased the K-Mini Plus at a local retailer in my town that was having a sale. I picked mine up for a super low price of $59.99, a much lower price than most people will be able to find.
You can see current Amazon pricing for the K-Mini Plus here.
The K-Mini however I purchased on Amazon for a pinch more than that, although ordinarily the Mini Plus will be closer to the century mark and higher in price than the K-Mini basic model.
You can see Amazon pricing for the regular K-Mini here.
The Features
Features of the K-Mini and K-Mini Plus include a big 1470 watt "motor" to run the water heater and pump. This is more wattage than all of the other small k-cup coffee makers on the market these days that I've tested.
You also get a water reservoir where your brew cup consists of 100% of what is in the reservoir when you press the brew button. Minimum amount of water is 6-ounces, maximum is 12-ounces. If you put 6oz in then you get a 6oz cup of coffee out – 12oz in and you get a 12 oz cup of coffee out, and so forth in between.
Both the K-Mini and the Plus version use identical internal components and styling. They both give you cord storage, needle and funnel removal, drip tray removal but the Plus version gives you a couple extra features.
Most notably the Mini Plus will give you a removable water reservoir (of the same size). This gives you the ability to fill the water up at the sink rather than at the machine.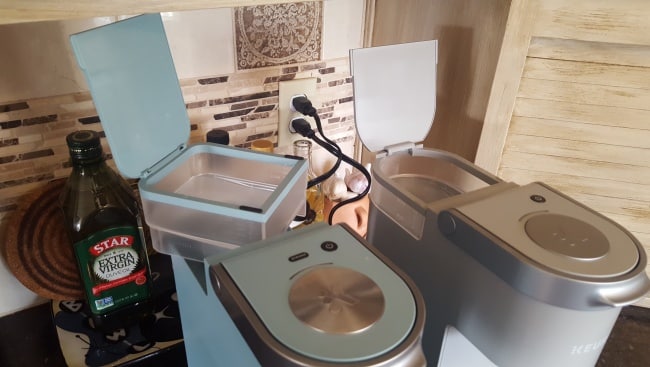 You also get a "strong brew" option that is not available on the basic K-Mini. The strong brew functions as a slow down option. When you press the strong button the brew flow is slower resulting in a longer brew cycle but a more complete extraction – dare I say strong or bold.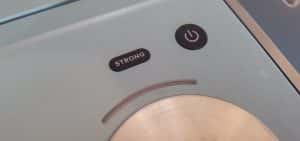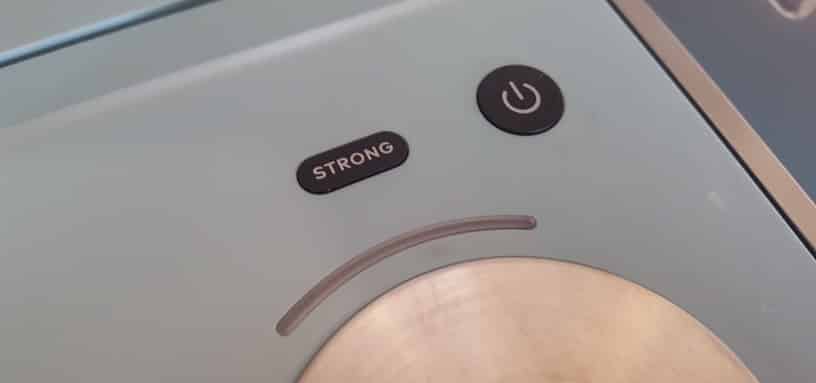 See this post for more on how the "strong" button works on a Keurig.
As many coffee snobs will attest a longer water to grind contact time will result in more of the desirable coffee flavors getting extracted but also more of the bitters that usually only extract with increased water exposure or finer particulate size.
The last main difference between the K-Mini and the K-Mini Plus is that the plus version comes with an extra storage container that can hold up to 9 k-cups. This container "plugs" right into the space where your coffee mug would normal sit during the brew cycle.
For me the storage compartment is annoying but I know full well a lot of people will like this added perk.
Other than these three points the two units are identical. Most importantly the inner workings of the two machines are 100% identical so they should have the same expected lifespan and should make the same exact tasting coffees.
Here's a video that I made on this topic if you thrive on visuals:
How They Compare to the Older Keurig Mini Machines (K10, K15, & B31)
The modern day K-Mini machines stand 12.1″ high and 4.5″ wide. This is skinnier than the older Keurig mini design but also taller.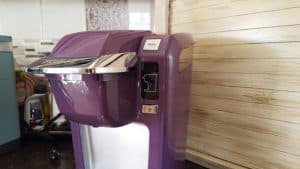 I suspect this design change is due to the fact that many people wanted a smaller lateral footprint of the Keurig on their counter but a taller unit to accommodate full size travel mugs that so many people use regularly with both k-cup coffee and standard drip coffee makers.
The old Keurig models B31 and K10 were replaced after a recall was announced in late 2014.
After that recall model K15 was released replacing the K10. It used the same style and internal components as the previous units. The only difference in these units was the "over-heat & spray" issue that spawned the recall had been fixed and a few extra colors were introduced.
For a while the K15 was a very popular model with consumers but the mug height issue was a drag as was the ability to brew larger cup sizes as was the machine's durability.
Here are the specs of the K15 on Amazon which is still available for sale new from various 3rd party sellers.
Personally I would never brew a 12oz cup of coffee from a k-cup because it would be seriously watered down but some people have no trouble doing just that, so the new K-Minis solved this problem by implementing the water-in water-out function that is commonly found in non-keurig machines like Chulux, Chefman, and Hamilton Beach and uping the max water-out volume to 12oz.
None of the older model Keurig Mini machines offered brew strength selections or removable water reservoirs like the K-Mini Plus either so the new machine does offer more for your money…but, what I liked about the older models was that they were shorter.
The K15/K10 for instance only stood 11.1 inches high and 12.8 inches high when fully open. This made it easier to use when it was placed on a countertop under a cabinet than the current K-Mini models which stand a full 16.8 inches high when open.
Basically I have to pull the new models out from under the cabinet to put water in them whereas the older K15 model didn't have to be moved for me to use it.
For years on this site I've had people asking me what size mug fits under a Keurig mini and I've always said normal coffee mugs work best but that really only pertains to the old K15/K10/B31 series machines.
The new K-Minis aren't nearly as short and standard travel mugs fit under than just fine… at the expense of the machine actually being short of course. :/
Which is Best?
I feel obligated to say the new K-Mini Plus is best. It's new and widely available but personally I like the shorter style of the K15 over the skinnier/taller style of the modern K-Mini and K-mini Plus.
Check pricing on Amazon for the K-Mini here and the K-Mini Plus here.
The new models do have nice cord management features and the design style does seem a lot more durable… and I LOVE the removable water reservoir on the new Mini Plus.
What really does it for me though is the brew strength selector – that's what makes this machine better.
To really make a great cup of coffee you can't rush the actual brew time. A pour-over cup of coffee can take a few minutes just to pour let alone heat up the water so a slower drip will always result in better tasting coffee.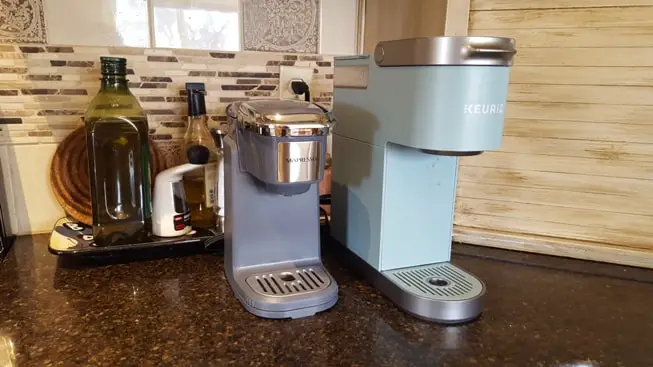 If however you have very low cabinetry to put this machine under then you really should consider the older K15 or even better try this Mixpresso, my favorite of the tiny non-Keurig machines.
Each of the older units and the basic K-Mini of today offer one-button brewing but the modern Mini Plus includes an extra "strong" button that slows the actual water flow down allowing for better extraction and better tasting coffee.
The K-Mini plus with strong button is still wildly simple to use so the convenience factor is not lost but the taste of each cup of coffee is improved and that's why I think it's best.
You can get a similar feature in the Hamilton Flexbrew 49979 for a lot less money but you do miss out on some usability features and the improved quality that comes with the Keurig manufacturing process – only you can decide if the lower price is worth it.
Check out pricing and specs on Amazon for the Keurig K-Mini here, the K-Mini plus here, or the lower priced Flexbrew 49979 here.
Also, make sure to research the lower priced brands too. You can see my reviews of many of the low cost k-cup coffee makers here.
Related Articles
► Best Keurig Coffee Maker
► K-Slim vs K-Mini (Plus)
► K-Express vs K-Mini (Plus)
► Difference Between K-Compact, K-Classic, and K-Select
► Keurig K-Duo vs K-Duo Plus vs K-Duo Essentials
► How To Unclog A Keurig
► Why Do K-Cup Coffee Makers Clog
► Keurig vs Cuisinart
► Best Biodegradable & Compostable K-Cup
► Do Keurig Machines Make Good Coffee
► K-Mini vs K-Compact
► K-Slim vs K-Express vs K-Compact
► Difference Between The K-Supreme Plus & K-Supreme Plus SMART
► K-Elite vs K-Select
► K-Elite vs K-Supreme
► Keurig K-Café vs Nespresso Vertuo Plus
► Keurig K-Supreme Plus SMART Review
► K-Café vs K-Latté