Do you plan on getting a Keurig Mini sometime soon? It wouldn't be fun to buy a mug that wouldn't fit under it.
I know which mugs are best for the Keurig mini and I'd like to share them with you.
But first to answer the question – a mug needs to be less than 5-inches high to fit under the machine and the mug should be 4 inches high to fit without removing the drip tray.
I've already posted a few times already on this blog about various kinds of mugs that fit under the Keurig coffee makers and most recently I posted on the top 3 mugs for the Keurig Mini but today I just wanted to simply answer the question on everybody's mind in more detail.
How Tall of a Mug can you use With a Keurig Mini Coffee Maker?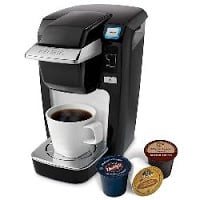 The Keurig Mini B31 model was replaced with the K10 and in late 2016 the K15 started phasing out the K10. All three of these units however them have the same dimensions.
With the drip tray removed you have 5 inches of clearance to insert a coffee cup or an insulated mug.
If you want to keep the drip tray in place then you need a mug that is less than 4 inches tall, which is awfully small.
In fact most of the normal coffee cups in my cabinet are between 3 and 4 inches tall with some over-sized mug's that approach 5 inches.
Will Insulated Mugs Fit Under The Keurig K15 & K10?
As for insulated mugs only my desk mugs come close. The Tudeau Umbria which I reviewed here stands just over 5 inches tall making it too tall for the Mini brewers.
One alternative to the Umbria is The Patterson wide base travel mug which stands 5 inches tall exactly, meaning it should fit just barely under the Keurig mini when the drip tray is not in place.
I posted this video on the topic of travel mug's that fit under the mini which you can see through the link but suffice to say the best options are limited (although there are some) in the insulated department.
If you are getting a Mini brewer for yourself or as a gift keep in mind their size truly is small and don't pair the gift with a large travel mug as they are not complimentary. Make sure to look at the store here in the 8-ounce travel mug section and the 10 ounce travel mug section this is where you'll find the smallest insulated mugs with lids.
The best fit mugs however will be those that are insulated coffee cups. In many cases ceramic cups with a lid and silicone sleeve around the exterior will be shorter than double walled tumblers and there will be more options for fit. For instance the 8-oz Keep Cups will easily fit under the Mini since it's only 4 inches tall.
Thanks for reading and please share this post if you found it helpful!