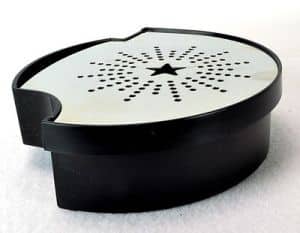 Don't you hate having to remove the drip tray to get your travel mug under your Keurig machine?
A while back, a long while back, I realized this was a problem when I got my first Keurig and my favorite mug, my Thermos Stainless King, was to tall to fit under it.
Fast forward to today and now I have a ton of options that fit under Keurigs. I even have some mugs that will fit under the Keurig mini!
If you are looking to find a Keurig sized travel mug then you've found the guy that can help you.
For starters you can just scroll down this page a bit to see a few options or click through to this page to see the shortest of all the mugs, each of which is small enough to fit under the mini or other Keurig machines without having to remove the drip tray.
Can You Fit a Travel Mug Under a Keurig Coffee Machine?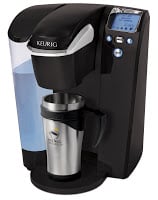 I've got a lot of good travel mugs and a few good thermal desk mugs too. One of the most notable features of them all with some small exceptions is that they are all fairly tall and narrow as they are designed to hold a good deal of coffee and yet still fit into standard cup holders and bottle pouches.
For those of you who have or who are thinking of picking up a Keurig coffee maker you should know that many thermal coffee mugs and tumblers will not fit under the Keurig machines. Even with the drip tray removed and the lid removed from many travel mugs they are simply too tall.
This isn't really their fault either as Keurig machines are designed to brew small batches of coffee – much smaller than the capacity of the most common sized travel mugs 14-20oz.
There are however a number of quality travel mugs that are short enough to work with Keurig machines. Most of them require the removal of the drip tray on the machines but they do work.
KeepCup makes some nice super-small travel mugs that are perfect for Keurig coffee makers. They are sized perfectly and look pretty cool too.
If you want a high performance travel mug however you'll have to go to Contigo which has partnered with Keurig on a mug that is "designed" specifically for the Keurig machines. It's basically a small version of their very popular Auto-seal line of travel mugs.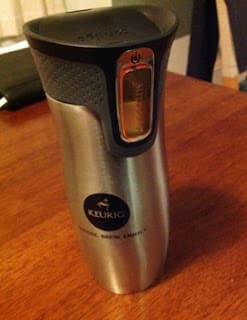 The Official Keurig Travel Mug – Fits Under All Keurig Reservoir Brewers
Basically it's still too big for most Keurig portions in my opinion but it is a really good mug and worth checking out.
To compliment this page let me point you towards this post will help you find a bunch of small insulated mugs that would be perfect for Keurig machines. If you have a Keurig – or are buying a gift for someone with a Keurig machine – this page will be helpful in finding a good mug sized appropriately for all the Keurig coffee makers, Keurig mini included.
You may also want to see this page which features insulated espresso cups, some of which are big enough for a small cup of coffee.
=====
Do Travel Mugs Fit Under Keurig Coffee Makers
K-cups had been a craze in the coffee world. It is created by Keurig and it features ready-made coffee in pods or capsules. What people love about Keurig is the convenience and variation it offers. While coffee aficionados do not always agree whether Keurig is good coffee or not, the fact remains that Keurig offers a convenient way of making brewed and flavored coffee with just one push of a button.
Keurig machines are designed to quickly brew not only coffee but tea, hot chocolate, iced coffee and a variety of other hot beverages. The grounds are pre-measured into the K-Cup or Vue Cup, which are small pods. The machine delivers your selected brew within 20-60 seconds. The single pod must then be discarded, it is not good for more than one use. There are many models of the Keurig, ranging from the "Mini-Keurig" to the "Keurig Vue". Picking the right one all depends on how often you will be using your machine. Each water reservoir size is different, and each machine comes with different options.
If you have not bought a Keurig yet, here are some advantages and disadvantages you can consider:
Advantages:
Brewed coffee in an instant, not your 3-in-1 type
Hundreds of flavors to choose from, hazelnut, roasted almond, latte, caramel and more
Not limited to coffee, can make hot tea, cold tea and iced coffee (when brewed over ice), lemonade, cappuccinos, lattes, hot chocolate and more
Different sizes to choose from, single serve 4 oz to travel size mugs
Make coffee on the go
No need to program, make coffee in an instant even if you have just woken up
Pre-measured coffee, means no mess and no coffee wasted
You can choose your heat and strength settings
Instant water heating system
Quality coffee, inexpensive brew
There is a reusable filter you can buy that you can also use with regular coffee
Has most options as far as machines and settings over any pod brewer
Sealed pods to ensure freshness and quality
The new VUE cups are recyclable
Simple to use, even your kids can make their own coffee or hot drinks
Disadvantages:
Pods can be expensive
Keurig is expensive
Can only make a single serve coffee, for most Keurig models
Lower-end Keurig models do not offer many features such as brew strength, heat strength and they have smaller water reservoirs
Only the new models have the right settings to make iced drinks, the other models it can be done with but the flavor will not be the same
Only the VUE can make latte and cappuccino, but are nothing like a real espresso machine
K-cups are not recyclable
Travel mugs that fit under Keurig coffee maker
Because Keurig coffee is such a nice machine, coffee lovers want to keep in a travel mug and bring it at work. Keurig is a small machine and not all travel mugs will fit in it. How can you find a travel mug that fits your Keurig machine?
As a rule of thumb, Keurig spout and the plate is approximately 5 ½ inches tall. If you need a travel mug, make sure that it is at most 5 inches tall. You can get a 6-inch tall but make sure that the lid is removable. In terms of ounces, travel mugs that range from 8 oz to 12 ounce are better options for travel mugs that will fit under a Keurig.
Here are some recommendations.
KeepCup 8-Ounce Brew Glass Reusable Coffee Cup, Small, Silver
Best features:
Leak-proof lid
Glass container body
No spill
Dishwasher and microwave safe
KeepCup does not retain hot drinks as long as the Klean Kanteen but it can keep your coffee warm for an hour, at most. You can enjoy your coffee in this insulated mug and bring it along when you travel. It has leak-proof lid and easy to drink opening. It's also super easy to clean.
Stanley Adventure Vacuum 8 oz Mug
Best features:
Anti-rust stainless steel, food grade container
Can keep hot drinks for up to 4 hours
Leak proof cover
Splash-resistant
Stanley brand is favorite household name. This 8 ounce mug is no stranger to the good benefits of owning a Stanley.
Hamilton Beach Compact espresso Travel Mug, 8oz
Best features:
Double wall insulation system for better heat retention
Leak-proof lid
Cushioned pad to prevent damage and scratches
Hamilton is another popular kitchen brand that delivers quality products that are practical, easy-to-clean and nice-looking. It is a great partner for professionals because of its nice cushioned pad and no-spill, leak-proof feature.
Contigo Autoseal West Loop Stainless Steel Travel Mug
Best features:
Leak-proof and spill-proof
Push-button lid for one hand usability
Easy-to-clean lid, lid-lock feature
Can keep coffee hot for up to 5 hours
Lid is dishwasher safe, container for hand-wash only
Users love the push button lid because it allows them to use the Contigo travel mug with just one hand. It also has a lid lock feature to prevent from accidentally pushing the Autoseal button.
Klean Kanteen Wide
Best features:
Leak-proof
Wide bottle feature
Good for Keurig single serve
Easy-to-clean
Vacuum insulated
Klean Kanteen has new models featuring wider bottles for easy cleaning and just the right height for users who have Keurig single serve. They can brew directly to the mug and bring it along wherever they go.