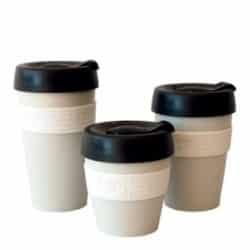 Are you looking for the best travel mug possible that will still fit under your Keurig?
You are not alone. Your huge 34oz travel mug isn't going to that's for sure and that's why I decided to post this.
Below I have provided a list of the best travel mugs for Keurig coffee makers taking into account the appropriate Keurig mug height requirements of the various machines.
Read on please…
Or click here to jump straight to the mugs.


Let me Help you Find the Perfect Travel Mug to Fit Under a Keurig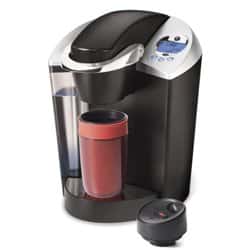 If you have a Keurig coffee maker then you probably know by now that not all of the normal insulated mugs and tumblers fit underneath them as nicely as the mug pictured to the right.
Not only are the openings small but even if normal travel mugs did fit they wouldn't be very full because most of the Keurig coffee makers don't make large amounts of coffee; they don't make enough coffee to fill normal 14-16 oz mugs.
The trick to finding a good travel mug for a Keurig coffee machine is to find a short travel mug or a small travel mug that isn't designed to hold large quantities of liquids. The best travel mug size is 14 ounces or less, even better would be 10-12 ounces.
Here are some of the smallest mugs which would fit under a Keurig mini, the smallest of them all.
I've been a big fan of single serve coffee makers since I first used my dad's machine a few years back. I like drinking my coffee slowly so a cup at a time is nice. To have good coffee without having to brew a huge pot every time is great too.
Since these kind of coffee makers are so common now there is a growing supply of small insulated mugs out there that are perfect for fitting underneath Keurig coffee systems. You may even want to see these small insulated espresso cups for more options.

Here Are The Keurig Sized Travel Coffee Mugs I Like Best
Below I've listed some of my favorite top rated short travel mugs to fit below just about any Keurig machine. First on the list is the new(ish) Keurig Contigo travel mug which is the official Keurig travel mug with Keurig branding and all. It's a very good mug but it's not the only viable option.
14 Ounce Contigo Travel Mug
by Keurig
This is the official Keurig travel mug. It is basically a Contigo Autoseal travel mug but only smaller at 14 ounces instead of 16. It is short enough to fit under all Keurig machines with a water reservoir.
The mug is definitely a high end travel coffee mug and it will keep your coffee hot for a long time will almost eliminating the chance of spills or leaks but for Keurig single serve machines it's still not my favorite.
For some of my favorite insulated mugs see below.

Of all those short travel mugs for Keurig though Keepcup is actually my favorite right now for all single-serve coffee machines.
They hold anywhere from 8-14 ounces depending on the mug you choose, which is a perfect size for pod coffee makers like Keurig and they're not really designed to keep your coffee hot all day long which keeps their price down. For 10 ounces of coffee you really don't need all day long thermal retention anyway.
Of course another option for Keurig machines is to just use a normal ceramic style mug with lid or cover. Assuming you are sitting at a desk this would also be perfect. You can see a post on those here – Coffee Mugs With Lids: An Awesome ideas For Anyone Who Sits At A Desk All Day.
My Review of the Stainless Steel Keurig Thermos by Contigo
This is one of the better thermal coffee mugs made. Contigo is consistently one of the highest rated companies making to go mugs for hot beverages. For a portable coffee mug however it is still larger than I'd like. That doesn't mean however that I don't think it's a valuable purchase, because it is!
In my personal opinion if I'm brewing 8-12 ounce at a time I want a mug that is actually the size of a travel coffee cup, not a really small tumbler. Even still it is made to be short enough to work with all of the full size Keurig machines. It's also built to the same quality as the main Contigo line of insulated tumblers.
For the price I think it's totally a good deal so go for it if you want but my favorite is still the OXO Single Serve Mini and it's cheaper too.
Last point…
Don't Get a Mug to Tall For Your Keurig
Is your Keurig tall enough for travel mug use? The answer is yes but as you no doubt understand, each machine is different in size and shape so each one will have it's own maximum height requirements.
For the popular devices being sold today, ie. the Keurig HOT, Keurig 2.0, and the Keurig Vue you can safely use a mug that is less than 7 inches tall meaning lots of mugs will fit. Check yours or see the ones list above.
Remember almost all of these machines make coffee in servings 12 ounces or less so even if your 16 ounce mug fits under the brewer it may be uncomfortably large. Your best bet will always be to use a smaller mug that holds less. You can start your search for mugs like this on the following pages on this site:
Thanks for reading and please share this on Facebook!