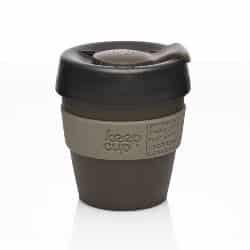 Don't you hate how hard it is to find a well made travel mug that's only eight ounces?
You wouldn't think it would be hard since that's the size of a standard coffee cup but it sure is.
I'm a guy that loves drinking my coffee slowly. I spread it out throughout the day so I love the idea of using small insulated cups, especially those with lids. As you might expect I've really got my eye on this market.
If you are looking for a small travel mug for espresso or a short mug for Keurig single serve coffee then please, read on. I've featured a lot of eight ounce thermal mugs below.
Before we look into the details of these and a few others listed below lets first look at some general details:
What are the Different Types Travel Mugs
Travel mugs are not created equal. Users have various preferences. Here are the different kinds of travel mugs to choose from.
Your Options According to Size
The Material Dictates the Quality & Durability
Typically travel mugs are made from the following materials:
Stainless Steel – This is a popular choice among users because of its durability and ease of cleaning. Stainless steel is highly resistant to absorbing taste, odor and stain. When taken care of properly, it can last for several years because it does not rust nor corrode.
Ceramic – Ceramic mugs look traditional home mugs. They are dishwasher save, easy to clean and can keep coffee warm for at least an hour. It is more affordable but less durable.
Plastic – Like ceramic, plastic materials are inexpensive. But it is more durable than plastic, less breakage and dents. It is easy to clean but plastic can retain and absorb stain and odors very quickly.
Double-Wall/Insulated – This is the most loved type of travel mugs because of its excellent heat retention quality. Some insulated travel mugs can keep coffee hot for eight full hours! It is also highly durable, easy-to-wash. Some insulated mugs can be very expensive, but given the features, it is worth the investment.
These are the Best 8 Ounce Travel Mugs Available Today
I've compiled a list of the best 8oz travel mugs out there. This can help you decide which of this single-serve mug will work best for you.
Klean Kanteen Double Wall Vacuum Insulated Stainless Steel Tumbler with Lid (8oz)
Best features:
Vacuum insulated, double wall system, can keep coffee hot for up to 4 hours and cold drinks up to 20 hours
Wide bottle body
Easy to clean container and lead
BPA-free
Users love the design and easy to clean container of Klean Kanteen. It is so easy to clean and perfect for a single cup serving. It can even fit in a Keurig so you can make K-cup and bring it along anywhere you go.
KeepCup 8-Ounce Brew Glass Reusable Coffee Cup
Best features:
Leak-proof lid
Glass container body
No spill
Dishwasher and microwave safe
KeepCup does not retain hot drinks as long as the Klean Kanteen but it can keep your coffee warm for an hour, at most. You can enjoy your coffee in this insulated mug and bring it along when you travel. It has leak-proof lid and easy to drink opening. It's also super easy to clean.
OXO Good Grips Mini LiquiSeal Travel Mug
Best features:
Leak-proof and spill-proof
Fits single serve coffee makers like Keurig and Nespresso
Double wall system for better insulation and heat retention
One-hand usability
Not microwave safe
This is a really spill-proof and leak-proof travel mug perfect for traveling and for professionals who are always on-the-go. It's automatic press button allows for easy one hand use so you can drink even if you are walking, driving or riding a public transportation.
Innate Doppio Tumbler, Stainless, 8-Ounce
Best features:
Fits any single serve coffee makers
Excellent heat retention due to double wall system
If you are looking for an efficient and hardworking mug that's ergonomic looking, Innate is the one for you. It's also easy to clean and fits standard car cup holders.
Stanley Adventure Vacuum 8 oz Mug
Best features:
Anti-rust stainless steel, food grade container
Can keep hot drinks for up to 4 hours
Leak proof cover
Splash-resistant
Stanley brand is favorite household name. This 8 ounce mug is no stranger to the good benefits of owning a Stanley.
Hamilton Beach Compact Espresso Travel Mug, 8oz
Best features:
Double wall insulation system for better heat retention
Leak-proof lid
Cushioned pad to prevent damage and scratches
Hamilton is another popular kitchen brand that delivers quality products that are practical, easy-to-clean and nice-looking. It is a great partner for professionals because of its nice cushioned pad and no-spill, leak-proof feature.
Why Would You Buy an 8 oz Insulated Mug?
Small 8 ounce travel mugs are perfect for home made espresso shots or small one-cup coffee makers. I have been using a Moka pot a lot lately to make an awesome bit of espresso-like coffee every morning but 6 ounces of moka doesn't even come close to filling standard size travel mugs.
If you are looking for a quality insulated mug to take small amounts of coffee to go then I hope you find this page useful. There aren't a ton of options in this category but you'll find much more luck finding a good thermal coffee mug here than you will in your local Target.
Also, keep in mind that this page focuses on travel mug / tumbler style coffee cups. If you want a double-wall insulated coffee cup which is more appropriately used in the home or at a desk rather than out and about then check out this page or this one featuring many different kinds of insulated coffee cups.
If you are actually shopping for a small mug and don't necessarily need something eight ounces in size then see our page dedicated to 10oz travel mugs here. You will find a selection of great travel mugs that are bigger than 8oz but still quite small compared to all others.
Is This a Good Size to Use as an Espresso Travel Mug?
Around my house I tend to think of 8 oz thermos as a quick and easy way to take a single cup of coffee into the car for a couple of morning errands. I frequently use my Umbria for drinking coffee around the house but when I hit the road a small insulated travel mug is all I need.
On the occasional morning however I make espresso or stovetop espresso and for those my drink only ends up being 4 ounces or so. When I use a smaller 1-cup stovetop espresso maker I end up with only a shot or two of coffee! For an amount this small a 8oz mug is a little big… it works, but it's a little bigger than you really need.
Now having said that I know a lot of people who brew a quad-shot of espresso or even make a large cup of espresso with a couple of Nespresso pods. This will increase the amount of espresso in your cup and will fill a 8oz coffee cup pretty fast.
Personally I think having a small insulated coffee cup like this is worth it no matter what you drink.