If you are looking to pick up a really nice travel mug for yourself or someone else then make sure to spend an extra couple bucks to get one that will perform better over the years.
Look into anybody's cabinet and you're sure to find at least one or two cheap travel mugs that don't ever get used. Many low cost mugs leak or don't retain heat very well. Some of them even make your coffee taste a bit like plastic. And in some cases the seams between insulated walls has separated making the mugs perform poorly.
Everyone appreciates a well made thermal mug. If you're going to buy one for anyone, a few extra dollars spent goes a long way towards getting a much better product.
Unlike really small travel mugs 12-oz mugs are easier to come by and they come in many different styles. On this page I've attempted to feature primarily travel mug style tumblers. You can of course see this page for more insulated coffee cup style mugs or this page for a more options in the small travel mug category.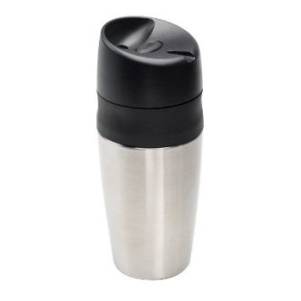 12 Oz OXO Good Grips LiquiSeal Travel Mug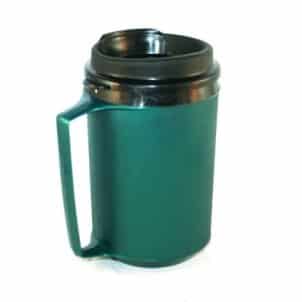 12 Oz Foam Insulated Thermoserv Travel Coffee Mug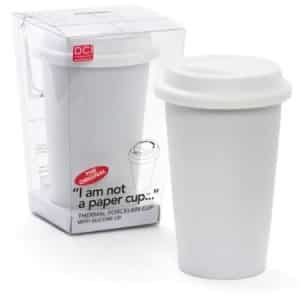 I Am Not a Paper Cup 12-Ounce Porcelain Travel Cup with Lid
Not married to the 12-oz mug? See this page for a list of the best travel mugs sold today.
The Beauty of owning a 12oz Travel Coffee Mug
What's good with a 12 ounce travel mug? Well, here are the practical reasons why you need a 12 ounce mug in your life.
A 12 ounce travel mug holds just enough coffee for half a day. This is the optimum amount that you can enjoy while you travel and still have enough coffee to go by during your work.

A 12 ounce travel mug has the right width and height to fit in back pack or a medium-sized handbag.
A 12 ounce mug can easily fit in the cup holder of your car's dashboard.
Features to Look for When Buying a 12 ounce Travel Mug
Before buying a travel mug, here are some tips and guides to help you choose the best 12 ounce mug for your need.
Leak and Spill Protection – Find a travel mug that is leak and spill proof. Remember that you will use it for traveling. Expect that it will get knocked over and bumped at. You don't want coffee spilling around your workstation, on your lap or on your seatmate's shirt.
Easy-to-Open – Many buyers look for flip open or push-button lids so they can enjoy drinking from the travel mug with just one hand. Imagine if you would need to unscrew the lid, drink coffee and put the lid back. It's such a hassle! So, opt for an easy-to-open travel mug.
Coffee Lid Mess Avoidance – Travel mugs can be a bit messy, leaving trails of coffee around the lid, with some even spilling on your favorite white shirt! Choose a travel mug with a nice lid that's perfect for you. Some are just too wide, causing coffee to spill out from the corners of your mouth. Inspect the design of the lid. Some travel mugs have a beaker that's a bit shallow, with a surrounding surface to collect coffee spillage. Others have a built-in sipper. But I can't imagine using a straw for hot coffee.
Easy-to-Clean
Travel coffee mugs can be notorious when it comes to cleaning. Choose a model that is easy to handwash. Having one that is dishwasher safe is also convenient. But since travel mugs are often brought to trips, you need a mug that is easy to wash manually.
Heat Retention – Who likes to drink cold coffee? Unless you intend to make an iced coffee, no one enjoys a hot coffee that has gone stale and cold. Choose a travel mug that has excellent heat retention. Keeping the coffee pleasantly hot for at least 3 hours is good enough. Some travel mugs can keep your coffee hot for 6 to 8 hours. It's simply amazing!
Durability – Among plastic, glass and stainless travel mugs, the latter is always a runaway winner in terms of durability. Drops and accidents can happen. Choose a travel mug that is durable and sturdy, especially for every day commute.
Affordability – It's ok to invest on a good travel mug. But also keep in mind that you are bound to replace it, one way or another. Be reasonable and think long-term when purchasing a new travel mug.
Here is Some Data on Some of the Top Rated 12-Ounce Travel mugs Sold Today
Here's a round-up of the best 12 ounce travel mugs based on product tests and reviews.
CamelBak Forge
Most loved features:
Spill-proof and leak-proof
Easy-to-clean
One hand usability
Can keep coffee hot for 6 to 8 hours
The CamelBak Forge has a straightforward design that's ergonomic and practical. It can easily fit in your bag and will never spill a drop. In fact, testers tried the Camelbak Forge and put it inside a spin dryer for half an hour. No spill at all!
Zojirushi SM-SA48-BA Stainless Steel Mug
Most loved features:
Compact and lightweight
Easy-to-open and mess-free lid
Easy-to-clean lid and interior
Vacuum insulated
Zojirushi models are known for efficiency and practicality. Users love its lightweight feel. It makes carrying and using easy. The lid is detachable so you can clean it thoroughly, avoiding common travel mug problems such as stale coffee smell and stain.
Klean Kanteen Wide
Most loved features:
Leak-proof
Wide bottle feature
Good for Keurig single serve
Easy-to-clean
Vacuum insulated
Klean Kanteen has new models featuring wider bottles for easy cleaning and just the right height for users who have Keurig single serve. They can brew directly to the mug and bring it along wherever they go.
Contigo Autoseal West Loop Stainless Steel Travel Mug
Most loved features:
Leak-proof and spill-proof
Push-button lid for one hand usability
Easy-to-clean lid, lid-lock feature
Can keep coffee hot for up to 5 hours
Lid is dishwasher safe, container for hand-wash only
Users love the push button lid because it allows them to use the Contigo travel mug with just one hand. It also has a lid lock feature to prevent from accidentally pushing the Autoseal button.
Stanley Classic
Most loved features:
Leak-proof
One-hand usability
Can keep coffee hot for up to 7 hours
Stanley models are known for the slogan "can't leave the household without it". True enough, it features the basic necessities that travel mug users want.