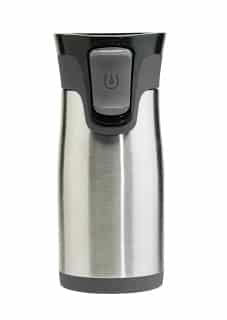 I'm sure you love the idea of having a short insulated mug that sits directly under your single serve coffee maker.
I do to!
The problem with a lot of the best travel mugs these days is that they are simply too large to use at home. You have to remove drip trays to use them with a Keurig and they are just too big for sipping on coffee at home comfortably.
Luckily there are more options than ever before in the small travel mug market. Here on the site I've got a lot of options listed below – each of them are 10 oz.
Here are my Favorite 10 oz Travel Mugs
If you have a single cup coffee maker then it's worth investing in a good Keurig sized travel mug.
EPIC Stainless Steel Vacuum Insulated Travel Tumbler, 10 oz, Black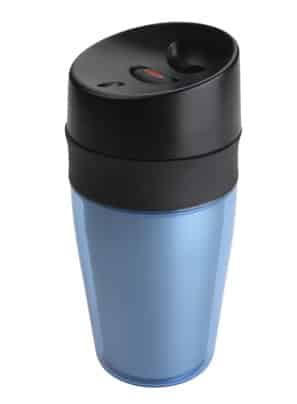 Oxo Good Grips Mini LiquiSeal 9.5 Oz Travel Mug
YETI Rambler Stainless Steel Vacuum Insulated Tumbler with Lid
 Zojirushi Stainless Vacuum Mug, Rose Quartz, 10 oz/0.30 L
 Huswell Insulated Double Wall Glass Coffee Travel Tumbler, 10 oz.
 Chantal Single Serve Stainless Steel Easy Travel Mug, 10-Ounce, Red
&
Additionally I've provided some details on some of the above mugs in the section below.
EPIC Stainless Steel Vacuum Insulated Travel Tumbler, 10 oz, Black
Main Features:
Double wall vacuum insulation with added copper lining between the walls maximizes temperature retention
Hot beverages – stays warm for up to 6+ hours so you can enjoy your hot morning coffee in this gorgeous flask until lunch time – perfect for college students and for taking it to work place
High grade of 18/8 stainless steel construction make these cups rust proof and long lasting
Oxo Good Grips Mini LiquiSeal 9.5 Oz Travel Mug
Main Features:
9.5-ounce fits most single serve coffee makers including Keurig and Nespresso

3-silicone seals lock in liquids for no spills
Double wall plastic construction improves thermal retention
Polycarbonate outer cup is shatter resistant
Soft, non-slip grip
Fits most single serve coffee makers
Double wall construction improves thermal retention and is shatter resistant
Yeti Rambler Stainless Steel Vacuum Insulated Tumbler with Lid
Main Features:
Ideal drinking companion at home or around the campsite
Its 18/8 stainless steel construction (made with kitchen-grade stainless steel) will hold up in the wild
Will never leave a ring on your coffee table, thanks to No Sweat Design
Double-Wall Vacuum Insulation will keep your hot drinks hot and your cold drinks cold far longer than standard drinkware
Dimensions: 4 1/8 inches high, 3 ½ inches in diameter
Zojirushi Stainless Steel Vacuum Mug Rose Quartz
Main Features:
Stainless steel vacuum insulation keeps beverages hot or cold for hours
Tight-fitted lid keeps beverages hotter or colder
Easy-to-clean nonstick interior
Stopper disassembles for thorough cleaning
Plastic cover around the mouth of mug for drinking
Huswell Insulated Double Wall Glass Coffee Travel Tumbler, 10 oz.
Main Features:
Dual walled brosilicate material is designed to maintain hot or cold beverage optimal temperature
Gap between layers ensures you can handle hot drinks safely without any risk of injury
Unlike plastic portable mugs, this contains no harmful chemicals that can leach into your drinks
Dishwasher-safe, Eco-friendly, reusable glasses help reduce waste & helps save you money
Large 10 oz. (300 ml.) traveling mug fits most car cup holders & has silicone leak-proof lid & grip
Chantal Single Serve Stainless Steel Easy Travel Mug, 10-Ounce
Main Features:
Triple-wall vacuum seal; will keep beverage hot for up to 7 hours
Simple push-button top allows you to drink from any side of the rim
Easy to operate with just one hand
The entire mug is top-rack dishwasher safe
Made of stainless free plastic top
I've also got a few other sizes featured here on the site. Click through to see our favorite 8-oz travel mugs here or 12-oz mugs here.
Buyer's Guide & FAQs
Our modern lifestyle made us fall in love with things that are mobile, on-the-go, convenient and ready to consume in minutes. I guess this is one reason why coffee shops mushroomed in just about every corner of bustling cities and metropolis.
We love our coffee but we really don't have the time to always brew one for a single serving. We'd rather buy out of necessity and convenience.
But thanks to travel mugs, we can now brew more coffee at home and bring it just about anywhere. If we are in a hurry, we can brew at home, fill our travel mug and get on the road.
It's simply amazing.
Because travel mugs have become part and parcel of our daily grind, manufacturers have gone an extra mile to provide consumers with so many options.
But before anything else, what are the things you need to keep in mind before buying?
According to Consumer Search, these are the things you need to remember when buying a travel mug.
Excellent heat-retention. You don't want to drink a cold coffee, unless you initially made a cold brew. While you don't expect travel mugs to keep piping hot coffee for the whole day, you don't need a travel mug that only holds hot coffee for 30 minutes. A good insulated travel mugs should keep your coffee warm for a couple of hours. Some travel mugs offer double insulation system.
Leak-proof seals. Since you will be travelling, you don't want your coffee spilling on you or worse, spilling on the person beside. That's a lot of mess and will cause you unnecessary hassle, not to mention embarrassment. If you are driving a car and bring a travel mug with coffee, the last thing you want is coffee stain on your leather seat.
One-hand usability. Get a mug that has a lid that you can flip open with your thumb or an automatic, push-button lid. You don't want to be unscrewing and screwing the lid back and forth, especially if you are on the wheel.
Durability. During rush hour, your travel mug could get banged and knocked off. Some models easily break. You want a durable and sturdy one.
Easy-to-clean. You will not always have your detergent and bottle brush with you. Make sure that your travel mug is dishwasher safe and easy to clean.

Some Tips to Protect Your Travel Mug

A good travel mug is an investment. It will last you for years if you take good care of it. Always follow manufacturer's instruction on how to use and clean your travel mug. If it's dishwasher safe, then go for it. If it says best to hand wash, follow it carefully. Care and usage will extend the life of your travel mug and you can make good memories with it.

What do you Use a 10oz Tumbler For Anyway?

Most 1-cup coffee machines make only 6-10 ounces of coffee at a time. This is perfect for a normal sized coffee cup but way to small for the most common travel coffee mugs sold today. Average size travel mugs typically span anywhere from 14oz all the way up to 24 oz with many even larger than that.

Unless you like drinking your coffee really quickly a small travel mug can help keep your coffee at an ideal drinking temperature for longer while also minimizing the potential for spills in the car or at the office. In fact just using your cup around the house you'll find that these are nowhere near as likely to get tipped over because they are so short. Unlike the taller top heavy tumblers these tend to be short and stocky.

Also, if you are shopping for something to use in the home you may also want to consider a double walled espresso cup or a stainless steel coffee cup. They aren't great for travel but they are great for a desk or kitchen table.

And if you are not steadfast in your search for a 10-oz mug exactly see this page for more popular small insulated travel mugs or this page for insulated coffee cups.