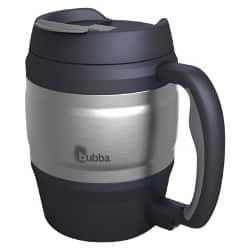 Whether you need a large insulated tumbler or an oversized coffee mug we understand that for some people a standard 14-16oz option just isn't going to cut it.
Luckily there are lots of different thermal coffee mugs out there to choose from in the 20oz and larger category. And if you're looking for extra large insulated coffee mugs there's a number of those available too in various styles.
Most travel coffee mugs greater than 30oz in size come as a thermos-style insulated bottle. These are the kind of travel containers that you pour coffee out of into a cup or standard tumbler. In all cases below I've only featured the best products of their types below.
You wouldn't want to take 64 ounces of coffee with you on the road only for your insulated bottle to leak or your coffee to go cold on you. These oversized travel mugs and insulated coffee bottles will perform best for you for years to come.
FYI – Only large insulated travel mugs are featured on this page. See the following page (page under construction) for a hand curated list of awesome oversized coffee mugs for those days when you're not hitting the road.
Large 20-30oz Travel Mugs
See this page for more 20 oz travel mugs. Other sizes to come.
Extra Large 30oz+ Travel Mugs & Insulated Bottles
If you are shopping fora large container to store hot coffee in for a long time then take a look at our page on carafes with excellent heat retention. These aren't made for travel but might serve your needs just as good or better.
Here's A Basic Buyer's Guide I Drew Up Just for You!
When buying a travel mug, here is a guide to help you identify the important features of a good travel mug:
Leak and Spill Protection – Find a travel mug that is leak and spill proof. Remember that you will use it for traveling. Expect that it will get knocked over and bumped at. You don't want coffee spilling around your workstation, on your lap or on your seatmate's shirt.
Easy-to-Open – Many buyers look for flip open or push-button lids so they can enjoy drinking from the travel mug with just one hand. Imagine if you would need to unscrew the lid, drink coffee and put the lid back. It's such a hassle! So, opt for an easy-to-open travel mug.
Durability – Among plastic, glass and stainless travel mugs, the latter is always a runaway winner in terms of durability. Drops and accidents can happen. Choose a travel mug that is durable and sturdy, especially for every day commute.
Affordability – There are many affordable travel mugs. But if you can afford it, invest on a good travel mug that will last you for years. Choose something durable, automatic and large enough to provide at least 4 cups of coffee for you enjoyment.
Coffee Lid Mess Avoidance – Travel mugs can be a bit messy, leaving trails of coffee around the lid, with some even spilling on your favorite white shirt! Choose a travel mug with a nice lid that's perfect for you. Some are just too wide, causing coffee to spill out from the corners of your mouth. Inspect the design of the lid. Some travel mugs have a beaker that's a bit shallow, with a surrounding surface to collect coffee spillage. Others have a built-in sipper. But I can't imagine using a straw for hot coffee.
Easy-to-Clean – Travel coffee mugs can be notorious when it comes to cleaning. Choose a model that is easy to hand wash. Having one that is dishwasher safe is also convenient. But since travel mugs are often brought to trips, you need a mug that is easy to wash manually.
Heat Retention – Who likes to drink cold coffee? Unless you intend to make an iced coffee, no one enjoys a hot coffee that has gone stale and cold. Choose a travel mug that has excellent heat retention. Keeping the coffee pleasantly hot for at least 3 hours is good enough. Some travel mugs can keep your coffee hot for 6 to 8 hours. It's simply amazing!
Different Sizes of Travel Mugs
Travel mugs come in all sizes to suit the preferences of different types of people. Here is a rundown of the common travel mug sizes available:
These are the common sizes. But you also know that there are super large travel mugs that can hold up to 40 oz of coffee or more! I featured a few above but now I'd like to give you a bit of detail on a few select extra large options.
The Largest Travel Mugs & Beverage Bottles Available
Check out these brands that offer 40 oz travel mugs, perfect for big groups.
Thermos Stainless King 40 Ounce Beverage Bottle, Midnight Blue
Best features:
Can hold up to 40 oz of coffee, equal to 8 to 10 cups
Has Thermos signature vacuum insulation for optimum temperature retention
Can keep coffee hot for 24 hours and cold drinks cool for 24 hours
Made of high grade stainless steel
Lid can be used as a serving cup
This travel mug is good enough for a large family on a trip or camping. It can keep your coffee hot for 24 hours. If you are planning for a long trip, make sure to bring this Thermos with you to enjoy your hot drinks anytime.
Isosteel VA-9553Q 34 fl. oz. Double Walled Vacuum Flask with Insulating Plastic Drinking Mug and Quickstop System for One Hand Use
Best features:
Can hold up to 34 oz of coffee, about 6 to 8 cups of coffee
High grade stainless steel, durable material
One hand usability
Double wall vacuum flask
Lid doubles as an insulated mug
The Isosteel offers large capacity to hold up to 8 cups of coffee, perfect for a group of coffee lovers. Its double wall technology can keep coffee hot for up to 6 hours.
How to care for your travel mugs?
There are two important ways to extend the life of your precious travel mugs.
Follow manufacturer's instruction especially in terms of cleaning.
Always wash the travel mug after each use. Especially if you plan to reuse it on the same day, wash it well to avoid any build up.
Always air dry your travel mug before keeping it.
A travel mug is a life-enhancing device. Yes, it's a device.
Newer models of travel mugs offer so many amazing features like auto-seal, double wall insulation, spill-proof, non-slip and much more. And if you are traveling, whether for work or leisure, having your favorite drink just within your reach, it can spell a difference in your life… that's coming from a heavy coffee drinker of course. 🙂