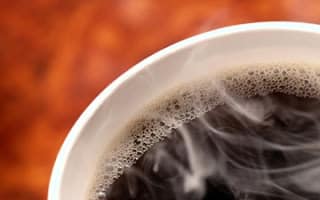 If you're like me you like drinking your fair share of coffee but don't want to keep that coffee sitting on a hot plate for hours at a time.
The best way to keep your coffee hot for a long time is to transfer your freshly brewed coffee from the coffee maker directly into an insulated carafe. The carafe will retain heat rather than the hot plate adding heat to your coffee. The hot plates tend to burn coffee over time. From an insulated carafe the coffee will taste much better as a result.
Not all carafes are made equal though. Some are good for a couple hours while some will keep the temperature high all day.
I prefer all day performance even if I don't need it. The following are all excellent coffee carafes that are going to perform brilliantly for you.
Here are my Favorite Carafes to Keep Coffee Hot All Day Long
As is always the case, each of these hold heat longer in their larger respective sizes.
1 – The Bonnoces 64 Oz Stainless Steel Thermal Carafe – Double Walled Vacuum Insulated Thermos/Carafe with Lid
I am a big proponent of buying the best possible product for the best possible price and the Bonnoces coffee carafe fits that bill.
It's a thermal carafe made from food grade stainless steel designed with a double walled vacuum that easily keeps coffee hot for up to 6 hours which is more than enough for most people.
For the price this is a great value but if you want something with thicker walls, better insulation, with more durability then you'll have to pay up a bit more.
Some of the carafes below may be more up your alley.
See pricing and specs on Amazon here.
---
2 – The Emsa Eleganza Stainless Steel Insulated Carafe, 44-Ounce
This carafe is also capable of keeping coffee hot for hours (about 9 hours), especially if you buy the largest version although the Eleganza is less about maximum thermal retention than the other carafes lower on this list. This carafe is all about durability and style – it's unnaturally beautiful in my opinion.
Being made from 18/10 stainless steel is not unique to thermal carafes but the steel in this model extends all the way through the lid – there's no plastic on this carafe at all.
I also love the extremely small size that is available (10-ounces) which is perfect for creamers or milk.
The largest size is only 44oz though so if you want something that is bigger or can hold temperature a bit better than maybe this one isn't for you.
See pricing and specs on Amazon here.
---
3 – The Thermos 51 Ounce Vacuum Insulated Stainless Steel Carafe
Everyone knows of the Thermos brand; they are arguably the brand that made insulated beverage containers a normal household product.
In fact the Thermos coffee carafe is one of the best selling carafes and has been for many years mostly due to brand recognition but also supported by the fact that these Thermal carafes actually do a really awesome job.
They will keep coffee hot for 12 hours or more, it keeps drinks cold longer than that too, up to 24 hours, and they are built to last many years.
What I also like about this Thermos beverage carafe is that it comes in a variety of smaller sizes which can be handy for some people.
See pricing and specs on Amazon here.
---
4 – The Zojirushi SH-FB19 Stainless Steel Vacuum Carafe with Brew-Thru Lid, 64-Ounce, Black
I really like all of Zojirushi's products and this one is no exception.
For one this is a large capacity coffee carafe compared to some others on this list but what sets it apart from the others is the unique lid that allows you to brew straight through the lid without ever taking it off.
When you buy this carafe you get a "lid" that is shaped like a cone for brewing directly into the pot either with a machine or with a manual pour-over technique.
This is awesome because making pour over coffee in bulk isn't easy unless you use a Chemex… and even then those aren't anywhere close to insulated like this carafe is.
This is a very cool insulated carafe that can also be defined as an alternative coffee maker that is super easy to clean as an added bonus.
See pricing and specs on Amazon here.
---
5 – The 68-Oz Stainless Steel Coffee Carafe, Double Walled Large Insulated Vacuum Flask Beverage Dispenser By Vondior
This carafe has been tested and is able to keep coffee inside piping hot for 12 hours or more and is still one of the lowest priced carafes on this list.
It comes with a special cleaning brush to help get the insides clean after each use and I also like that the quality of this pot is still high.
Vondior makes this coffee carafe using very sturdy brushed stainless steel which will be easy to clean, won't impart other flavors or odors, and best of all won't feel flimsy in your hand.
Some low priced carafes feel cheap, this unit does not.
See pricing and specs on Amazon here.
---
6 – The 68Oz/2 liter Thermal Coffee Carafe by PYKAL – HEAVY-DUTY, LAB TESTED 24HR>140F w/ 2YR Warranty + FREE Long Handle Brush, Vacuum Insulated, Coffee Pot, Satin Finish
This insulated coffee pot has been tested to keep coffee at a hot drinking temperature for a full 24 hours, which is insane!
Two of the main ways this insulated pitcher holds temperature so well is due to it using vacuum insulated walls and an insulated no-spill lid and spout. Basically the lid is fully sealed at all times allowing no heat to escape.
When you go to pour the coffee from this pitcher you press a button to release the coffee. When the button is released the lid seals again.
I like that Pykal is standing behind this product too. When you buy one your purchase comes with a 2-year warrantee and an extra cleaning brush just for an extra touch.
Throw in a super affordable price and I couldn't help putting this carafe on the list.
See pricing and specs on Amazon here.
---
As will be the case with every carafe, heat retention will be improved if you pre-heat the inside of the carafe with hot water before adding hot coffee. Also, the more frequently you open the carafe the faster heat will escape. Lastly the faster you drink your coffee the faster the "last bit" of coffee at the bottom of the carafe will get cold.
Why do Some Carafes Keep Coffee Hot A Long Time and Others Don't
A good insulated carafe (or mug for that matter) will use a double walled stainless steel construction process where the space between the walls is vacuumed and absent of air. Good alternatives are vacuumed double wall glass construction and in some cases double wall construction with foam filling the interior space. With each step down however your thermal retention will diminish.
The carafes that keep drinks hot for a really long time tend to have a really good vacuum space between two steel walls. The lids also end up being made to a much higher level of quality. It doesn't really matter very much that the walls of a carafe are well insulated if the lid isn't.
Think about it. Heat rises and it gets to the lid. If it can easily pass through the lid to the outside then the liquids inside the mug will start decreasing in temperature quickly.
When shopping for a long lasting carafe for your coffee think about the best travel mugs you've ever used. They always have high-end lids.
So Why Not Buy A Coffee Maker with Insulated Carafe
This is another point major point I need to make. Yes, there are really great thermal carafe coffee makers for sale and if you want one I'm not going to talk you out of it but I prefer to buy the best coffee maker I can and also buy the best carafe I can because the best carafe for coffee is not likely to be bundled with a coffee maker.
In the future I'll look closer at the insulated carafe coffee makers and update this post if I find options I think are worth buying.
---
Vacuum Insulated Coffee Carafes
Pros and Cons of Buying Your Own Coffee Carafe
If you're just like any other regular coffee drinker, you're probably enjoying your favorite cup of coffee from a coffee pot, french press, or pour over.
Now, there's nothing wrong with that, we encourage it actually but please don't store your coffee on a hot plate or in the french press that still has compacted grounds at the bottom. Your coffee will suffer because of it.
At Gathering Grounds we encourage all our customers to buy at the very least a small insulated carafe to keep brewed coffee hot and tasting it's best. Below are a few good vacuum insulated options that should work just fine for most people.
Tip – these perform a bit better than glass lined thermal carafes. This is why they may cost a pinch more on average too.If you want to see the glass lined insulated carafes to save some money click here.
 Genuine Joe GJO11956 Stainless Steel Everyday Double Wall Vacuum Insulated Carafe, 2L CapacityMore Info Thermos Vacuum Insulated Stainless Steel Carafe, 51-OunceMore Info Oggi Catalina 68-Ounce Thermal Vacuum Carafe with Stainless Steel Liner and Press Button TopMore Info CUNEW (CNW14001) Stainless Steel Double Wall Vacuum Jug Flask / Insulated Pot / Coffee Pot / Thermal Vacuum Carafe / Thermos Carafe 12-Cup 1.5-Liter 50ozMore Info CUNEW (NB550010) Stainless Steel Double Wall Vacuum Jug Flask / Insulated Pot / Thermal Vacuum Carafe / Thermos Carafe 15-Cup 2-LiterMore Info BESTEK 50-Ounce Thermal Vacuum Carafe with Double Stainless Steel Liner and Press Button Top for water,coffee,milk,juice ect BTCP3803AMore Info Ovente THB15 Stainless Steel Double Wall Vacuum Insulated Coffeemaker Carafe, 1.5-Liter, BrushedMore Info Hormel 4022B Poly Lined Carafe, Swirl Design, 40 oz. Capacity, BlackMore Info Thermos Brew In Lid Double Wall Vacuum Insulated 64 Oz. Coffee ServerMore Info Emsa Eleganza Stainless Steel 20 -Ounce Insulated CarafeMore Info Thermos Model PP1920M, 2 Quart Thermal Beverage DispenserMore Info Alfi Opal White Lacquered Brass with Chrome Thermal Carafe, 33-OunceMore Info
Here are some additional advantages of buying a vacuum insulated carafe to hold your coffee.
Advantages
Coffee carafes don't need to apply heat to keep the coffee warm, so the resulting coffee will taste better and be a lot less bitter.
Coffee carafes are also quite light in weight so you won't have to worry about carrying it with you so you can have your daily dose of caffeine anywhere you want.
The biggest advantage, though, is that you can use vacuum insulated coffee carafes to brew far more servings than you can with normal coffee pots and store it for later at the correct temp.
Disadvantages
One glaring disadvantage is that thermal carafes, especially those vacuum insulated coffee carafes, cost far more than normal coffee pots and glass lined thermal carafes.
True, there's nothing wrong with the good old coffee pot on a hot plate, but if you're tired of them burning your coffee and want a decent "upgrade", be sure to consider buying a new insulated coffee carafe soon.
---
The 6 Best Thermal Coffee Carafes to Keep Coffee Hot A Long Time
We're all familiar with what thermal carafes are. We all know that they are all insulated to one degree or another – some are double walled while others are glass lined and vacuum insulated for even better heat retention.
However, although people are aware about that some carafes are better insulated than others there's one problem, distinguishing between all of the options is really hard – they all start looking the same.
The absolute best carafe in my opinion is this Zojirushi glass lined carafe, but it looks very similar to this slightly more expensive and poorly reviewed alternative!
That's why we are here and that's why we do what we do – we want to help you find the perfect carafe and we don't want you to waste your money!
In fact we've reviewed those two and four more of your best insulated coffee carafe options lower on this page. Before we get to them let's look at a summary of all six in the following table.
With that out of the way let's now go over our reviews of the best coffee carafes for keeping your coffee piping hot all day long. I believe each of these carafes are excellent and any one would make a great choice for most people… and they will all keep coffee hot for a long time.
So now, lets look at them one by one!
Thermal Carafe Reviews – The Best Insulated Coffee Carafes Sold Today
Now, once again, the competition is fierce in this space. There are several companies that have taken special care towards insulation, so that people who are in need of it would buy their products- just another kind of business strategy. Among the models that are particularly well made we have opted to hone the list of best coffee carafes done by both form and function.
In the list that follows you'll see a number of beautiful carafes that all perform well. Many are vacuum insulated, others use a glass lined interior to keep them easy to clean and to limit flavor changes. Another thing is most of these units come in various sizes both big and small. So, lets get to it!
Emsa Eleganza Stainless Steel Insulated Carafe, 44-Ounce
One of the most famous products comes from Emsa Eleganza. The Emza Eleganza Stainless Steel Insulated Carafe is one of those models that people go to first. However, this doesn't mean that we don't have to take a look at the main features of this model.
This model, to begin with, is a stainless steel model. It has a capacity of about 44 ounces and it's really well insulated, making it a great option to use if you want the temperature to stay consistent as you drink. This is, once again, one of the go-to models for a lot of people and I believe that's a well deserved repuation.
Panesor Thermal Coffee Carafe Double Walled Vacuum Insulated, 68 Oz Hot Coffee Pitcher
Panseor Thermal Coffee Carafe is one of the names that follows close to the Emsa. This is yet another model that's really effective. Have you ever noticed the fact that the 2nd best is often better than the first one but is underrated? Well, same here- let me explain why.
This model is almost the same as the last one, except when it comes to a few things. First, this model has a vacuum insulation, which is by far one of the best insulation methods. This model also provides you with a comparatively larger capacity, with a capacity of about 68 ounces- substantially larger than the last one. This makes it a great choice if you want a fairly large model.
Zojirushi Polished Stainless Steel Vacuum Insulated Thermal Carafe
The Zojirushi Polished Stainless Steel Vacuum Insulated model is just as functional as it is attractive. It's one of the models that have all the great properties, making it a well recommended model. To begin with, this model has a polished stainless steel body, granting it points for both aesthetics and durability.
On the other hand, this model also boasts vacuum insulation, which puts it far ahead of a lot of other competing models in terms of functionality. Vacuum insulation is one of the best kinds available out there and quite a lot of people won't go without it.
That's not all, this model is specially designed to prevent loss of heat as much as possible. So, when it comes to insulation options, this model is by far one of the best you have available, out there.
And even more, this model is also said to be one of the most economical, making it great for those who need better insulation on a budget.
Tiger Thermal Insulated Beverage Carafe, 45-Ounce
Let us now discuss another model that looks really similar to the last one. This is the Tiger Thermal Insulated Beverage Carafe. This model is treated as one of the best models that do not have vacuum insulation.
Yes, some models with vacuum insulation are naturally better, but those models are usually more expensive in comparison. This model takes care of both the financial and functional aspects at the same time, making it a favorite for a lot of people, especially for some who are on a comparatively conservative budget and don't want to spend too much on a carafe.
Thermos 34 Ounce Vacuum Insulated Stainless Steel Carafe
Thermos. Now that's one line of products you're bound to be aware of. In fact, it's one that fills our minds with a sense of security about the quality of the product. Every other product might go wrong, but Thermos? Never, right? That's how much we believe in this product.
Thermos, as proven by a couple of surveys, is one of the most trusted and loved companies out there. That, in itself, is enough reason to buy this product. However, even besides that, there are a lot of things that makes this product great. This product, too, has everything that you might ask for of a great product, ranging from a stainless steel body, to vacuum insulation, and a sensible capacity of 34 ounces, just about right for a standard serving for a group or family.
Isosteel Dishwasher Safe Stainless Steel Double Walled Vacuum Insulated Carafe, 1 Liter
This model, on the other hand, is one of the most attractive. This model from Isosteel just steals the spotlight because of it's beautiful and unique look. After that, it remains in the spotlight with its outspoken list of great features.
This model provides you with a stainless steel body and double walled vacuum insulation (which is one of the very best you can get out there). This model is also dishwasher safe.
Buyer's Guide
Now, of course, we haven't listed these models of all others just because we liked them. Several factors have been kept in mind, while sorting for the best model that might be able to serve you the best. So, it's really important that you get to know about these factors, so you might judge for yourself. This can only further ensure the chances of you getting the model that would, once again, serve you the best.
First of all, the capacity of the model has been kept in mind. This is one of the properties which must always be kept in mind because it directly depends on what you're looking for. As in, if you're looking for a 2-liter model, neither a 1-liter model, nor a 10-liter model would be a really great choice for you. So, this is one of the factors that have received special consideration and attention.
Next, aesthetics has also received consideration because that's important to a lot of people. You don't want to ruin the look of your whole kitchen because of something you didn't properly consider, right? So we've done the hard work for you and chosen the models that would fit your kitchen beautifully.
The financial aspect is always important. We understand that some people might be on a conservative budget, too. So we've kept that in mind and we hope that you'll be able to find the right model for yourself here regardless of your budget.
And, of course, reviews from direct customers are a direct source of knowledge about the product without the hype. If they liked it, then that's the greatest evidence that it's a good product from a general perspective. That has also been taken note of to ensure that you get the best product.
Hot Beverage Carafe Comparison Information
All these points have been considered while making this list. This has been done so that you can get the best model. However, it must still be kept in mind that there are some needs that specifically depend on you. It's important that you know about them and judge the model accordingly. That's the only way to find the best model for yourself.
Let us now move onward to taking a look at some of the commonly asked questions.
Coffee Carafe FAQ
As I just said, a few questions might arise in your mind at this point. While we can't exactly know all of them, some of them are so common that we feel like answering them would be indispensable. So, here are the answers to the frequently ask questions at this point.
Should you, however, have any other questions in your mind, feel free to reach out to us. We promise that we will try our best to help you in any way possible. After all, we coffee lovers must stick together, right? So please feel free to reach out to us for any query that you might have.
Is insulation really that important?
Yes, depending on your specific needs, it might be that important. While some people don't really seem to mind it much and it's really one of the most underrated factors, as I said, it's actually something that a lot of things depend on. The main thing, obviously, being how long your coffee will remain warm. Most coffee drinkers hate it when their good coffee gets cold and dull.
Are the small models any different from the larger ones?
Except the capacity/size, not really. The whole mechanism is the same, it's only the size that's different to suit some specific quantity needs. Beyond that, size shouldn't matter, except in how it affects how often you need to brew.
How important is vacuum insulation?
Vacuum insulation is the highest level of insulation out there. So, it's one of those things that you might not find with every model, however, it's like an entirely different level of complete insulation which helps you hold the temperature for a far longer duration.
Conclusion
These are likely the best models that are available out there. We have already mentioned the main things that we have judged them on. However, that doesn't mean that these are the only ones out there. You can always search for more models, on your own.
You must keep in mind that the best model out there isn't necessarily the best one for you. The best model for you is the one that serves all your needs at the most affordable price. So, keep this fact as well as your specific needs in mind when you go out in the market to find the model that is the best for you. This is the only way to find the right model for yourself, as all the ones anyone else may suggest have a certain degree of generalization attached, since only you can perfectly know your specific needs.
Gamble Bay Coffee is always here for you. We're here to help you find the best model for yourself by providing you with the right information that you need to do that. Feel free to reach out to us, should you have any queries and do not forget that we are always here and that we are here ONLY for you.