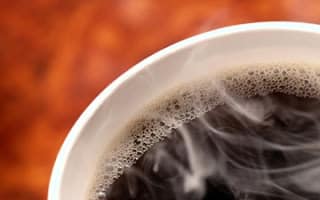 If you're like me you like drinking your fair share of coffee but don't want to keep that coffee sitting on a hot plate for hours at a time.
The best way to keep your coffee hot for a long time is to transfer your freshly brewed coffee from the coffee maker directly into an insulated carafe. The carafe will retain heat rather than the hot plate adding heat to your coffee. The hot plates tend to burn coffee over time. From an insulated carafe the coffee will taste much better as a result.
Not all carafes are made equal though. Some are good for a couple hours while some will keep the temperature high all day.
I prefer all day performance even if I don't need it. The following are all excellent coffee carafes that are going to perform brilliantly for you.
Here are my Favorite Carafes to Keep Coffee Hot All Day Long
As is always the case, each of these hold heat longer in their larger respective sizes.
1 – The Bonnoces 64 Oz Stainless Steel Thermal Carafe – Double Walled Vacuum Insulated Thermos/Carafe with Lid
I am a big proponent of buying the best possible product for the best possible price and the Bonnoces coffee carafe fits that bill.
It's a thermal carafe made from food grade stainless steel designed with a double walled vacuum that easily keeps coffee hot for up to 6 hours which is more than enough for most people.
For the price this is a great value but if you want something with thicker walls, better insulation, with more durability then you'll have to pay up a bit more.
Some of the carafes below may be more up your alley.
See pricing and specs on Amazon here.
---
2 – The Emsa Eleganza Stainless Steel Insulated Carafe, 44-Ounce
This carafe is also capable of keeping coffee hot for hours (about 9 hours), especially if you buy the largest version although the Eleganza is less about maximum thermal retention than the other carafes lower on this list. This carafe is all about durability and style – it's unnaturally beautiful in my opinion.
Being made from 18/10 stainless steel is not unique to thermal carafes but the steel in this model extends all the way through the lid – there's no plastic on this carafe at all.
I also love the extremely small size that is available (10-ounces) which is perfect for creamers or milk.
The largest size is only 44oz though so if you want something that is bigger or can hold temperature a bit better than maybe this one isn't for you.
See pricing and specs on Amazon here.
---
3 – The Thermos 51 Ounce Vacuum Insulated Stainless Steel Carafe
Everyone knows of the Thermos brand; they are arguably the brand that made insulated beverage containers a normal household product.
In fact the Thermos coffee carafe is one of the best selling carafes and has been for many years mostly due to brand recognition but also supported by the fact that these Thermal carafes actually do a really awesome job.
They will keep coffee hot for 12 hours or more, it keeps drinks cold longer than that too, up to 24 hours, and they are built to last many years.
What I also like about this Thermos beverage carafe is that it comes in a variety of smaller sizes which can be handy for some people.
See pricing and specs on Amazon here.
---
4 – The Zojirushi SH-FB19 Stainless Steel Vacuum Carafe with Brew-Thru Lid, 64-Ounce, Black
I really like all of Zojirushi's products and this one is no exception.
For one this is a large capacity coffee carafe compared to some others on this list but what sets it apart from the others is the unique lid that allows you to brew straight through the lid without ever taking it off.
When you buy this carafe you get a "lid" that is shaped like a cone for brewing directly into the pot either with a machine or with a manual pour-over technique.
This is awesome because making pour over coffee in bulk isn't easy unless you use a Chemex… and even then those aren't anywhere close to insulated like this carafe is.
This is a very cool insulated carafe that can also be defined as an alternative coffee maker that is super easy to clean as an added bonus.
See pricing and specs on Amazon here.
---
5 – The 68-Oz Stainless Steel Coffee Carafe, Double Walled Large Insulated Vacuum Flask Beverage Dispenser By Vondior
This carafe has been tested and is able to keep coffee inside piping hot for 12 hours or more and is still one of the lowest priced carafes on this list.
It comes with a special cleaning brush to help get the insides clean after each use and I also like that the quality of this pot is still high.
Vondior makes this coffee carafe using very sturdy brushed stainless steel which will be easy to clean, won't impart other flavors or odors, and best of all won't feel flimsy in your hand.
Some low priced carafes feel cheap, this unit does not.
See pricing and specs on Amazon here.
---
6 – The 68Oz/2 liter Thermal Coffee Carafe by PYKAL – HEAVY-DUTY, LAB TESTED 24HR>140F w/ 2YR Warranty + FREE Long Handle Brush, Vacuum Insulated, Coffee Pot, Satin Finish
This insulated coffee pot has been tested to keep coffee at a hot drinking temperature for a full 24 hours, which is insane!
Two of the main ways this insulated pitcher holds temperature so well is due to it using vacuum insulated walls and an insulated no-spill lid and spout. Basically the lid is fully sealed at all times allowing no heat to escape.
When you go to pour the coffee from this pitcher you press a button to release the coffee. When the button is released the lid seals again.
I like that Pykal is standing behind this product too. When you buy one your purchase comes with a 2-year warrantee and an extra cleaning brush just for an extra touch.
Throw in a super affordable price and I couldn't help putting this carafe on the list.
See pricing and specs on Amazon here.
---
As will be the case with every carafe, heat retention will be improved if you pre-heat the inside of the carafe with hot water before adding hot coffee. Also, the more frequently you open the carafe the faster heat will escape. Lastly the faster you drink your coffee the faster the "last bit" of coffee at the bottom of the carafe will get cold.
Why do Some Carafes Keep Coffee Hot A Long Time and Others Don't
A good insulated carafe (or mug for that matter) will use a double walled stainless steel construction process where the space between the walls is vacuumed and absent of air. Good alternatives are vacuumed double wall glass construction and in some cases double wall construction with foam filling the interior space. With each step down however your thermal retention will diminish.
The carafes that keep drinks hot for a really long time tend to have a really good vacuum space between two steel walls. The lids also end up being made to a much higher level of quality. It doesn't really matter very much that the walls of a carafe are well insulated if the lid isn't.
Think about it. Heat rises and it gets to the lid. If it can easily pass through the lid to the outside then the liquids inside the mug will start decreasing in temperature quickly.
When shopping for a long lasting carafe for your coffee think about the best travel mugs you've ever used. They always have high-end lids.
So Why Not Buy A Coffee Maker with Insulated Carafe
This is another point major point I need to make. Yes, there are really great thermal carafe coffee makers for sale and if you want one I'm not going to talk you out of it but I prefer to buy the best coffee maker I can and also buy the best carafe I can because the best carafe for coffee is not likely to be bundled with a coffee maker.
In the future I'll look closer at the insulated carafe coffee makers and update this post if I find options I think are worth buying.