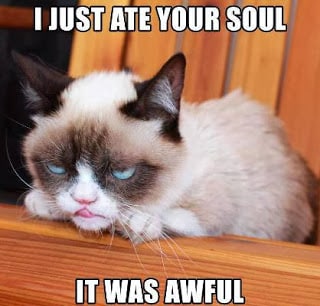 Are you a fan of Tard the Grumpy Cat? Maybe you just like the concept of an angry or cranky cat; I know I think it's hysterical. That's why ion my never ending pursuit of an expanding coffee cabinet in my kitchen I'm doing some shopping for grumpy cat coffee mugs… as if we actually needed any more coffee mugs.
In all actuality I am shopping for Christmas gifts and I figured I could pick me up a cool and funny cat mug and maybe a second one as a stocking stuffer or random gift for a friend.
A friend of mine recently introduced me to the grumpy cat meme and I'm taken by it… I'm also pretty shocked at how many different grumpy cat mugs there are for sale out there in a wide variety of styles. Here are some of my favorites. Right now I'm not sure which grumpy cat coffee mug to buy, there's so many cool one's to choose from. 🙂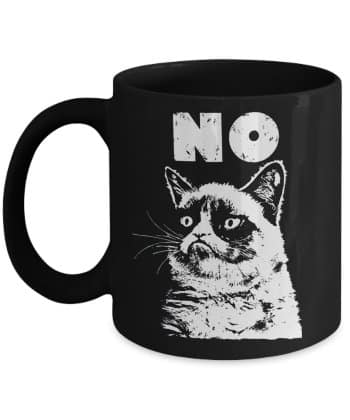 Grumpy Cat No Mug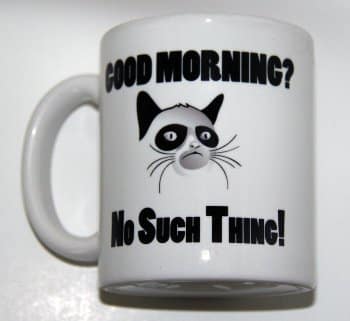 Coffee Mug – Good Morning? No Such Thing. Grumpy Cat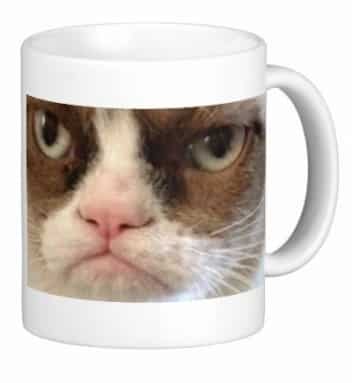 Grumpy Cat Ceramic Mug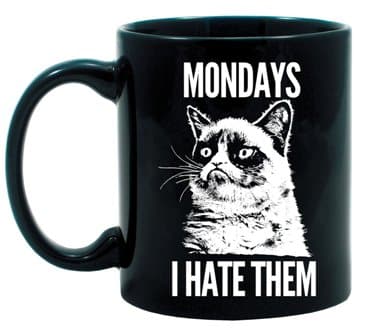 Grumpy Cat Novelty Internet Meme Coffee Mug – Mondays , I Hate Them
 


This page definitely falls in line perfectly with my bigger (and broader page) on unique coffee mugs. Check it out for more funny and interesting mug ideas for you and your friends.
=======
The Best Grumpy Cat Coffee Mugs
Coffee is often measured by the cup or in terms of ounces. But coffee mugs became popular because it can hold more coffee and you can get favorite prints on your coffee mugs. From cartoon characters, to personalized messages and quotes, just about anything can be printed on a coffee mug.
Why is there such a craze for personalized, printed coffee mugs?
Style
One main reason is personal style, your preference. A coffee mug is a personal item. One that you use for coffee drinking every single day. Since it reflects your style, many people want a personalized coffee mug that features something they love. Here are some common styles of coffee mugs:
Stylized name
Favorite photo
Favorite place
A message or a quote
Favorite movie
Celebrity picture
Favorite sports player
Favorite animal
Cartoon character
Pet photo
Marriage photo
Or just about anything nice to look at
Marketing giveaways/promotional items
Coffee mugs is quickly becoming a favorite promotional item for business. It is inexpensive and highly recognizable. It can be displayed in the office or used as a household item.
Gifts
Coffee mugs are perfect gifts to just about anyone. A lot of people are also collecting coffee mugs now so you can easily satisfy someone with a nice personalized coffee mug. Coffee mugs are also given out as gifts for guests who attended weddings and parties. It serves as a nice little gift to remember the people who invited us on their special day.
Types of coffee mugs
Coffee mugs are made from different materials. Here are the most common types of mugs available today:
Ceramic – this is the most common type of mug used for custom designs. Ceramic is inexpensive, more durable than glass and easier to print on.
Stainless steel – this is more expensive than ceramic but are more durable and sturdy. Perfect for business and other marketing promotional ideas.
Glass – this is the least durable but more elegant looking because of its clear surface. More preferred by tea drinkers.
If you are looking for a perfect coffee mug gift, you can check out the grumpy cat design which is the rave today.
Best grumpy cat coffee mugs
If you have not seen Tard the Grumpy Cat, it's time to check it out. While you are it, these grumpy cat designs may just be your needed fixer-upper in the morning.
Grumpy Cat No Mug
Why buyers love it:
Classic black design, that's sleek looking
White cat color for easy recognition
Perfect explanation for your grumpy mood on those days when you just don't feel like being nice
A great reminder to smile or else you'll like this grumpy cat
Can hold up to 11 ounces of coffee
Grumpy Cat Good Morning? No Such Thing Black Mug
Why buyers love it:
There are just mornings when you think you woke up on the wrong side of the bed
This is a perfect reminder for people around you not to mess with you on days like this one
Ceramic mug
Classic black design
SO Much TO DO-Grumpy Cat Mug
Why buyers love it:
Place it on your table and give your manager a subtle reminder that you are busy
Highly customizable for various events and celebrations
No-fuss reminder to tell people around you that you just want to enjoy your coffee and never be bothered for the moment
Ceramic made
White background with black embellishments
ZMvise Funny Novelty for Work, Nope, Grumpy Cat
Why buyers love it:
Just say no, period.
Simple design but says a lot
A cute and funny way to say no to people, just flash it when they ask something and you feel like saying no
White ceramic for easy personalization
Perfect for gifts during birthdays, Halloween or Christmas
Just be careful when you give to your mom or dad because they could use it to your disadvantage
Mugvana 11oz Coffee Mugs Grumpy Cat World Domination
Why buyers love it:
Colored design, a different take on the usual monochrome styles
Perfect gift for book lovers
Perfect gift for people who loves to make plans
A little tease to your partner who plans on taking over your world
Black & White Grumpy Cat | Funny White 11 oz Coffee Mug
Why buyers love it:
Cat and panda lovers will love these simple design that looks like a cross over of two loved animals
Just want to stay at home or feeling grouchy, this is your perfect partner mug
Tease your friend who is always on bad mood
Funny Grumpy Cat Mug – I Don't Like Morning People… Or Mornings… Or People
Why buyers love it:
A very funny message that reminds you of really bad days
A little tease to evening people, those who love to burn the midnight oil
Perfect gift for friends who works at night and sleeps in the morning
This silly quote will surely put a smile on anyone's face