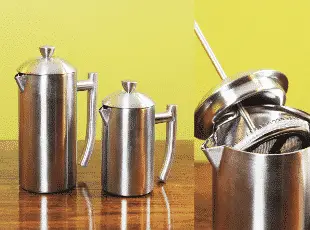 I've been using a simple french press coffee maker almost daily for nearly three months now. I actually go back and forth between it and my moka pot which I use to make stove top espresso both for myself and for my wife's Americanos.
There is no denying that cheap french press coffee makers make coffee that is awesome – Howard Schultz, the president of Starbucks, uses one in his own home after all, but the biggest complaint I've had regarding my french press is not the size or the quality of coffee it makes but the fact that if I make a whole pot for myself I have to pour it into a thermal carafe or travel mug to keep it hot while I drink my first cup.
Sure, if you make a 32 ounce pot of french press coffee and pour it into two 16oz travel mugs and both you and the spouse head out the door then the thermal insulation is not necessary but for people like me who make 32oz for myself it's annoying that my basic Bodum Brazil lets the coffee cool up substantially by the time I get to cup #2.
So I'm adding to my long and growing list of "I-Need-That" coffee gadgetry an insulated french press coffee maker. And before you go off thinking "Brian, you don't need to drink 32oz of coffee in the morning" let me say this. I sometimes only drink 16 but I like to drink it out of smaller cups. I don't always use my gigantic travel mug after all.
Even if I make half a pot of french press coffee I still get two standard 8 ounce cups out of it and this is more extreme. 8 ounces of coffee sitting in a non-insulated glass container gets cold rather quickly.
In any event, I haven't purchased on of these yet but I intend on doing so in the next month or two. I think it will be good for me and will give me the opportunity to upgrade to something a bit more stylish for a minimal cost.
These are the best insulated french press coffee makers sold en masse today and they are the one's I'm looking at although I think I'm going to end up buying the Double Walled Bodum Chambord because it's the right size for me and I like the way it looks. I'm not to keep on drinking off of plastic but I'm fine having a little bit of plastic in my plunger. It's not that big of a deal.
The Best Double Walled French Press Pots Are Stainless Using Little Or No Plastic
Insulated Glass French Press Coffee Makers Are Slightly Cheaper And Still Top Of The Line
You can also the french press store here on the site for more ideas.
=======
The Best Insulated French Press Coffee Makers
Without a doubt, French press coffee makers are practical kitchen equipment. It's easy to use, easy to clean and easy to maintain.
You don't even need electricity to make it run. Armed with great coffee grounds and hot water, you can have freshly brewed coffee in less than five minutes.
No wonder coffee lovers have more than one French press at home.
How to find the right French press for you
French press coffee makers come in different shapes and sizes. You may consider the following factors when buying a French press.
French press coffee makers have different sizes and can yield single serve coffee or up to 16 cups coffee in one brewing.
Capacity ranges from 8 0z to 51 oz. It's just a matter of preference. If you are living alone or the only person at home who loves coffee, get a single serve French press or a regular sized press that can serve up to 4 cups.
Glass carafe is the trademark body of a French press. Most early models of French press makers are glass. It's easy to clean, classy and elegant. However, it's prone to breakage and many user had to replace their French press time and again.
There are also ceramic and stoneware models that gave the French press a different look.
But it is the stainless steel model, especially those with double wall system, insulation and vacuum-seal interior that paved the way for new generation French press coffee makers.
It added more convenience and practicality. Coffee lovers can now make French pressed coffee in the morning and keep it hot for hours.
Best insulated French press
Here are highly recommended insulated French press to suit your every day caffeine fix.
Bodum 1308-16 Columbia 8-Cup Stainless-Steel Thermal Press Pot
Best features:
Yield coffee in just a few minutes
Double wall insulation, stainless steel construction
3-part Stainless steel plunger to extract coffee flavor, aroma. No more paper filter
Durable stainless steel design, spill-proof lid and dishwasher safe
The Bodum brand is one of the best known makers of French press pots. The Columbia model is no exception to the outstanding beauty and functionality of the Bodum line. With its insulated wall feature, the Columbia can keep brewed coffee hot for up to 2 hours. With its large capacity, you can easily get a refill or serve a fresh cup when a guest suddenly arrives.
Thermos 34-Ounce Vacuum Insulated Stainless-Steel Gourmet Coffee Press
Best features:
Large capacity pot for more coffee
Thermos vacuum technology for efficient heat management
Effective filter system to extract exquisitely brewed coffee
Thermos is known for its efficient vacuum seal technology for keeping food and drinks hot or cold for several hours. Having this Thermos French press means you are getting quality insulated material that's design to keep the ideal temperature of your drink for up to 4 hours.
Frieling Brushed Stainless Steel French Press, 36-Ounce
Best features:
Durable, high grade stainless steel that promises to keep coffee hot 4x longer than regular glass carafe
All parts are dishwasher safe
Large capacity for brewing more coffee
Excellent filter system
This award-winning brand is recommended by hotels and restaurants because if its elegant design and superb functionality. But it's pricey compared to others.
Grunwerg Cafe Ole Double Wall Insulated 8 Cup/35oz Stainless Steel French Coffee Press
Best features:
High grade, stainless steel insulated carafe
Large capacity French press
Efficient filter system
The Grunwerg model is a durable insulated French press. Users who had been using glass carafe were happy to switch to insulated stainless model. This is a good starting point because it's affordable for most coffee lovers. Coffee remains hot for hours and you can enjoy refilling your cup.
BonJour French Press Triomphe 8-cup Double Wall Insulated Stainless Steel With Flavor Lock Brewing
Best features:
Sleek and elegant stainless steel design
8-cup capacity for more coffee drinking
Double wall to ensure that interior is hot but handle remains cool to hold
Patented Flavor Lock filter system to efficiently extract coffee and keep flavor and aroma
It comes with a large capacity container enough to hold 8 cups of coffee, perfect for a to medium sized family. You can even bring this to the office and share with your colleagues or pack it the next time you go out camping. It's economical and durable.
How to extend the life of your insulated French press coffee maker
It's easy to get a new French press coffee maker nowadays. You just get one from big online shopping sites and get it delivered to your doorstep. But there are also ways to effectively extend the life of your French press so you can maximize its usage.
Always follow manufacturers' instruction especially in terms of using and caring. Check if the French press carafe and parts are dishwasher safe, hand wash only and microwave safe. This will prevent improper use and handling that can affect the performance and heat management function of the insulated carafe.
Clean your French press after every use. To avoid hard build up of water minerals, coffee stain and stale coffee smell, wash up your French press after each use. Don't let it sit in the sink for hours before washing.
Make sure all parts are dry before you store them in the cupboard.