I go through life coming in contact with all kinds of people. Among them are those who are coffee lovers. The most common place I come in contact with them is at coffee shops. A lot of the time we meet at a high-end coffee shop and this comment or question often comes up: "How do they make their coffee so well?"
As I do my research I find that it isn't only about the kinds of beans or the coffee machine, a lot of it has to do with the quality of grinder that you have. Not just any grinder will do. If you are making French press you need to use the right kind of grinder.
The Best Coffee Grinder for the French Press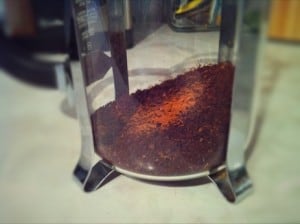 Having a coffee grinder is an important tool to have. Sure, you could grind your coffee in a food processor, but why not use the right tool for the job?
Grinding it right will give you the full-aromatic experience. You can choose the beans that you want instead of buying some already ground products, but trying to find the best coffee bean grinder for your home can be very hard. I mean, there are different styles, features, options and of course, prices. I am sure that you want to make the best decision when choosing your grinder; one that looks good in your home; one that comes with the features you need; one that has little effect on your pocketbook. People like to say that your coffee grinder should be at least 1/3 of the cost of your coffee machine to match the quality.
True coffee fanatics know that the best method of making the most superb cup of coffee is by using a French press. French presses are cheaper and come with a unique sense of satisfaction in your cup of coffee. Using a French press is actually pretty simple, but an important aspect of coffee brewing has been disgustingly overlooked. What I mean is that people don't think much about the grind. The grind is very important, especially if you want to use the French press to its complete potential.
---
Related – Check out the following posts to see my favorite insulated French presses and the largest French presses I've experimented with.
---
So, as you look at those around you and look at the coffee life they lead, you will notice that this oversight is a real problem. This could be for various reasons:
They don't like to do their research
Family traditions
False advertising of grinder companies
There are many grinders out there. If you read reviews of each, you will come to find that they are all alike. By "alike" I mean that you will find that there are pros and cons to all grinders. People who brew coffee that requires fine ground coffee beans need to find the best grinder that achieves a consistent fine grind. People who brew coffee that requires coarse ground coffee beans need to find the best grinder that achieves a consistent coarse grind. However, if people want to produce different kinds of coffee, then they need to look for the best well-rounded grinder. There are grinders that use blades and others that use burrs to grind their coffee. I will explain in another article why burr grinders are better than blade grinders, but you will find as you do a little research on burr grinders that most have a specific setting for French press that supposedly gives you the desired coarseness for French pressing coffee. But mechanically, they are too incompetent to actually make this a reality. This seems to be a problem that impacts most cheaper burr grinders. Like they say, "You get what you pay for!"
Related Reading – French Press Coffee vs Stovetop Espresso
To put this simply, the best coffee grinder for a French press is one that is consistent in its production of a coarse grind. Uniformity is the key to success in this subject. Coffee grounds should be consistent in size. If you have too many chunks it will make your brew weak and too many finer particles will give you "mud" or "sludge". In my experience, I found that the best way to give you an explanation of the desired coarseness for French press is by saying that coffee grounds should be SLIGHTLY finer than steel cut oats.
My title tells you the purpose of this article. I really want to open your eyes so that you can look past all these claims that manufacturers have set for themselves so that you can determine for yourself, with your new-found knowledge, what the best French press coffee grinder is, based on what you have read above and on what the French press expects from us. When choosing your coffee grinder, you need to educate yourself on several things:
The features
The convenience
The performance
The build quality
The value for your money
Let me tell you that there are so many grinders out there that are incapable of giving you a coarse enough grind, and there are others that barely pass as competent, but among those here are some of the best: Kyocera VM-45CF, Breville BCG600SIL, Capresso 565, Zassenhaus 156BU, and Baratza Encore.
Now, I have found that many people prefer manual grinders due to the fact that they may be more consistent in their grinding. Many people seem to be pretty satisfied with the Zassenhaus brand. Here are what I have found to be most effective to use for French pressed coffee grounds: Zassenhous Santiago, Zassenhaus 156BU, and Zassenhous Brasilia 151DG.
There is a growing love for coffee everywhere that isn't losing momentum. People are making sure they're having the best experience in their coffee-drinking and coffee-making lives. You may live alone, have a family of your own or you may be living with your parents; you may have moved a lot, lost a job or lost that perfect girl or guy, but coffee has remained faithful to you throughout the years. The last thing you want to do is neglect it in return. There are so many things to learn about coffee. It is always good to educate yourself, especially about the things that you are most passionate about. I can only conclude that since you have read my article, coffee is something you are passionate about. As always, I hope that you are now more educated and equipped to face the world of coffee with great boldness and confidence.