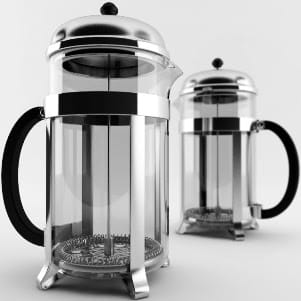 Back in my not-so-distant past I was known for drinking lots and lots of coffee at a time. I used the largest travel mugs to tote around my coffee and I would refill it once or twice every day. This kept me mostly amped from dawn until dusk.
These days I drink higher quality coffee with less volume. I drink smaller amounts of espresso and french press coffee but even still I'm occasionally tempted to sip on coffee all day long. My regular sized french press limits me from doing this however – I can only brew so much at a time. 32 ounces may seem like a lot to many people out there but if you share your coffee with even just one other person it goes away pretty quickly.
These days my wife is starting to drink more coffee than ever before – she's has a cup every now and then. 🙂 When I brew a full french press some of the coffee stays at the bottom of the press pot as it is mostly mud, some goes to my wife, and I'm left with only one and a half big cups left for myself. Sometimes that's just not enough. 🙂
In most cases this is fine but if my wife drank more then I would be brewing up two pots of coffee every morning and that would get old fast I think.
I'm also tempted to pick up a large french press for the very purpose of having versatility in the kitchen. It doesn't happen often but whenever I need to make coffee for more than just a couple people I always have to use the automatic drip coffee maker – it just makes more cups.
It would be nice to serve guests the best coffee I have and that usually comes from my french press. I've been looking around and I know that mostly french presses are all very similar. Unless you pay up for an insulated pot or go for something made of very little (or no) plastic you will generally do just fine with a low priced unit.
Here are the larger french press coffee pots I've been looking at. For the most part they aren't too fancy – they're just listed here based on their larger size.
Head back here to see my main page for french press coffee makers.
=====
The Largest French Press Coffee Makers
If you want fresh brewed coffee quickly but still have that great aroma and taste, the French press is your perfect partner.
Using a French press is super easy. You just need coffee grounds and hot water and you can start brewing coffee.
Making great coffee with a French press
In order to make great coffee with a French press, always remember three important elements:
Quality coffee beans – You need to ensure that you have the right coffee ground perfect for French press. You cannot use just fine ground coffee. It will pass through the filter and end up in your cup. Coffee aficionados recommend coarse ground coffee. You can use a burr grinder to achieve the perfect texture of ground coffee that goes well with a French press.
Optimum water temperature – Never use boiling water. Aside from its scalding hot for use, it will only burn your coffee grounds and yield a bitter coffee. The optimum water temperature is between 195 degrees Fahrenheit to 205 degrees Fahrenheit. At this temperature, the natural oils, aroma and flavor of coffee are extracted.
Steeping time – You need to steep the coffee grounds before pressing it. Ideally, 3 to 4 minutes are enough for steeping to ensure that coffee grounds are wet evenly.
Different kinds of French press
French presses can be classified according to sizes and types.
French press by sizes – French presses are available in different sizes: single serve, 3-cup, 4-cup, 6-cup, 8-cup and 10-cup and above.
French press by type of material – Different materials are used for the carafe of the French press. The most common is glass carafe. But there are other options like, stainless steel, ceramic, stone, double wall and travel mug press.
Largest French press coffee makers
If you are looking for a bigger and better performing French press coffee makers, take a look at these recommendations for the largest French press machines available.
SterlingPro French Press Double-Wall Stainless Steel Mirror Finish (1.75L) 
Most loved features:
Can hold up to 59 oz of coffee, equal to 16 cups of coffee or 8 coffee mugs
Best stainless steel interior, rust-free, dishwasher safe
It has a double wall system that can keep coffee hot for hours
Uses double screen system to ensure that no coffee ground ends in your cup
SterlingPro 59 ounce is the largest French press available in the market today. Its stainless steel body helps keep coffee hot for hours. It is a good partner when you are entertaining guests, holding a meeting or having a fun coffee party inside the house or when you go outdoors.
Bodum BRAZIL Coffee Maker, French Press Coffee Maker, Black, 51 Ounce (12 Cup)
Most loved features:
Can yield 12 cups of coffee
It's dishwasher safe for easy cleaning
Made of heat resistant glass, BPA-free and good grade mesh wire
Features 3-part stainless steel plunger to ensure optimum coffee flavor and aroma
The large Bodum French press brings out the best of the Bodum brand. Bodum is known for durable and heat resistant French press. This large French press is perfect for parties. If you plan to go camping, the durable Bodum French press can be packed and used to serve coffee under the stars.
LINKYO Stainless Steel French Press Coffee Maker 1.5L, 50oz
Most loved features:
Can yield up to 12 cups of coffee
Unique sleek stainless steel design, not your typical French press look
Highly durable stainless steel body, no breakage
Multi-filter plunger system to prevent coffee grounds from ending in your cup
The LINKYO French press is gaining popularity because of its beautiful design, ergonomic body and easy-to-clean feature. It has a double wall interior that keeps coffee warm for hours. Perfect for home parties and outdoor activities.
Blümwares 50 Ounce (1500ml) French Press Coffee Maker – 18/10 Stainless Steel
Most loved features:
Can yield 10 to 12 cups of coffee
High grade stainless steel, built to last, scratch proof and rust-resistant
Triple-layered plunger and multi-filter system helps keep coffee grounds from your cup of coffee
Double wall feature to keep coffee warm for hours
The Blümwares 50 Ounce is big enough for house guests and instant coffee party. It's nice and sleek design is perfect centerpiece on your guests' table. This top-of-the-line model brings out the fine taste and aroma that we love for our coffee.
Secura 1500ML French Press Coffee Maker, 50-Ounce, Stainless Steel 
Most loved features:
Yields up to 12 cups of coffee
Food grade, high grade stainless steel interior
BPA free
Double wall insulation, heat resistant exterior body
Multi-filter system to filter coffee grounds
This American-made French press is popular among professionals because of its straightforward surface, functional handle and spill-free spout. It is easy to clean and easy to store because of its minimalist design.
Why do you need a large French press?
Maybe you already own a four-cup French press and you find it functional and just enough for you and your family.
But did it ever occur to you that a large French press will be practical when guests decide to come over for a coffee party or an afternoon tea?
Imagine the hassle if you would use your four-cup French press to make 16 cups of coffee. I bet your time will be spent in preparing coffee and less time catching up and bonding with your guests.
Invest in a large French press today. You will never regret it.