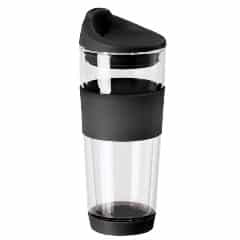 If you don't want plastic and would rather not use stainless steel a glass-bodied travel mug is an excellent option. They are generally attractive and a bit unorthodox and they can perform very well as a travel mug for both coffee, tea, or cold drinks.
Glass can easily be made with a double walled design making glass travel mugs good performers for thermal retention. They aren't ever going to be the best at keeping your drinks hot but they will do just as fine if not better than even the best plastic travel mugs.
The biggest selling point of these mugs is that they do not use plastic – or at least they use far less plastic than many other options – and they generally cost less than high end stainless steel mugs.
My List of Top Rated Glass Travel Mugs
Here are some of my favorites in the category as well as a few of the best-selling glass travel mugs. All of these come with lids as you can plainly see in their pictures.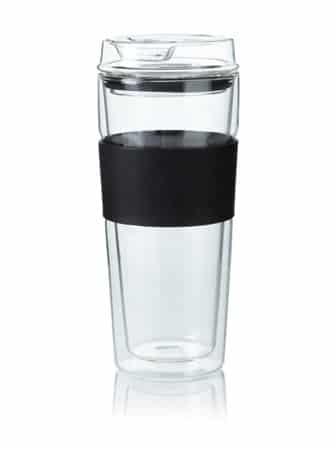 Takeya Double Wall Glass Tea/Coffee Tumbler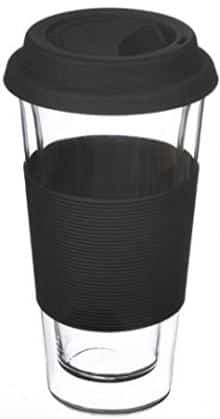 GLASSEN Double Walled Glass Travel Mug w/ Silicone Grip & Lid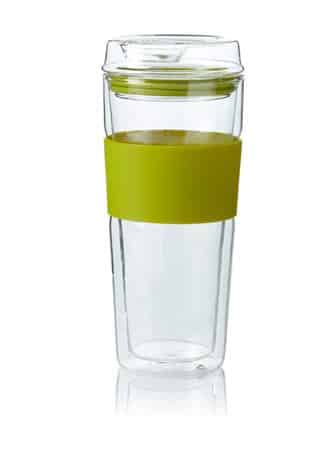 Green Takeya Double Wall Glass Travel Mug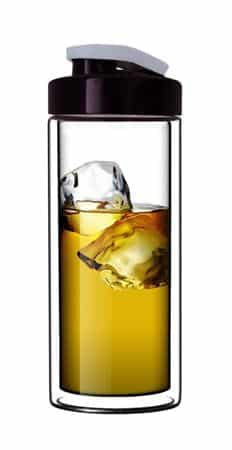 Sun's Tea 18oz Clear Double-Wall Glass Travel Mug w/ Flip Drinkhole Lid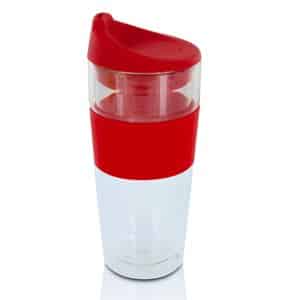 Smart Planet EC-46 14-Ounce Double-Wall Glass Coffee Travel Mug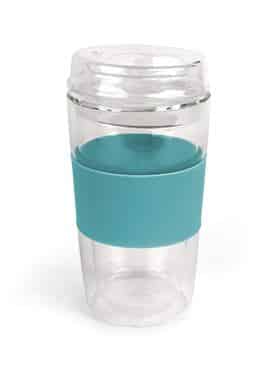 10-Ounce Kikkerland Double Walled Glass Tumbler with Lid
You can also see this page for more of the best travel mugs for sale today by style.
The Beauty of Glass
When you see a glass travel mug, it's hard not to make a second look. It's simple attractive. Not to mention you easily get curious when the content is bared out for you look at.
Imagine: You are traveling and you just wish you have a coffee with you. Then suddenly, a person walks by with a glass travel mug with coffee. Tempting, right? How you wish you had one right now.
Many people today are opting for glass travel mugs because they just want to veer away from using plastic. Maybe it's a conscious effort to be environmental or it's an act of necessity, glass travel mugs are becoming popular to travelers and people on-the-go.
If you are planning to buy a tumbler made from glass I've got a few more top recommendations that I wanted to give you some extra information on to help you shop.
BrewGlobal Brewista Smart Mug – Durable, Double Walled, Glass – Black
Main Features:
450ml (15oz) capacity
Durable tempered borosilicate glass
Double wall glass travel mug – keeps hands cool and maintains beverage temperature
Non-slip silicone grip and lid stay firmly in place for worry-free sipping
KeepCup Travel Mug, 16 oz, Rock Salt
Main Features:
BPA free; non toxic; lid manufactured from polypropylene
Tough; durable; fully-tempered soda-lime glass; recyclable
Splash proof, sealable lid and plug for sipper hole, meets occupational safety and health standards
Microwave safe, lightweight and hard-wearing materials
Takeya Double-Wall Glass Tea/Coffee Tumbler, Green, 16-Ounce
Main Features:
Holds 16oz of beverage
Enjoy beverage from a glass sip lid
Double wall galss construction helps insulate beverage
Leak-proof silicone seal and silione non-slip grip
BPA free Material
Mr. Coffee Double Wall Glass Thermal Tumbler
Main Features:
Double wall design protects your hands from extreme temperatures
Hand wash with warm water and mild detergent after each use
Comfortable drink-thru Silicone lid
Double wall design reduces exterior condensation
Keeps hot or cold beverages insulated
Huswell Insulated Double Wall Glass Coffee Travel Tumbler, 10 oz.
Main Features:
Dual walled borosilicate material is designed to maintain hot or cold beverage optimal temperature
Gap between layers ensures you can handle hot drinks safely without any risk of injury
Unlike plastic portable mugs, this contains no harmful chemicals that can leach into your drinks
Dishwasher-safe, Eco-friendly, reusable glasses help reduce waste & helps save you money
Large 10 oz. (300 ml.) traveling mug fits most car cup holders & has silicone leak-proof lid & grip
Princeton Tea Tumbler Travel Mug Cup Double Wall Insulated Borosilicate Glass Large 14 Ounces For To Go Coffee
Main Features:
The unique shape and all-glass construction of the travel tumbler allow your to appreciate the aroma and color of your tea and coffee. No metallic smell or taste. BPA-free and lead free.
Tough borosilicate glass allows liquids to shimmer as they are suspended in mid air.
Microwave and dishwasher safe
Cypress Home Proud Peacock Double Wall Glass Travel Coffee Cup with Lid
Main Features:
Keep your drinks hot or cold for Longer while on-the-go
Double-walled, insulated glass with exterior and interior decal designs
Top-rack dishwasher and microwave safe
Boroux Original Glass Water Bottle .5 Liter-Handmade From Eco Friendly, BPA Free, Pure Borosilicate Glass
Main Features:
Boroux Bottles are 2 5/8″ in diameter making them easy to drink from, ice cube compatible, and easy to clean by bottle brush or dishwasher.
Lid is also dishwasher safe
Boroux Glass Bottles are a non-toxic, BPA free, eco-friendly, and reusable alternative to plastic bottles.
Lifefactory 16-Ounce BPA-Free Glass Water Bottle with Leakproof Classic Cap and Silicone Sleeve
Main Features:
This lass bottles offer a pure taste with no leaching from plastics or metals; with wide-mouth access makes it easy to add ice cubes, citrus slices or tea bags
Protective silicone sleeve provides durability and a non-slip gripping surface
Dishwasher safe (place cap on top rack/no need to remove silicone sleeve)
All components made in the U.S. or Europe. Product assembled in the U.S.
All materials BPA/BPS-free and phthalate-free. All materials are FDA approved
Patent pending silicone sleeve provides a great gripping surface and helps to prevent breakage
EcoVessel SURF SPORT Glass Water Bottle with Protective Silicone Sleeve and Loop Top – 22 Ounces
Main Features:
Enjoy classic glass without the concern of breaking. Our silicone sleeve, with its padded Drop Shield base, has been tested to withstand damage from drops from a height of 8 feet
For your convenience, the openings on all of the bottles are wide for easy filling with ice cubes. The Surf is available with a choice of tops that are interchangeable, so you can mix and match to customize your bottle.
BPA-free, non-toxic
How to Care for Your Glass Travel Mug
Most glass travel mugs in these list are reinforced to withstand minor falls and bumps. But since it's made of glass, you need to be extra careful when using it. Here are tips to care for your glass travel mug:
Always follow manufacturer's instruction in terms of usage and cleaning.
Make sure to clean your travel mug after each use. This will prevent molds and dirt build up.
If you want to put hot drinks in your glass, make sure it's insulate or has a double wall system so you avoid any accidents when holding it.