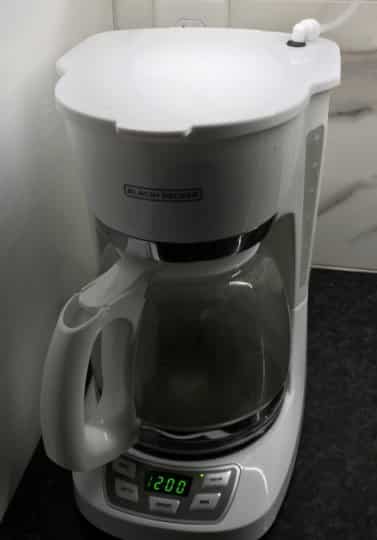 Imagine this – you walk to your coffee maker first thing in the morning and add your grind, k-cup, or coffee-pod. You then press the brew button without adding any water to the reservoir and it brews your coffee anyway… it does it all by itself without without you having to add water.
The Dream! That is what we all want I think.
First thing in the morning it's certainly what I want. I sure don't want to have to prep very much right out of bed. The last thing I want to have to do is fill a water tank at the faucet while the kids, dogs, and cats are clamoring at my heels all while I'm getting ready for work.
The thing is though that this is not a dream.
You can have a plumbed coffee maker with a direct water line connection in your own kitchen and it doesn't even take a professional to install it either. They are so much better than even the machines with removable reservoirs.
In this article I'll show you some options for simple coffee pot modifications using kits like the umjava kit pictured above as well as a couple options that should work right out of the box making your morning a little nicer.
Before we get to it though your best option for a home machine designed specifically for auto-filling is probably the Keurig K150 whichmay be hard to find for sale these days except for third party sellers on Amazon or eBay.
You first would buy the K150 and then you would buy the K150 waterline kit which is basically a replacement tank with the waterline and valves already connected.
If you already have a reservoir based coffee maker, a Nespresso machine, or some other K-cup brewer that uses a refillable water tank then that's when you would look to install the umjava kit to add water directly to the tank.
PureWater Filters also has a universal waterline kit for reservoir coffee machines that can work with them all too but it's more expensive due to the added water filter included in the kit.
One thing to note however is that both umjava and PureWater Filters kits will only work for you if you are ok drilling a hole into the side of your existing water reservoir for the water inlet.
If you don't want to do that then you'll have to buy a special machine.
A Coffee Maker with Water Line Connection is Easier Than You Think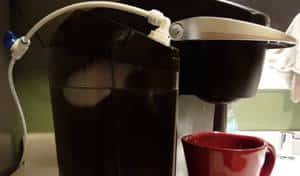 If you want to upgrade your coffee maker at home to a system that includes a connection to your water line then you are going to have be a tiny bit comfortable with light plumbing.
Much like you would hook up a water line to a fridge or to a dishwasher you will do the same to your coffee pot. This job might be a stretch for some people but for the vast majority pf people it's going to be just fine… so long as you don't want it recessed into the wall.
Hooking up a coffee maker to your home's water supply is not rocket science. If you start with a good machine that is built to handle this setup then it's really all about following the instructions and buying the right accessories.
For the average system (unless you buy a plumbed kit) you will need to separately buy:
water lines,
water filters (if you want), and
the correct fittings for your line.
All of these should easily be found on Amazon or a local plumbers supply store – probably even your local Home Depot.
The easiest thing to do however is to buy the kits already assembled although you can save a bit of money putting them together yourself.
Here's a video description of a DIY plumbing kit put together on a Keurig coffee maker complete with a float valve for automatic filling.
HiBREW makes a pre-assembled kit just like this that can work with many older keurig machines that all use the same lid style.
If you already have one of the older keurig models this kit may work for you but a lot of people dislike this automatic style because float valves can fail or leak which can result in a kitchen flood.
The obvious solution to the risk of leaks and floods is to ditch the idea of the automatic water refill and instead opt for a ball valve at the machine that you manually toggle to fill the water reservoir on demand.
The universal kit offered by PureWater Filters doesn't take use a float for automatic filling or automatic shutoff but instead it connects to your water reservoir through a small hole you drill into it. Then whenever you need more water in your tank you just open the water valve and let it run then shut the valve manually once your water tank full.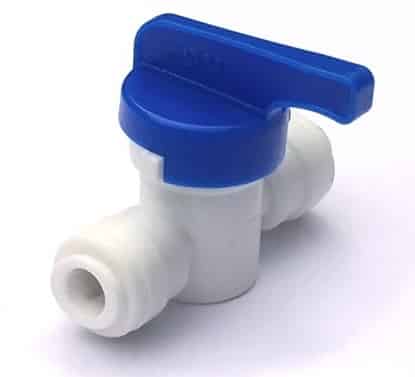 This is obviously a manual process but most people do it while the coffee maker brews and it usually doesn't take more than a few seconds to replace 10-ounces of water in a reservoir from your existing refrigerator or dishwasher water line that you are likely to tap into.
It's also far safer to use this setup because the only way it is nearly impossible to leak and flood your kitchen unless you just turn the water on and walk away.
Self-Filling Coffee Makers That Require Very Little Effort
Here are some of the best home coffee makers for sale today that easily hookup to water supply lines.
I particularly like the single-cup machines because they enhance the already super convenient nature of the machine however full pot coffee makers that are also designed with an external water tank that can be refilled at the sink are great candidates.
Also of note every Nespresso machine can use the universal kits too because they also feature removable water tanks that must be refilled over-and-over-and-over.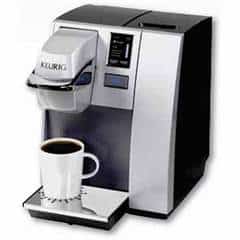 The Keurig B150/K150 Brewing System
If you go this route you must also purchase the Keurig plumb kit which is basically a replacement water reservoir designed for the water line connection.
You can't go wrong with Keurig coffee systems. Unless you just don't like the "pod coffee" concept this is the setup I'd put in my home every time.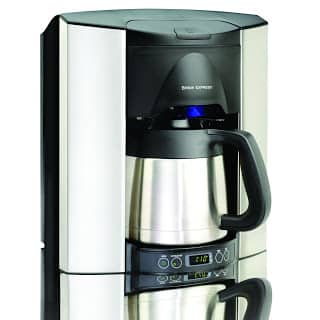 Brew Express 10-Cup Countertop Coffee System (BEC-110BS)
This direct plumbed waterline-only system is perfect for those of you who don't like the idea of single cup (k-cup) coffee makers.
This is a 10-cup drip coffee maker that is high end in every way. You simply connect it to your kitchen water line much like you would a refrigerator and you never have to fill the coffee pot with water again.
This machine is actually designed for direct water connections first so it's the easiest option of them all. In fact it doesn't even have a conventional reservoir at all – you have to connect it to your water supply for it to work.
If you can manage to hook a water filter up it to it then you'll have the best cup of coffee possible every time for the least amount of effort. Gotta love that!


It shouldn't be a secret, either of these would make a great gift for coffee lovers!
Step 1: Connect Keurig to Water Line – Step 2: Coffee on Demand
To make your own in line coffee maker all it requires is a little bit of time and a Keurig water line kit which doesn't cost very much. Assuming you already have a reservoir brewer all you have to do is connect to water supply with the tools and accessories provided in the kit.
Legitimately the hardest part of the whole process of getting your plumbed Keurig operational is to figure out how to run the line from under the sink to the top of your counter. A polished job means running it through the wall but in some kitchens it may be super easy to just drape a water line across the countertop to the coffee pot. After all those lines are usually just freely draped behind the fridge and en route to the dishwasher.
Having a Keurig with water line is worth it no matter how you decide to do it though. Just get creative, you can always pretty it up at a later date.
This is by far the best Keurig to run a direct water kit.
You Still Have to Maintain Your Auto Fill Coffee Maker
This article wouldn't be complete without mentioning this one last point. Even though the water flows through the machine all by itself you will still have to occasionally take the setup apart and clean it properly with either vinegar or a descaler.
Water contains minerals that buildup in your system slowing things down and affecting the performance of the heating element. And if you want to keep the coffee oils from building up then a descaler is a must. Vinegar alone may not do the trick.
One last point…
This is big for those people who tend to wash the coffee pot out in the morning instead of after finishing coffee later in the day.
If you really want to take full advantage of setting up a direct plumbed coffee maker then you will have to get in the habit of cleaning your pot and grind basket out before you go to bed so you don't have to deal with the water at all in the morning. Funny thing is this is my biggest problem.