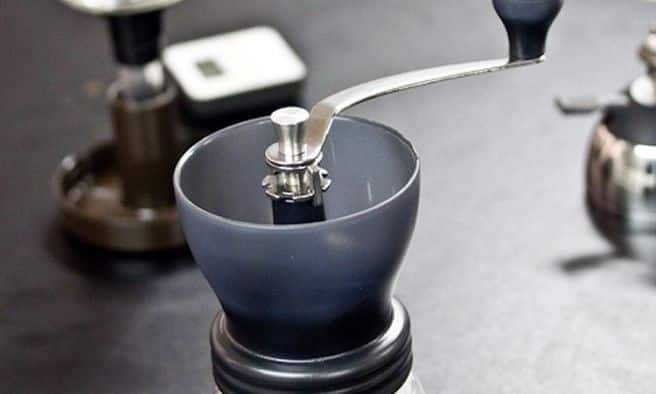 If you want to scale up and complete your home brewing skills, you will need to add a coffee burr grinder in your arsenal of coffee brewing equipment. Having a burr grinder will help you make freshly brewed coffee anytime.
However, many people still think that a burr grinder is out-of-budget. It may be true for some brands or if you are thinking of high-end, highly sophisticated, ultra-elegant coffer bean grinder.
In all practicality, there are burr grinders that will perform the task to your liking but without breaking the bank. The Hario Skerton is one of those brands.
A Japanese Pride
The Hario Skerton is a known Japanese brand for manual burr grinder. Just like the Bialetti of Italy and the Bodum of France, Hario Skerton carved its name in the coffee industry as a trusted brand when it comes to bean grinders.
The Japanese aesthetics is evident in the minimalist, functional, ergonomic and sleek design of the burr grinder. No doubt, the Skerton is an eye piece that speaks of quality and elegance.
And the good part, it is affordable. Whether you are starting out in your adventure of home brewing or expanding your reach to add a manual grinder, the Hario Skerton is the perfect choice for newbies and seasoned coffee brewers.
How to Choose a Burr Grinder
Today, you have so many options for burr grinders. Choose between manual or electric. There are also different kinds of burr blades. Finally, sizes do matter.
Here are some things to keep in mind when planning to buy a burr grinder:
Disc vs Conical Burr
Flat disc burr can be found in mid-range to high-end appliances. Flat burr grinders help shed heat quickly due to its large diameter.
Conical burr are commonly used in bargain grinders. It has a large surface area that can shed heat quickly than flat disc.
Both are good, but if you are on a budget, you will find a conical burr grinder for your need.
Steel vs Ceramic Burr
Burr grinders are either made from stainless steel or ceramic. Both materials are durable. Steel is more affordable than ceramic but it wears off in time. Ceramic is more durable in this case. If you opt for an espresso grinder, choose a ceramic type.
You will notice that most machine grinders are made from steel, while handheld or manual grinders tend to be ceramic.
Semi-automatic vs Fully Automatic
There are push button grinders but you need to hold it until the beans are done. Fully automatic has a switch that ticks off when the grinding is completed. For single serve or up to 3 cups, a semi automatic is ok. But if you will grind beans for a 12-cup pot, consider getting a fully automatic burr grinder.
Bean Hopper Size
Some prefers a larger storage area for coffee beans. This is really convenient. But, remember that coffee beans have a shelf life of four weeks. Longer than that, beans become stale. It becomes a matter of freshness vs convenience.
Hario Skerton Original Features
They say nothing beats the original. This rings some truth for the Hario Skerton original manual grinder.
Coffee lovers fell in love with this equipment for the following reasons:
It has ceramic burrs that are sturdy and durable but won't burn your sensitive beans.

Grinding exerts heat due to the rapid friction between the blade and the beans. Metal burrs tend to heat up in the process and damage the beans. But ceramic burrs do not have this characteristic. As a result, it preserves the flavor of the beans before and after grinding.

The Skerton original can hold up to 100 grams of coffee beans.

Do not underestimate the capacity of this small manual grinder. Unlike its counterparts, it can hold up to 100 grams of beans for manual grinding. It is most suitable for grinding for French press. You can get coarse ground that's perfect also for cold brew. With other grinders, you will need to reload and grind again. With Skerton, you save half of that manpower.

It is super affordable.

Owning the Skerton will not break your bank. In fact, it is one of the most affordable coffee burr grinder out there. Check it out and see for yourself to know the amazing deal you can get when you purchase a Skerton.

It gives a consistent grind.

Whether you are making a Turkish coffee or a cold brew, the Skerton can help you yield a nice coffee ground that's perfect for your brew. Just a word of caution, since Turkish brew requires super fine ground coffee, prepare to do some hand and elbow grease to make this happen.
Hario Skerton Plus Features
If you think the Hario Skerton Original cannot be improved, think again. While the classic design is already a winner, the Skerton Plus features an additional part that makes manual grinding
even more efficient.
Here is the added feature of the Hario Skerton Plus additional reasons why coffee lovers opted buying this model:
It has a stabilizing plate.

This is the biggest update of the Skerton plus from the original. The stabilizing plate helps keep the lower burr steady while grinding. This also lessens the force exerted when grinding.

It has nice ceramic burrs.

The burrs are precisely shaped for coffee grinding. This means you grind the beans in every turn so can have more even and consistent grind compared to electric metal burrs.

Universal ball jar thread

If you feel that the glass jar provided is too small for your need, you can easily swap it with a bigger ball jar and still fit under the burr. How convenient is that?

It is very easy to clean and store.

Did you know that you don't have to use water and soap when cleaning your Hario Skerton Plus? In fact, never use water at all. All you need is a small food brush to remove any coffee ground left in the burr. And that's it. Putting water may cause moisture to penetrate the mechanical parts of the burr grinder and reduce the optimum performance.
Hario Skerton Pro Features
Hario believes that there is always some room for improvement and they won't settle for better when they can make the best. They already have the formula for the best manual grinder. Just a little tweak and improvement and they got the all-new Hario Skerton Pro.
What makes it stand out? Here are the reasons:
It feels and looks more premium than its predecessors.

The Hario Skerton original and Plus both look sleek and elegant. But the Pro model topples these two in all aspects. The burr handle is built to last with a sleek finish. The ball jar is more polished. Most of the parts are made from plastic and silicone that are built to last. The jar is still made of glass. But in case it breaks, it's good to know that an ordinary mason jar will fit easily as a replacement.

It is easy to use.

All of the parts lock in place in one click. no need for readjustments. Hold the jar in one hand and grind using your other hand. Simple as that.

It has an improved grind adjustment.

With the older models, you had to remove the lid, dismantle it and locate the ring that adjusts the burr grind. With the Skerton Pro, the ring is just below the burr and you quickly adjust the grind depending in your preference.

It can grind fast.

For a manual grinder, the Hario Skerton Pro can grind 27 grams of coffee beans in about 99 seconds. This amount is good for 2-3 cups of coffee. It can also grind for espresso coffee in 2 minutes.