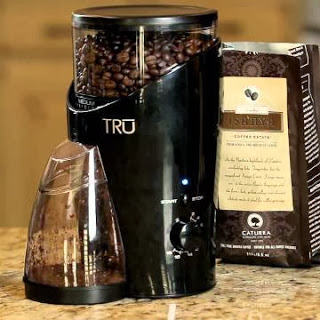 As you surely know not all coffee grinders are worth their weight and not all of them deserve to grind your coffee. The best coffee grinders use burrs to actually grind your coffee beans into usable grounds. The cheap blade grinders simply shred beans apart leaving many irregularly shaped bits including larger grind as well as powder.
Even in the burr grinder category however there are lots of different styles of grinders and many different price points. Not all burr grinders are alike either.
Some burr grinders use steel burrs while others are ceramic. Some burrs are sharp while others are dull. You can also choose between conical burr grinders and flat burr grinders. The options are pretty wide when you start analyzing the details.
Further complicating the purchasing process is the hard to detect build quality component. One seemingly great grinder that ticks off all the boxes may have burrs that "slip" leaving you with grind that is inconsistent in size. This is hard to identify without using the model for some time. Others may have electronic components that won't last long. Other units may be louder than you may like. In my home volume is a big deal. The first cheap burr grinder I brought into the kitchen quickly got moved to the garage because it made so much noise.
Other features that make some burr grinders better than others have to do with secondary features like electric automation. Automatic grinders simply cost more than manual versions and those electric grinders that are easy to clean and maintain can be even pricier.
Some of the best grinders have seamless and simplistic settings that make it easy to transition from French press coarse grind to espresso fine and everything in between.
If you are on a tight budget however you don't have to spend a fortune. Below I've featured some of the best inexpensive burr grinders. These aren't going to win any awards or be touted as the best of all but they are going to be decent low end burr grinders and will be better for your coffee than the low end blade grinders.
Not sure which grinder is right for you? See this post on manual coffee grinders vs electric or see this post on whether you even need a burr grinder in the first place.
If you are short of time however I still recommend all my readers who are shopping within a small budget to opt for the Hario Skerton manual coffee grinder. It's much cheaper than many entry level electric burr grinders and the unit will perform to a much higher standard too. You'd have to spend 3-4 times as much on an electric model to start out performing it.
For most people grinding coffee you'll probably be using either a medium grind for drip, pour-over, or for a moka pot or a coarse grind for french press or for possibly a percolator. For either of these grind sizes make sure you buy the coarse grind upgrade kit for the Skerton and prepare yourself for a couple minutes of hand grinding coffee every morning.
If however you are planning on grinding fine for espresso machines then it might be worth opting for an electric model listed above because hand grinding fine for espresso takes wicked long. It's no fun hand grinding coffee beans every morning for 5-10 minutes straight!
========
The Cheapest Burr Coffee Grinders
You will never appreciate the efficiency and convenience of having a coffee grinder unless you have one in your kitchen. Many people think that coffee grinders are expensive. Well, there are expensive ones in the market. But ,it does not mean you have to buy it and suffer.
There are so many options for burr coffee grinders. Last time I checked, there are over 170 coffee grinders available in the market. Whew! That's a lot of options.
Here are important factors you can consider before buying a coffee grinder.
Burr grinder buying guide
It helps to know what coffee grinders are available. Here is a quick rundown of the basic types of coffee grinders and the unique features of each one.
Disc vs Conical Burr
Flat disc burr can be found in mid-range to high-end appliances. Flat burr grinders help shed heat quickly due to its large diameter.
Conical burr are commonly used in bargain grinders. It has a large surface area that can shed heat quickly than flat disc.
Both are good, but if you are on a budget, you will find a conical burr grinder for your need.
Steel vs Ceramic Burr
Burr grinders are either made from stainless steel or ceramic. Both materials are durable. Steel is more affordable than ceramic but it wears off in time. Ceramic is more durable in this case. If you opt for an espresso grinder, choose a ceramic type.
You will notice that most machine grinders are made from steel, while handheld or manual grinders tend to be ceramic.
Semi-automatic vs Fully Automatic
There are push button grinders but you need to hold it until the beans are done. Fully automatic has a switch that ticks off when the grinding is completed. For single serve or up to 3 cups, a semi automatic is ok. But if you will grind beans for a 12-cup pot, consider getting a fully automatic burr grinder.
Bean hopper size
Some prefers a larger storage area for coffee beans. This is really convenient. But, remember that coffee beans have a shelf life of four weeks. Longer than that, beans become stale. It becomes a matter of freshness vs convenience.
Cheapest burr grinders
After considering these factors, it still boils down to your budget and preference. Let's take a look at the cheapest burr grinders and see their best features.
The Hario Skerton
Coffee craft enthusiasts love the sleek, hour-glass design of the Hario Skerton. The top is made of plastic while the container body is 100% glass. This is a perfect holding jar for ground coffee, especially if you are grinding for espresso.
Pros
An elegant design that adds character to your kitchen countertop
Easy to clean, non-stick and anti-static material
Container body has a twist top that transforms into an easy, airtight storage
Cons
Glass carafe can easily break, so take extra care
The top crank loosens after several grinding and requires constant re-tightening
The Capresso Infinity
For the price, this is one workhorse of a grinder. The burr is made of stainless steel and built to endure coffee grinding. It can churn uniform coffee grounds perfect for espresso, Aeropress and drip machines.
Pros
Durable and long-lasting components, provide great value for money
Relatively quiet for an electric burr grinder
Suitable coffee ground output for various drip brewing methods
Cons
Grinding chamber easily collects coffee grounds, may be difficult to clean in the long run
Can only grind medium to fine ground. Not suitable for French press
In a list of cheap burr grinders, this is the most expensive
The Bodum Bistro Burr Grinder
The Bodum brand is known for its impressive French press models. As such, it is safe to think that their burr grinders will work well with French press coffee maker. However, a closer look at the Bodum Bistro and its output will show that it makes the same grind as the Infinity. The burr grinder is made from steel but the gears are plastic. Some give and take when it comes to convenience and durability.
Pros
Modern and elegant design, classic Bodum brand
Glass carafe is static-proof, can double as a separate coffee ground storage
Cons
Plastic parts can easily wear over time
Yields same grind as Infinity, with little variations in between
Maximum output in one grind is good for four cups of coffee
The Porlex JP-30
The simple, ergonomic and practical design of the Porlex is an instant hit with travelers. It will easily fit in your spice countertop. Moreover, you can bring it anywhere you go and is a perfect companion of your Aeropress and portable French press mug.
Pros
Has a portable and simple, yet elegant design
Sturdy and durable stainless steel body
Ceramic burr grinder for easy cleaning
Cons
Small reservoir, about half the capacity of the Hario
Few grind settings
The Kalita Retro One
The smallest and cheapest grinder in the list. Vintage looking but the frame and body are sturdy and durable. You get a better than blade grinder, without breaking your budget.
Pros
Value for money
Vintage look
Durable stainless steel body
Cons
Burrs are not very sharp, expect some inconsistency with the coffee ground
There is no lid to keep the beans in place. Need extra care to avoid getting the beans flying around your kitchen