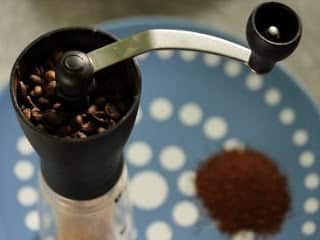 The very first coffee grinder I ever owned was a super cheap electric blade grinder that cost me somewhere around $15 or so. I bought the thing somewhere around 2002 when I moved into my first apartment.
I knew nothing about grinders at the time but I was buying whole bean coffee every now and then and this was all I could afford.
Since then I've grown up a lot.
I know a lot more about coffee and I know a lot more about grinders. And even though that first grinder still works I'll never be using it on coffee beans again – it shreds them and does very little good to fresh whole coffee beans.
Since I started drinking good coffee at home this year I've come to realize just how expensive coffee grinders can get. I don't have that kind of money and even though I love coffee I'm still not a nut enough to buy one of those machines. Maybe I'll do so if I get my hands on a proper dual boiler espresso machine but I don't see that happening any time soon.
In the mean time I've found that there are plenty of really good grinders that are still affordable.
The Best Coffee Grinders Under $50
Brewing coffee at home is an art form in itself. While brewing coffee does not take rocket science, there are important elements that come into play in order to make a good cup of coffee. For coffee aficionados, they have perfected that art of coffee brewing that they can confidently tell the world how they can make better coffee than your favorite coffee shop.
Coffee experts mention four important elements to make an excellent cup of brewed coffee:
use good arabica beans,
Use a fresh roast,
grind immediately before making coffee,
and get the water temperature and brew time right.
For espresso, there's another key element – pressure.
When combined, these elements come together and give you that aromatic morning drink loved by more than 1 billion of people around the world.
You can never enjoy coffee beans, unless its ground and extracted. To be able to this, you need to have a reliable coffee grinder to help you achieve your gourmet coffee dream.
Most of the "good enough" grinders priced less that $50 tend to be manual but there are some decent electric grinders in this price range too.
Below you'll see my picks for best sub $50 coffee grinders. Other people's opinions may differ but these are the one's I'd tell my mother about.
Mr. Coffee Automatic Burr Mill Grinder with 18 Custom Grinds, Silver
Main Features:
18 Custom Grind Settings
Removable Bean Hopper
Holds up to 1/2 Pound of Coffee Beans
Removable Grinding Chamber ; Watts: 160
Cord Storage. Dual safety-locking switches
Install the Bean Hopper onto the unit and turn clockwise (several rotations-will hear clicking as unit gets tighter) until it stops with the grind size indicator on Fine.
Cuisinart DBM-8 Supreme Grind Automatic Burr Mill
Main Features:
Removable grind chamber holds enough ground coffee for 32 cups

Mli>Removable 8 oz. bean hopper. Includes scoop and cleaning brush

Electric timer automatically shuts off when grind cycle is complete
18-position grind selector; 4- to 18-cup slide dial
Removable grind chamber holds enough ground coffee for 32 cups; Separate one-touch power bar, heavy-duty motor and scoop/cleaning Brush
EZE Hand Burr Coffee Grinder Most Consistent Hand Press, Ceramic Burr Manual Coffee Grinder
Main Features:
Professional grade burr grinder – constructed of high-quality rust-free stainless steel with a heavy duty reinforced extra long hand crank
Easiest to travel with, take it anywhere you go, Great for camping since it was designed for the aero press (not included)
Manual ceramic conical have been proven to allow for the most consistent grind every time
New & improved plastic burr component constructed of stronger and more malleable plastic
KRUPS F203 Electric Spice and Coffee Grinder with Stainless Steel Blades, 3-Ounce
Main Features:
Coffee and spice grinder with 200-watt motor provides fast grinding
Large grinding capacity yields up to 12 cups of coffee
Grinds up to 3 ounces of coffee beans in seconds
Oval design and stainless-steel blades ensure uniform grinding
Stainless Steel blades that can grind beans but also spices, herbs, nuts, grains and more; Lid activated safety switch for ease of use; 2-year warranty
Hamilton Beach 80365 Custom Grind Hands-Free Coffee Grinder
Main Features:
Removable grinding chamber for easy filling and dishwasher cleanup
Great for coffee and spices
Hands-free grinding- Refer manual and use and care guide for any assistance.
Precise cup & fineness settings for perfect results
Hidden cord storage
Grocery Art Electric Coffee Grinder Blade Mill – Small & Compact Simple Touch Automatic Grinding Tool
Main Features:
Designed to grind whole coffee beans to perfection in a matter of just 20 seconds or less & with the simple touch of a button
Made out of premium materials & outfitted with hidden grinding blades, the grinder machine safely grinds with impressive speed.
Complete with a domed compartment that intercepts fine grinds, the no-mess coffee grinder is also unbelievably clean. Simply wipe it down with a damp cloth to keep it free of debris.
Chefman Coffee Grinder Powerful 250 Watt Electric Mill
Main Features:
Clear lid allows you to monitor the grinding process for a customizable grind. Stainless Steel Cup and Blade monitor the grinding process.
250 Watt motor for a quick, efficient and consistent grind
Cup is removable for easy pouring.
Dishwasher safe
Nuovoware Coffee Grinder, Automatic Premium Electric Spice & Coffee Grinder
Main Features:
The outer layer of this coffee grinder is made of high quality PP material, and the inside layer is made of premium 304 stainless steel, it is highly durable and safe for daily use with a long life span motor.
With a transparent lid, you can watch what's going on inside this coffee grinder, providing you with a clear view and convenient for you to control the coarseness easily.
The lid is easy to open, and the blades pulverize with precision from whole to coarse or fine in seconds
Ohh yeah, don't forget about these awesome manual models which probably make better grind but require more manual labor:
Hope this helps in your quest to find an affordable coffee grinder.
Here's My General Coffee Grinder Buying Guide
Here is an easy to follow buying guide if you want to invest on a coffee grinder.
Able to adjust amount of ground coffee. You'll need to be precise when you're grinding for different cup-sized pots and single vs. double espressos.
Size and capacity. You'll want to be able to conveniently store your grinder and grind enough coffee in one batch to suit your needs.
Evenness of grind. Evenly ground coffee gives more flavorful and consistent results with less bitterness and acidity.
Clear grind settings. An easy way to adjust the grind from fine to coarse that works well and can be set consistently each time.
Price. Make sure of a price tag that works with your budget and planned amount of use.
Cleaning. How easy it is to clean out the grinder and whether it creates a mess on the counter.
You may also want to see the following post if you are unsure whether to get a manual or electric grinder.