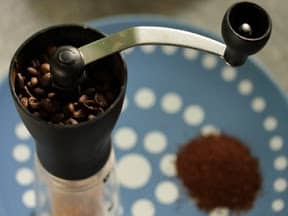 I've been talking about this grinder for the better part of a year here on this site. I've been having all my coffee beans ground in the store every time I buy them for too long so I finally broker down and bought the Ceramic Slim Hario that I'm mentioned time and time again here on the blog.
You can see my mention of it on this page featuring the best manual coffee grinders for sale today.
Funny thing is I actually bough the thing a month ago and have been using it all this time. I wanted to post a video along with this post as I announced the new purchase but it took me forever to get around to putting the video together.
For now I have zero intention of reviewing the grinder or giving you any how-to's regarding the grinder but I did want to share with you my unboxing video.
The Hario Slim is one of the most popular grinders you can buy in it's product group but I had a hard time finding personal reviews of what to expect when you opened the box let alone when you used it so for those looking for a manual grinder check out this video to see what you're getting.

If you prefer you can see the video directly on YouTube through this link.
In the near future I'll add some posts to the site summarizing my thoughts using it. Suffice to say it's gong to get my approval but there are a few things about it that should be mentioned. I will however leave that for another post.
UPDATE: This post originally went live somewhere in early 2014 and it has migrated with me across the web and as of 2018 Hario has new and improved models of both the Mini Mill and the Skerton.
For roughly 4 1/2 years I've been using the Mini Mill but the plastic casing is starting to crack due to heavy use and dishwasher cleaning so I'm now planning on picking up the larger Skerton Pro because I've always been displeased with the small grinding capacity of the Mini Mill.
Honestly Id be happy to upgrade to the Mini Mill Pro based on price and value alone, not to mention the build quality of the burrs but I just can't use it to grind enough for a large pot of french press or drip coffee.
The Skerton is bigger and the Skerton Pro incorporates the upgrade kit for the burrs that stabilize them better when grinding coarse for french press or cold brew coffee.
If you are still reading this looking for a review of the Hario Mini Mill then sorry, I don't have the time for that… even though I've owned and used this thing for nearly 5 years!
It's good and worth buying. That's all you need to know.
If you have deeper pockets opt for the Skerton Pro unless you want something powered.
In my home my typically electric grinder that I run is the Capresso Infinity, it's a great bridge in price and value between the low end (cheap) grinders and the expensive all-purpose grinders like Baratza and Breville make.