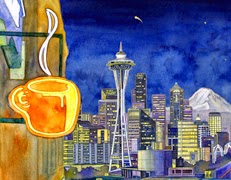 Not too long ago I hit up Seattle for the first time – May actually. I was in coffee heaven.
In the United States it would actually be hard for you to find a city with a more widespread coffee culture than Seattle.
Maybe it's the weather, there may be something in the water, but either way, truth be told, Seattle is a coffee town and I'm here to show you where you should go to get your daily dose of Joe if you, like me, are a coffee enthusiast in the area.
Tully's Coffee
This specialty coffee retailer and wholesaler is based in (you guessed it) Seattle, Washington and it is known for having expanded by opening stores right next to those owned by Starbucks. This tongue-in-cheek strategy is one of the reasons why this is a great company but definitely not the only one. They specialize in coffee, baked goods, espresso, pastries and they also sell coffee-related merchandise. Its first store opened in 1992, quickly developing into a strong regional coffee retailer in an area where coffee loyalty is a thing (there is allegedly just one coffee house for every 4,000 customers). More recent reports state that Tully's has changed its business perspective, no longer making competing with Starbucks its main goal, but looking to serve first quality hand crafted coffee while also expanding into the wholesale market.
Café Allegro
Located in Seattle's University District, this coffee house is well-known as being the first espresso shop to ever be based in Seattle. The building where Café Allegro has its headquarters is an early 20th century structure that was chosen by the café's founder, Dave Olsen, because of its proximity to the University of Washington's campus. Olsen bought, owned and managed Café Allegro while buying its coffee from Starbucks. A business relationship developed and Olsen ended up creating what is, to this day Starbucks' standard espresso offering. Café Allegro has a bohemian feel to it, catering to the University's students and offering a wide range of coffee and coffee related goods. It's a Seattle staple and a must-go if you're in the area.
Seattle's Best Coffee
Technically a subsidiary wholly owned by the giant known as Starbucks, this coffee retailer has stores in more than fifteen states and its sub-stores can be found in many college campuses and within other stores such as Subway restaurants. Seattle's Best Coffee is, generally speaking, cheaper than that of its parent company and is publicized and marketed as more of a working class coffee when compared to the more upper-class Starbucks. To be fair, Seattle's Best Coffee's association with Starbucks is fairly new, having been bought in 2003. The café itself is an institution that goes back as far as the seventies that has earned a right to stand on its own, with a proper history and a strong, faithful clientele.
Espresso Vivace
Founded in 1988, this coffee shop and roaster also calls Seattle its home. Famous for its high quality coffee and roasting practices, its owner and founder, David Schomer is internationally recognized for his coffee-making abilities, and its innovative ideas. His customizations on grinders and espresso machines have been known to achieve more constant water temperature and, in the end, a better cup of coffee. He is also highly credited with being the responsible behind what has lately been known as "latte art". Baristas all over the world now create little works of art in every latte cup thanks to him. This artistic and innovative take on coffee has gained a lot of followers, and many more traditional coffee houses were forced to recreate themselves in order to stay in business.
Victrola Coffee Roasters:
Last but definitely not least, this roaster is another classic in the Seattle coffee scene. Also a coffee house, Victrola was founded in the early 2000s. But Victrola is not your old-fashioned, run-of-the-mill coffee roaster. What sets Victrola apart is their policy of teaching their patrons all they know about coffee. Cupping classes are taught weekly, and they also regularly publish tutorials on their website (http://www.victrolacoffee.com/). Some critics have gone as far as calling the Victrola model an art form and, whether you agree with this description or not, its undeniably high quality products and their amicable staff make this roaster and coffee house another place you wouldn't want to miss when in town.
If you are going on a trip and plan on hitting some of these spots than please take the time to learn a bit about coffee. A few days back I posted a comparison of single origin and blended coffees. Give it a read as all these roasters emphasize the beans origins – you don't want to be lost when talking to an experienced barista. 🙂