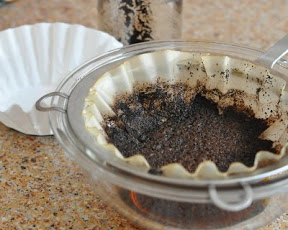 I'm slowly becoming a bit of a gardener these days. Prior to my life here in Klamath Falls I lived in the big city on a condo with no yard. These days we own a home on a half acre with plenty of room to raise chickens, garden, and generally spend tons of time outdoors without ever leaving the property.
As such I've been working in the yard quite a bit and have started formulating grand plans for a master garden here on the homestead. I get my coffee jolt in the morning and then get to work outdoors as much as I can. Luckily I've found that the spent coffee grounds I use for my morning cup can very easily be put to use in the yard.
I know this website isn't really about gardening – it's about coffee – but for those of you who want to make productive use out of everything you can I hope you can also find value in this. Don't just chuck your coffee grounds down the drain or the trash. Put them to good use.
In the coming weeks I'll be posting a few articles on using used coffee grind in the garden (or yard). I hope you find them helpful if not simply interesting.
I'll keep this post as the main hub for the series and add links to the posts here as they go live. Until then, may your cup runneth over with the good stuff. 🙂