The coffee grinder is the workhorse of any home brewing station and coffee house. You can have the best coffee in the world but if you have a bad grinder then your cup of coffee will be severely lacking.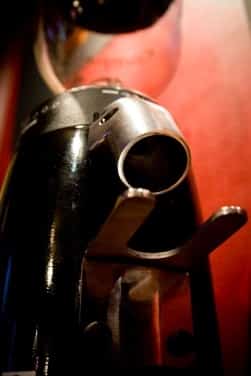 If you want to make the best coffee possible then you need to spend a bit on a good grinder. Although there are many good options at any price point the best possible grinder is pretty expensive. It is the best however so it is worth it if you love your coffee and are willing/able to drop a paycheck on your grinder.
The Compak K10 Conic is the best coffee grinder you can buy today. It's designed for the professional barista and is a commercial unit that would be perfect in any coffee shop but for those with deep pockets and a deep affection for good coffee one could very easily pick one up for the home too. It will probably run you at least $1500 or so but there are no better options available.
Don't have that kind of money to spend on your morning fix? I don't blame you; I don't either.
There are however a handful of close competitors that are also quite expensive but the do at least fall within the realm of reasonable when it comes to pricing. Each of the following models are marketed primarily to the home barista who is looking for a top of the line grinder and who is willing to pay a lot to get every small bit of performance out of their device.
The Best Home Coffee Grinders On The Market Today
With the exception of those ridiculously high end models priced over a grand the following models from the likes of Baratza, Rancillio, Kitchen Aid, and Breville will usually satisfy even the worst coffee snobs. 🙂
1. The Baratza 586 Virtuoso Coffee Grinder
The Baratza 586 uses high end conical burrs that aim to deliver super consistent grind size time and time again. The model performs amazing well at producing both super fine espresso grind as well as coarse grind and everything in between.
Used by a ton of micro batch roasters and small shops across the world the 586 has a robust motor that feeds beans slowly through a lower rpm burr set keeping heat and static buildup down resulting in a better and more consistent grind. This model is perfect for the home brewer who likes to make different types of coffee all the time.
2. Baratza Sette Conical Burr Grinder
The Baratza Sette is even more pricey than the 586 covered above. It is similar in a lot of functional ways but it's got a few perks in it's form that may make it better for a show-stopper of a kitchen or a small cafe.
The Sette has an anti-static grind bin to catch grounds but it also comes with a partafilter holder to grind beans directly into your espresso maker's portafilter. The holder also converts into a holder for many popular devices made by Hario, Aeropress, and Clever just to name a few.
It has 30 micro steps in grind size and the gear box is able to achieve a 19:1 reduction in speed resulting in a slower and more consistent grind with dramatically fewer fine particles produced. Did I mention it is super quiet as well!?
Dosing of grind is also super precise as you can program grinding times to the tenth of a second and due to excellent design this model reduces grind left in the burrs between uses and cuts off beans from between the burrs and the hopper for easy switching of beans.
3. Rancilio HSD-ROC-SD Rocky Espresso Coffee Grinder
4. Breville BCG820BKSXL The Smart Grinder Pro Coffee Bean Grinder
5. Baratza Vario-W 986 – Flat Ceramic Burr Coffee Grinder
For the average consumer however these are much more grinder than you need and they are too expensive to buy anyway. For the average home barista I recommend seeing the following list of cheap burr grinders that are actually worth buying or this list I've compiled of the best coffee grinders under $500. These are still pricey but are designed as top of the line consumer grade grinders.
Alternatively you can usually get the most bang for your buck by choosing models that are "middle of the road" devices. Usually you gain a lot by getting out fo the entry level devices but you still don't have to spend an arm and a leg like you do for the best of the best.
Some of the best coffee grinders for the money are priced mid-range. Here are a few that I like a lot which are well reviewed best sellers:
Also, Amazon's list of high end consumer grinders with top ratings is another great place to start.